Gonzalez penciled in for Tuesday vs. Tigers
Right-hander poised for first start since Aug. 11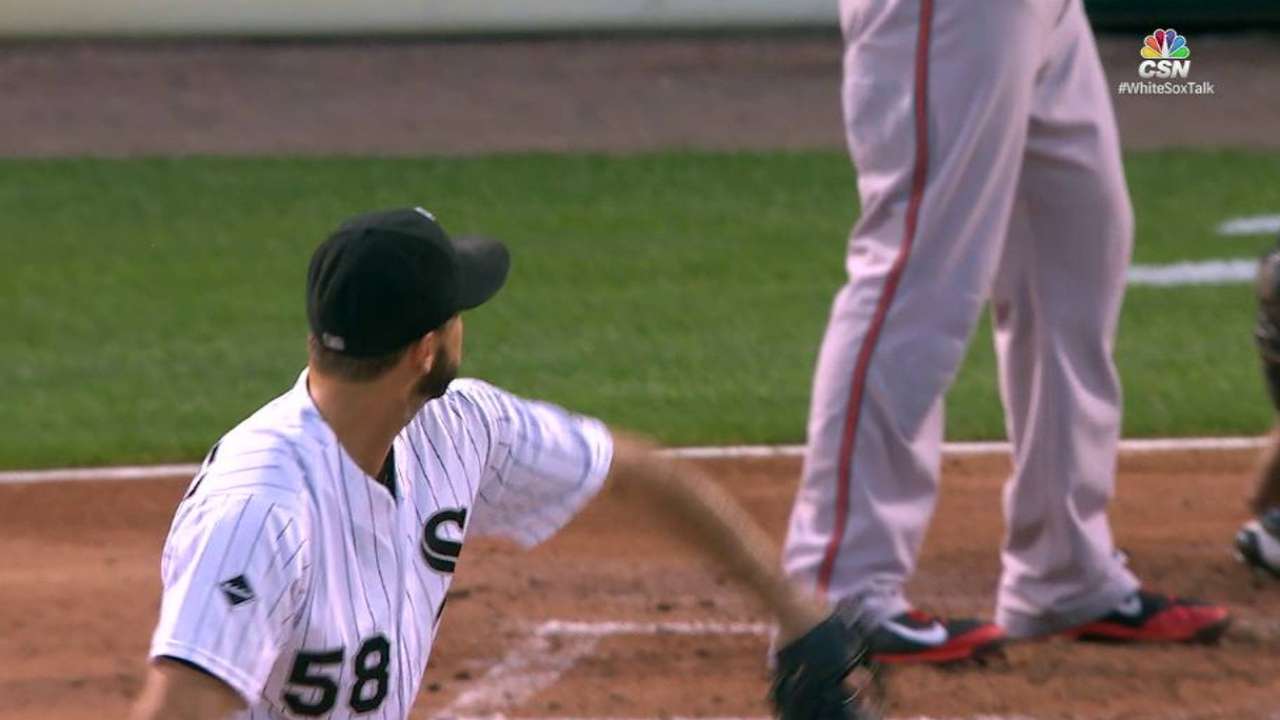 CHICAGO -- White Sox manager Robin Ventura has not officially set his rotation for next week's home contests. But it appears Miguel Gonzalez will return against Detroit and Jose Quintana is in line for a little extra rest.
"By dropping Gonzo in that Detroit series before [Thursday's] off-day, you can give 'Q' six days and then you have another six days on the other side of that off-day," Ventura said. "So everybody else is getting it as well."
If Ventura sticks to this alignment, then Chris Sale would open against Detroit on Labor Day followed by Gonzalez on Tuesday and most likely Quintana on Wednesday afternoon. Carlos Rodon would open the weekend set against the Royals, followed by James Shields.
Where Anthony Ranaudo fits in the rotation going forward is unknown, with Ranaudo starting Sunday's finale against the Twins at Target Field. Carson Fulmer's Friday start for Triple-A Charlotte was postponed, and his September return to the Majors remains a bit uncertain despite being sent down to lengthen his pitch count as a starter.
"We've talked about it," Ventura said of a promotion for Fulmer, who threw five perfect innings in his last start. "That's going to be a bigger talk when their season comes to a close."
Gonzalez ready to go
After a 4 1/3-inning injury rehab start for Charlotte Thursday, Gonzalez rejoined the White Sox Friday and was ready for action. The right-hander had been out since Aug. 12 with a right groin strain.
"It feels good. I didn't feel anything, and that was the most important thing," said Gonzalez, who struck out seven. "Just go out there and see how it felt."
Gonzalez has been a dependable hurler in the back end of the rotation, with a 4.05 ERA over 19 games, 18 of which were starts.
"He just seems to be in control all the time," Ventura said. "He's kind of sneaky with velocity, being able to move it, throw strikes, get some ground balls. He does a lot of good things. I've been impressed with what he's done with the time that he's been here."
White Sox to commemorate Childhood Cancer Awareness
Childhood Cancer Awareness Day was commemorated across baseball on Friday. With the White Sox being in Minnesota, they will commemorate their part of Childhood Cancer Awareness Month on Sept. 12.
Earlier on that Monday, White Sox players will visit families and patients in the oncology ward at University of Chicago Medicine Comer Children's Hospital. Before the game against the Indians, kids from both Lurie Children's Hospital and Comer will take the field to greet White Sox players as well as participate in the "play ball" announcement to start the game.
In addition, the White Sox will welcome a special fan to throw out a ceremonial first pitch. Nine-year-old Torey Boone is a Kids Club member who was diagnosed with a brain tumor. After surgery to remove it and treat it, the White Sox are bringing Torey back to the ballpark to throw out a first pitch.
Petricka on the mend
Minnesota resident Jake Petricka made a White Sox clubhouse appearance Thursday, bringing a few happy but surprised looks from his teammates. Petricka is getting back to "normal everyday life" after having season-ending hip surgery in early June.
Petricka currently is rehabbing at the Mayo Clinic and gets to start throwing in a couple of weeks. The right-hander saw signs of progress simply by running up the stairs a few days ago.
"When I got to the top of the stairs, I was kind of like, 'Wait a minute, I just did something I have not done in three months,'" Petricka said. "It was awesome. It's the normality again, knowing it is progressing.
"If the season was just a little longer, I'd be able to get back this year. It's just getting the arm back in shape, it's not going to work out. So I'll just kind of take it a little slower and do it right."
Scott Merkin has covered the White Sox for MLB.com since 2003. Read his blog, Merk's Works, follow him on Twitter @scottmerkin, on Facebook and listen to his podcast. This story was not subject to the approval of Major League Baseball or its clubs.