Virginia natives Hicks, Verlander are reunited
Tigers call up catcher who hails from same high school as club's ace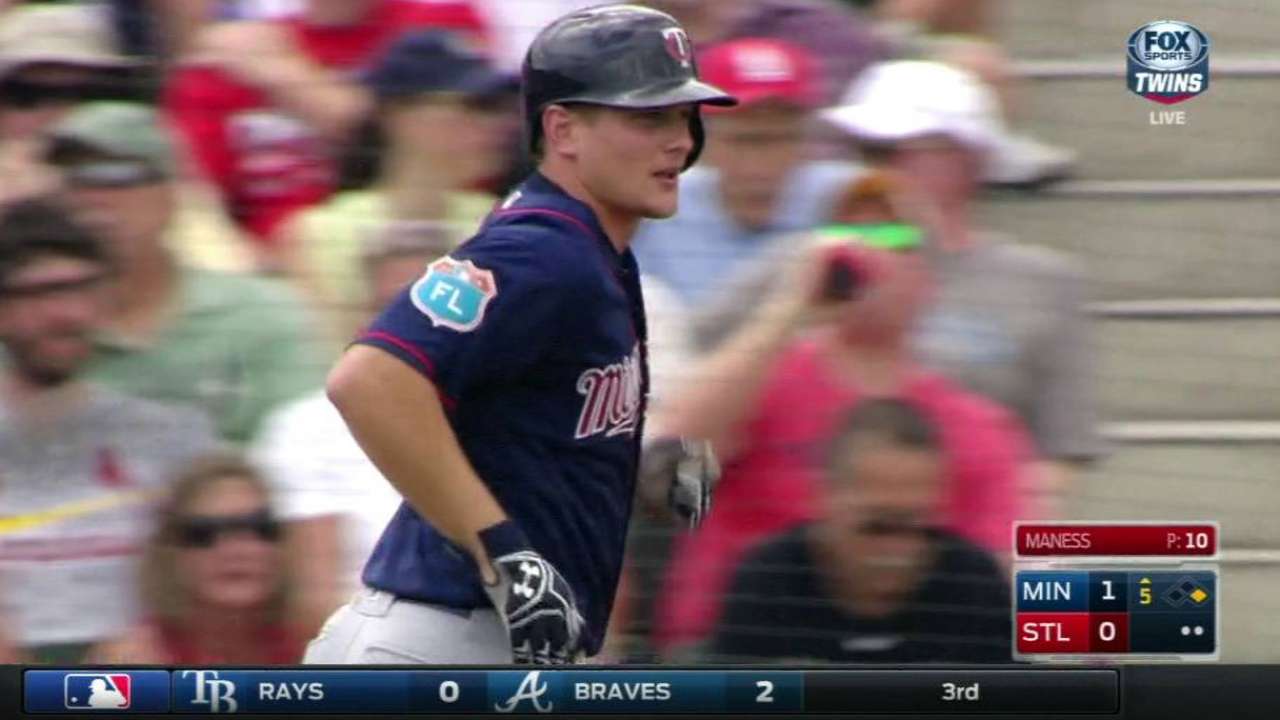 KANSAS CITY -- Goochland High School in Virginia has an enrollment of fewer than 1,000 students. Its baseball program has put two players into the Major Leagues. They both wear a Detroit Tigers uniform.
John Hicks was a little younger in age than Justin Verlander, so they didn't get to be teammates in high school, though Hicks' older brother played alongside Verlander. John Hicks played one year with Verlander's younger brother, Ben, who's also in the Tigers' farm system.
"Our brothers and us, we had a good run," Hicks said. "My junior year, we won state. Throughout high school with him, they made it pretty deep in playoffs. We had some good teams."
They have a good team again, with Verlander again a big part of it. With September callups, Hicks -- called up on Thursday -- is now on board for the stretch run.
"It's what you play for," Hicks said. "Hopefully I can do something to help the team and hopefully get a chance to help them get to the playoffs. It's an exciting feeling. I mean, you come into the locker room and just kind of feel that guys are pushing in the right direction and everybody's kind of pushing together."
As a third catcher behind James McCann and Jarrod Saltalamacchia, Hicks' most likely role is insurance. By calling him up as soon as rosters expanded, manager Brad Ausmus gained the flexibility to use Saltalamacchia as a pinch-hitter, or play him at first base, without having to worry about who would catch if McCann were to get injured.
Still, one of the most important wins down the stretch two years ago was a Verlander victory in Kansas City caught by McCann, then Detroit's third catcher behind Alex Avila and Bryan Holaday.
That was McCann's first Major League stint. This is not such a debut for Hicks, who was a late-season callup to serve as a backup catcher for the Mariners last year. He went just 2-for-32 at the plate with 18 strikeouts in Seattle, but threw out 5-of-10 would-be basestealers.
While he didn't hit, the lessons Hicks learned there helped him as a hitter this season.
"I spent a lot of time when I was up there talking to Kyle Seager about hitting and philosophies and things like that," he said. "He helped me out a lot. I used a lot of that this offseason, worked on it a lot in the cage, and I definitely feel much more comfortable at the plate. Definitely a much better offensive year, a lot more comfortable at the plate, kind of relaxed."
Hicks said they talked about weight distribution and its role in generating more power in the swing. The resulting adjustments worked. Hicks hit .317 (92-for-290) with 21 doubles, nine home runs and 46 RBIs between Double-A Erie and Triple-A Toledo after joining the organization on a late-April waiver claim from Minnesota.
Now, Hicks has a second chance in the big leagues, even if it's in a limited role. And Goochland, Va., now has another reason to follow the Tigers.
Jason Beck has covered the Tigers for MLB.com since 2002. Read Beck's Blog, follow him on Twitter @beckjason and listen to his podcast. This story was not subject to the approval of Major League Baseball or its clubs.