Overcoming mental obstacles key for Stephenson
After callup, prospect working to avoid putting too much pressure on himself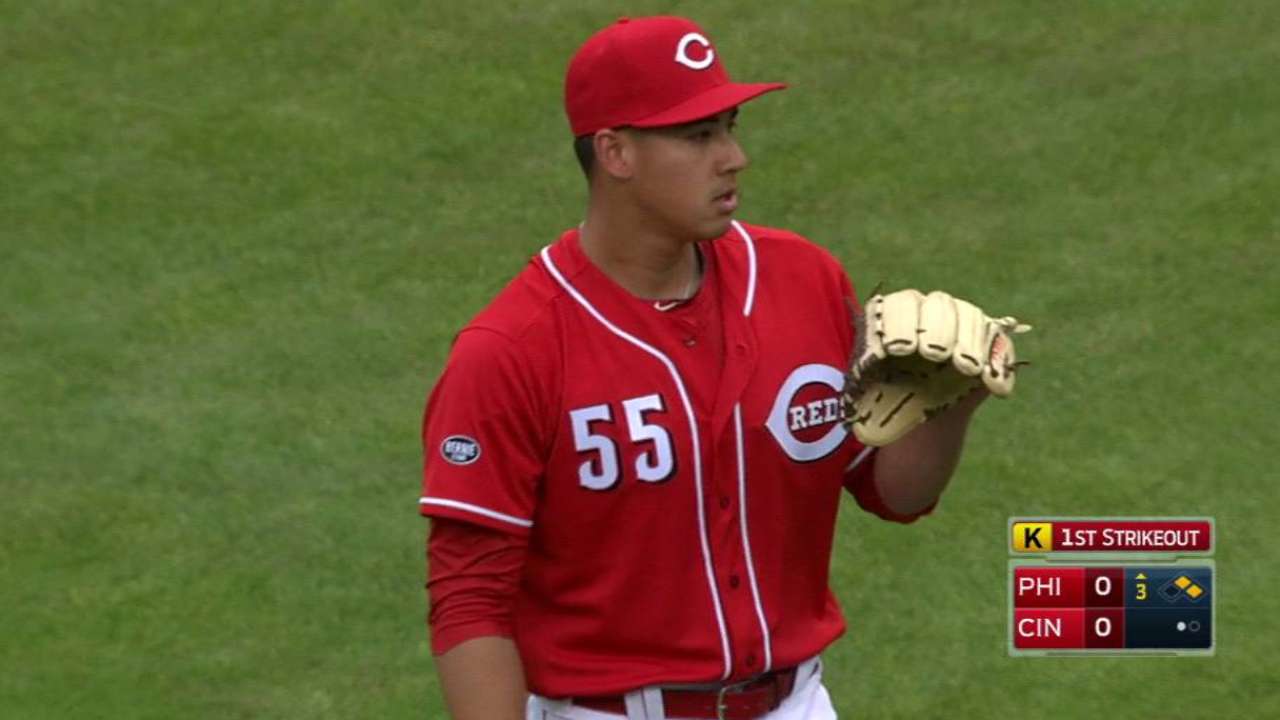 CINCINNATI -- When a player gets called up to the Majors, it's typically the job of the Minor League manager to tell them. For Robert Stephenson, who was called up Friday as part of Thursday's roster expansion, that wasn't the case. He accidentally found out from Major League pitching coach Mack Jenkins.
"It was funny," Stephenson said. "Mack had texted me after my last start. He told me,'Good start.' Then he made a mistake and said, 'Game at 12:10 Sunday, bullpen at 4:15.'
"I said, 'Uh, that's kind of a strange text.' I just kind of waited to reply for a little bit, and then I got a call from [Triple-A Louisville manager Delino DeShields], and he told me I was going up."
For Stephenson, the Reds' No. 4 prospect according to MLBPipeline.com, that callup was no guarantee. Despite having two successful Major League starts, posting a 3.00 ERA across 12 innings, he struggled with command in the Minors and posted a less-than-stellar 4.41 ERA.
The struggles boiled over in frustration after he allowed six runs and four walks over two innings on Aug. 20, prompting DeShields to say, "If I was him, I'd be embarrassed," about his control issues.
"He actually came and apologized to me for what he said," Stephenson said. "I understand the frustration. The only thing that bothers me is it's just not true. If you think I'm just sitting here and OK with how I performed, you're crazy. If you think that I haven't listened to any of my pitching coaches, you're crazy, because there's not reason for me not to listen to anybody and try to get any bit of advice that I can."
To his credit, Stephenson did respond well to the comments, throwing 13 innings over his last two Triple-A starts with three earned runs allowed, though he still walked three batters in each start.
"I think he responded good," DeShields said. "I like what I saw his last outing. It looked like his focus was a lot better. And he understands. We talked after that. We had a nice conversation, and I think he appreciated not what I said, not in particular what I said, but what I was trying to get across to him. I'm just trying to send this kid a message and let him know that he's a lot better than he's shown. The job's there waiting for him. But it's up to him."
Stephenson says the problems have been mental.
Admittedly, he struggled with being sent back to Triple-A after two good starts and felt additional pressure to get himself back to the Major Leagues. Compounding the frustrations, he watched several others pass him on the way to the Majors, including Cody Reed and Tim Adleman.
"It all comes down to my head, and it's just been trying to regain the confidence that I'm better than I'm performing," Stephenson said. "I think it's going to come around, just being able to keep telling myself, remind myself, that I am good and that I'm going to be up in the big leagues and performing well there. It's just, what I've been having a problem with is just putting too much pressure on myself to get back there."
With righty Homer Bailey dealing with a biceps injury in his throwing arm, Stephenson will start on Monday. And with an innings cap approaching for Brandon Finnegan, he'll likely get a chance to stay in the rotation.
For him, the key is not putting too much pressure on himself to hold down a spot on the Major League roster.
"When I was up there earlier this year, what made me have so much success was the fact that when you're there, you're not working toward anything -- you're already there," Stephenson said. "When I'm back here, I was putting pressure on myself to get back to the big leagues. … I think being up would be a lot easier for me knowing that I'm already there and it's just more of going out and having fun."
Cody Pace is a reporter for MLB.com based in Cincinnati. This story was not subject to the approval of Major League Baseball or its clubs.