Reds reinforce pitching with 4 callups
Stephenson slots into rotation; Reed, Sampson, Peralta added to bullpen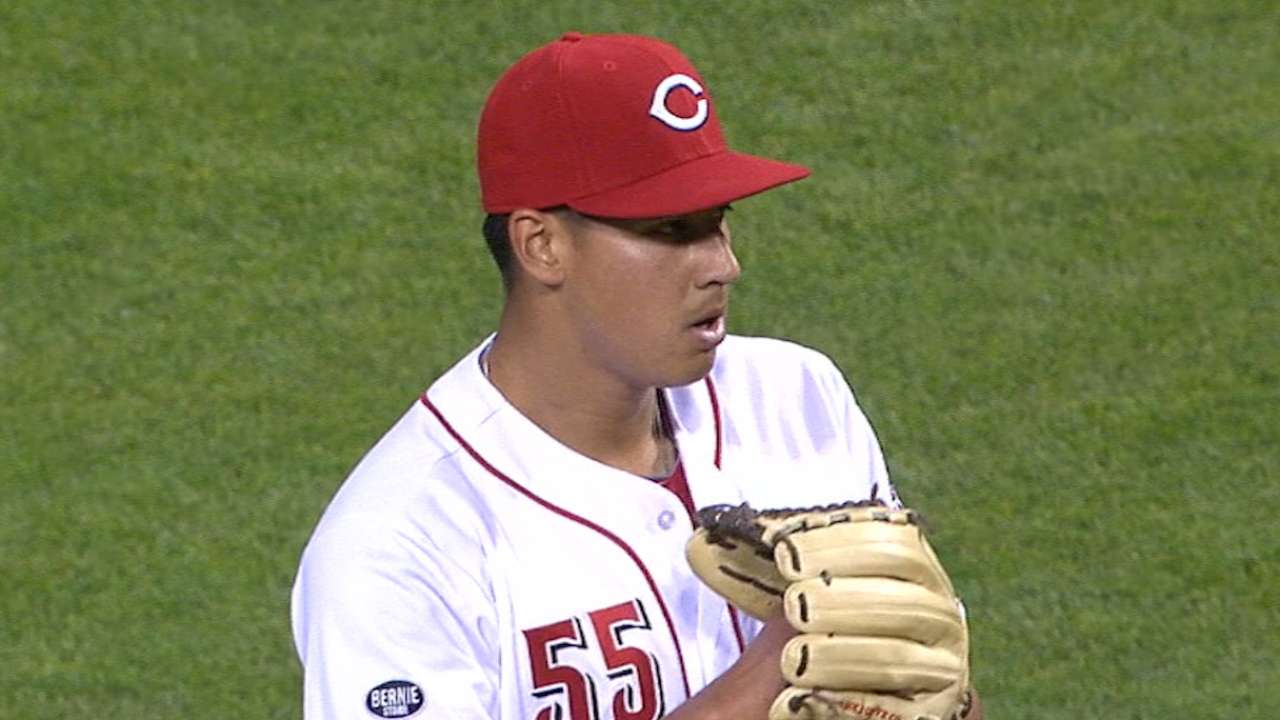 CINCINNATI -- With rosters having expanded Thursday, the Reds have brought in some needed pitching reinforcements, recalling Keyvius Sampson, Cody Reed and Robert Stephenson, as well as selecting the contract of reliever Wandy Peralta.
Stephenson, the Reds' No. 4 prospect according to MLBPipeline.com, will be slotted into the rotation, starting Monday to give some added rest to Homer Bailey, who's wrestling with a right biceps injury in his return from Tommy John surgery. Peralta, Reed and Sampson will pitch from the bullpen.
For Stephenson, the callup comes after two promising Major League starts earlier in the year mixed into a mostly disappointing Minor League season. At Triple-A Louisville, Stephenson posted a 4.41 ERA, nearly five walks per nine innings and a career-low 7.90 strikeouts per nine innings.
"We consider Robert one of our better pitching prospects," Reds manager Bryan Price said. "Certainly, we would've liked to have him have that breakout year and kind of force our hand to bring him up earlier, but everyone learns and grows at their own pace."
Of the remaining three slotting into the bullpen, only Peralta is a true reliever. He's also the only one who has yet to pitch in the Majors.
A former starter, Peralta was a non-prospect in the Reds' system until transitioning to the bullpen. Since then, he's amped up his velocity and mixes in a plus changeup, pitching to a 2.33 ERA in 58 innings for Louisville. His addition gives the Reds a true lefty specialist in their 'pen, something they've lacked as the only other left-hander is Tony Cingrani, who typically fills the closer's duties.
"I've been throwing my changeup down there," Peralta said via translator Julio Morillo. "That was the pitch I was focused on this year. Thank God I was throwing really, really good changeups down there. I come in with the same mindset here, to try to do my pitches here, too, the same thing I was doing down there."
The last two additions, Reed and Sampson, will add depth to the Reds' bullpen. Sampson has served as the Reds' long reliever of late, but he was optioned after pitching six innings in five days at the end of August.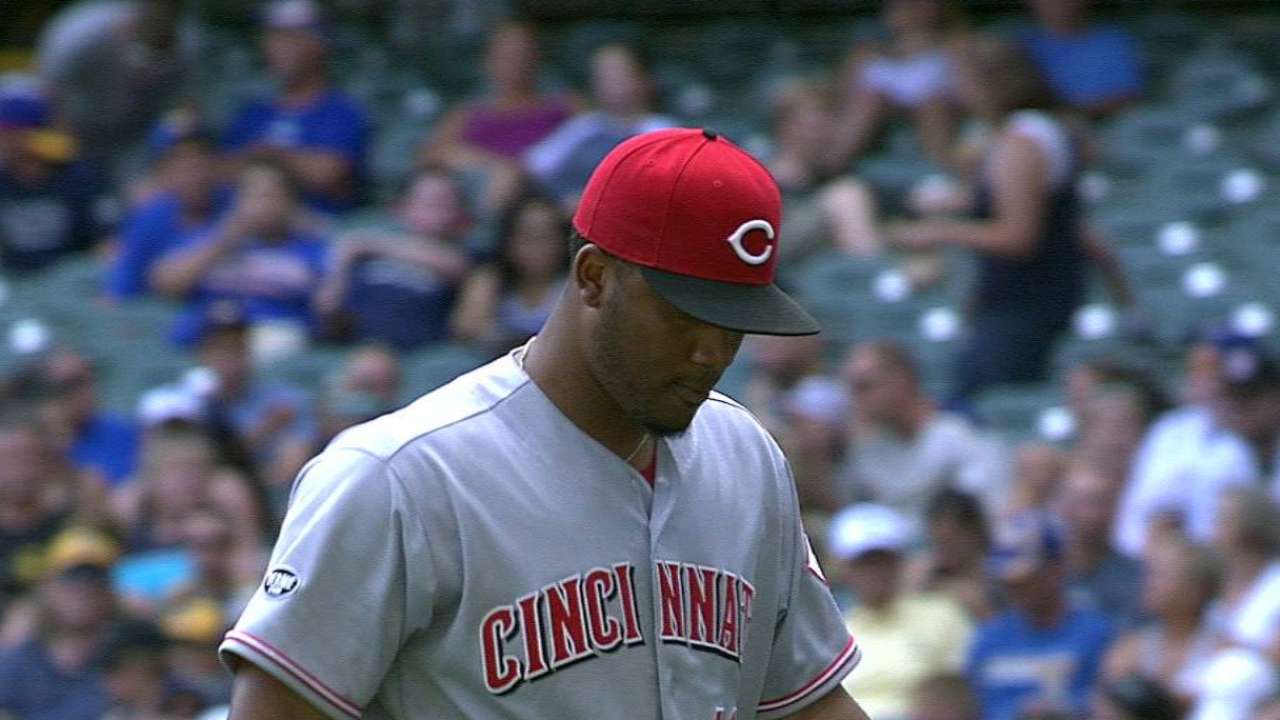 Reed, on the other hand, has never pitched out of the bullpen for the Reds. He made 10 starts earlier in the season and was knocked around, posting a 7.36 ERA in 47 2/3 innings. Reed had some back spasms in his last outing for Louisville, and the Reds are hoping that they can take a load off of Reed and fix some mechanical issues in short bursts out of the 'pen to make him a starter for the 2017 season.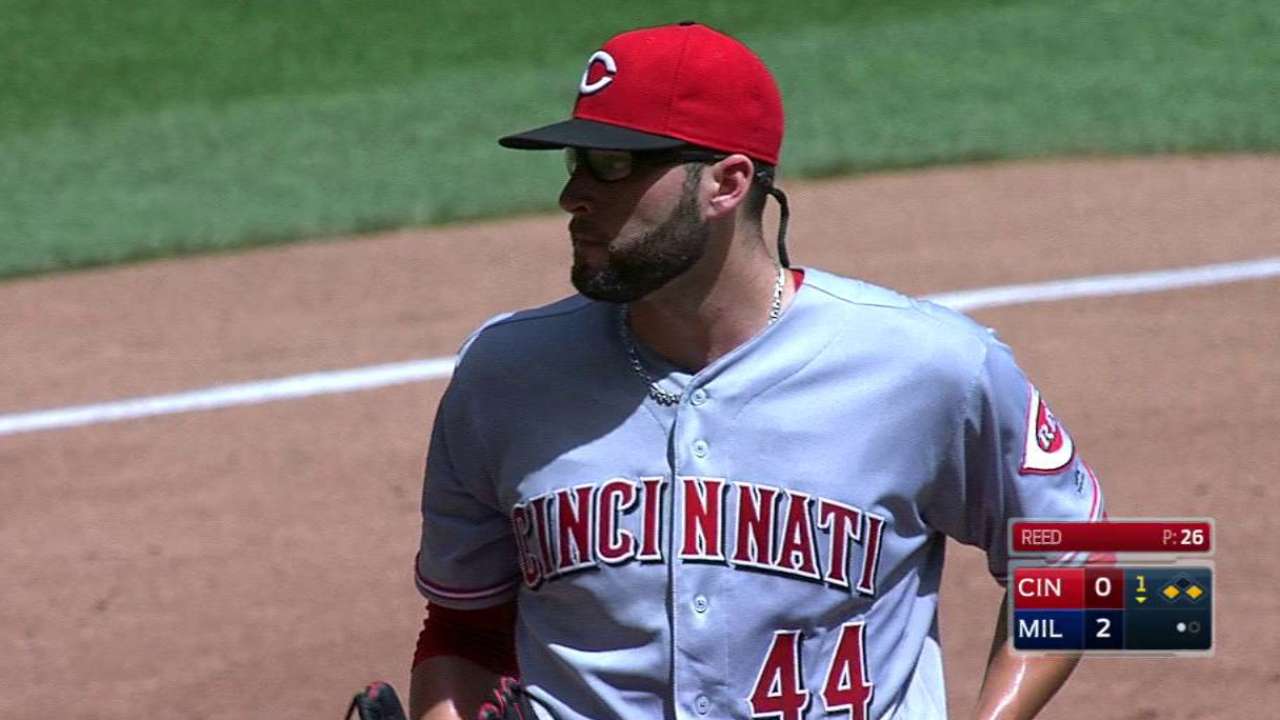 "He's really trying to make some changes to his delivery and get better extension and finish," Price said. "He has to break at the waist instead of being as upright at the end. That's kind of another reason to slowly reintegrate him into games, as the back's been a little bit of an issue here recently."
Worth noting
• First baseman Joey Votto is out Friday with a stiff neck. Price said the problem popped up after the Angels series and that it wasn't anything serious.
"It was not an issue in Anaheim; it was an issue today," Price said. "Got a crick in his neck. He's having a hard time working it out. We've all had it, but it's pretty debilitating when you're trying to hit what appears to be a 95-99 mph fastball, as it appears we're going to see today."
• Catcher Tucker Barnhart is back in the lineup Friday after missing more than a week with a right hand injury. Barnhart, who hasn't played since Aug. 24, is expected to be able to resume his normal role with no limitations behind the plate.
"He was hitting today," Price said. "We'll see how he comes out of today's game. If it stiffens up, we might have to put more days off in between his starts. But at this point in time, I just see full speed ahead."
Cody Pace is a reporter for MLB.com based in Cincinnati. This story was not subject to the approval of Major League Baseball or its clubs.