Rays do part in fight against childhood cancer
Nearing activation from DL, Whitley to assume bullpen role with Rays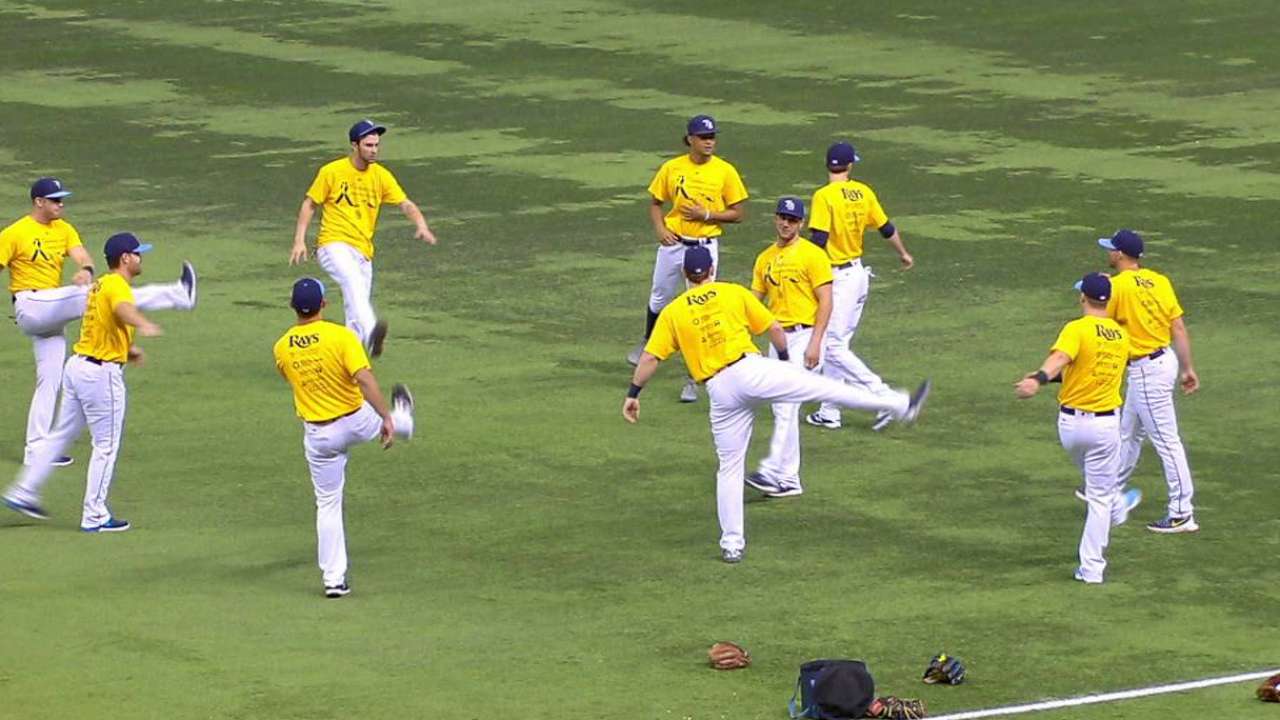 ST. PETERSBURG -- Brad Miller was about to leave the Rays' clubhouse and walk out on the field to take ground balls hours before Friday's opener vs. the Blue Jays. Then he realized he forgot something.
Sitting on the back of his chair and those of all his teammates' chairs were gold T-shirts that had lit up the clubhouse. A shirt that every Rays player would wear for batting practice to commemorate Childhood Cancer Awareness Month.
Following the game, the Rays will sign the shirts, which will in turn be auctioned on rays.com. The proceeds will benefit the Tampa-based National Pediatric Cancer Foundation, Moffitt Cancer Center and Johns Hopkins All Children's Hospital. The auction will begin on Tuesday at 8:30 a.m. ET and end Sept. 16 at 8 p.m.
It's the second consecutive year that the Rays have worn shirts in recognition of the month. Other clubs across Major League Baseball will partner with other local charities in making donations this month.
"We are pleased to make this an annual initiative to bring attention to such a worthy cause and to all those working to bring us closer to a cure," said Rays president Brian Auld. "Our community is very fortunate to have three renowned institutions like the National Pediatric Cancer Foundation, Moffitt Cancer Center and Johns Hopkins All Children's Hospital, and we are proud to have a partnership with each."
It's an event being recognized all across baseball on Friday. All MLB coaches, players, umpires and grounds crew members will wear gold ribbon decals and wristbands.
Cancer is the leading cause of death by disease in children age 15 and under in the United States. Every year, an estimated 250,000 new cases of cancer affect children under the age of 20 worldwide.
Worth noting
• Chase Whitley has one more start to make for Double-A Montgomery before he's recalled to the Rays. He last pitched in May 2015 due to his recovery from Tommy John surgery. He was activated in August and subsequently demoted to build up his innings. When he does return, he'll come out of the bullpen for scheduled appearances.
"It will probably be more of a scripted relief role, where he'll know when he's pitching," manager Kevin Cash said. "Once he gets here and we talk through it, we'll have a better understanding. It's something we're just going to have to manage, because his innings are very important."
• Tim Beckham was demoted on Aug. 31 following a baserunning blunder that cost the Rays a run. It was one of several mistakes from Beckham, who had been on a 10-game hitting streak. Cash made it clear on Friday why the move was made.
"The thought process was that we've had too many baserunning gaffes," Cash said. "That's not how we want to operate, and we're not going to stand for that for anybody going forward. We've got to do a better job."
• Eddie Gamboa will be the second-oldest Rays player to make his MLB debut when he enters a game. The 31-year-old knuckleball pitcher was with the Orioles for two days in 2015, but didn't pitch. He's started to throw his knuckleball more prominently this year -- 80 percent of the time, by his estimation. Gamboa signed a free-agent contract with Tampa Bay before this season, and Cash said the club is intrigued to see what he can do.
"As a Minor Leaguer, as with every Minor Leaguer, you want to be here," Gamboa said. "You plan on being here. It's very rewarding. I have my father and my brother-in-law here with me and my neighbor. It's really nice. A great experience. I'm really happy to be a part of the team."
Sam Blum is a reporter for MLB.com based in St. Petersburg. This story was not subject to the approval of Major League Baseball or its clubs.