Liriano endures rough transition to bullpen
Recently signed OF Berry could be in line for callup; Martin named Player of Month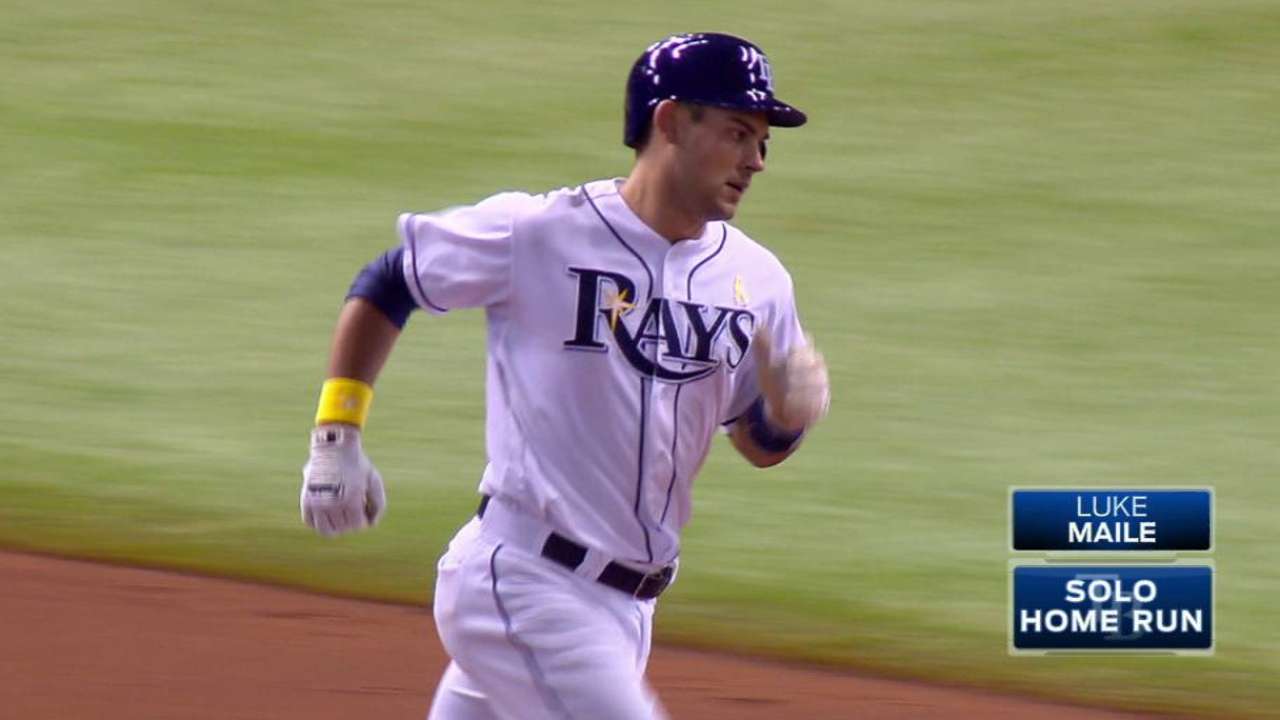 ST. PETERSBURG -- Francisco Liriano's stint as a reliever got off to a rocky start Friday night, but the Blue Jays remain committed to giving him a longer look in the role he might have if Toronto makes the postseason.
Liriano allowed all three batters he faced in the seventh inning to score during Toronto's 8-3 loss to the Rays. It was Liriano's first appearance as a reliever since Sept. 11, 2012, and this one won't be his last.
Toronto announced prior to Friday night's game that Liriano was temporarily moving to the bullpen. He is still expected to make at least a couple of starts down the stretch, but for the immediate future the club wants to see what he has as a reliever because it's a role he might have later in the year.
"I don't think you ever judge anybody on one outing," Blue Jays manager John Gibbons said. "I don't think that's fair to anybody -- unless it's me, of course. He's a priority guy. He's a guy we're going to need, so we have to keep him working too."
The Blue Jays moved Liriano to the bullpen at least partially because of two off-days that come within the span of eight days. With six starters, the off-days would have created some issues with the routines of pitchers in the rotation, and this is one creative way to solve that problem while also getting a look at Liriano in a new role.
The early results weren't pretty. Liriano entered in the seventh and allowed a home run to the first batter he faced, as Luke Maile went deep to left for his third homer of the year. Logan Forsythe then reached on an error before Kevin Kiermaier came through with a line drive RBI triple to right field.
Right-hander Ryan Tepera then entered and eventually allowed a two-run homer to Brad Miller. That closed the book on Liriano, who allowed three runs -- two earned -- on a pair of hits. The only two times Liriano has entered a game and not recorded an out happen to be his last two relief appearances.
Despite the poor outing, Liriano is going to get another chance. The hope is that once he settles into a routine in the bullpen and adjusts to the role he could become the lefty reliever Toronto has been searching for. Brett Cecil has been the primary left-handed bullpen arm, but he has struggled for most of the season, with righties hitting .308 and lefties hitting .286 over 28 innings.
"We're going to go series to series and see how we want to do it," Gibbons said earlier in the day when asked how long Liriano would remain in the bullpen. "Keep these guys as fresh as possible and see how things match up.
"There's a good chance you'll probably see him start again this month, a couple of times. But the next few days, anyways, it gives us a look to see how he looks doing that. Everything is still taking shape."
Blue Jays sign Berry
Toronto signed outfielder Quintin Berry to a Minor League deal prior to the Aug. 31 deadline for postseason eligibility. Berry is currently on the roster for Triple-A Buffalo, and he'll remain there until that affiliate's season comes to an end on Monday. But after that, it's possible he will be called up to the Major Leagues.
Berry has appeared in the postseason for the Tigers and Red Sox during his four-year career and typically has been used exclusively as a pinch-runner. Dalton Pompey had that role for the Blue Jays during last year's postseason, and Berry likely will audition for the same job over the final month of the season.
"We'll see what happens," Gibbons said of Berry, who has stolen 35 bases in the Minor Leagues this season. "You never know. He could show up, he might not. No guarantees."
Childhood cancer awareness date set
The Blue Jays will host families associated with Childhood Cancer Canada on Sept. 9 for their game against the Red Sox. Several of the children will lead the crowd during a rendition of "OK Blue Jays" during the seventh-inning stretch, and the group will be recognized during the game and on Sportsnet's broadcast.
The initiative by the Blue Jays is part of a league-wide effort to raise childhood cancer awareness. In partnership with Stand Up To Cancer, MLB has encouraged all clubs to support the cause with a variety of special events. All players, coaches, umpires and grounds crew members wore gold-ribbon decals and wristbands on Friday night to bring attention to the issue. In Canada, more than 1,500 children aged 15 and under are affected by the disease.
Martin named Blue Jays Player of the Month
Russell Martin was named Blue Jays' Player of the Month for August in a unanimous vote by the Toronto chapter of the Baseball Writers' Association of America. Martin hit .286 with nine home runs, four doubles, 22 RBIs and a .983 OPS last month while also leading Toronto with a .626 slugging percentage.
Third baseman Josh Donaldson was named the runner-up for the award after he hit .287 with nine home runs, 18 RBIs and a .396 on-base percentage.
Gregor Chisholm has covered the Blue Jays for MLB.com since 2011. Follow him on Twitter @gregorMLB and Facebook, and listen to his podcast. This story was not subject to the approval of Major League Baseball or its clubs.