Future remains cloudy for Phillies' Ruf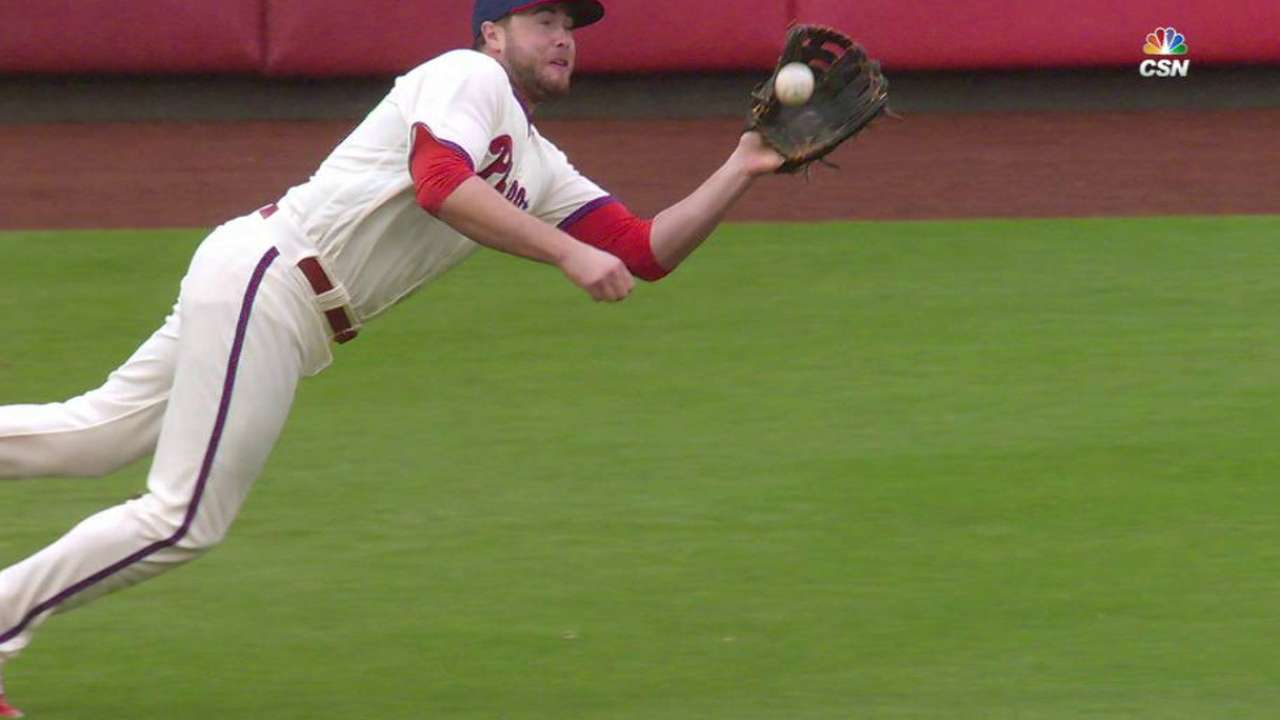 PHILADELPHIA -- Nobody hit left-handed pitchers better in baseball last season than Nelson Cruz and Darin Ruf.
Both posted a 1.107 OPS against lefties. The Phillies often mentioned Ruf's prowess against them, but after he hit just .158 in 31 games this season they optioned him to Triple-A Lehigh Valley, where he remained until the Phillies recalled him Friday.
"That was tough," Ruf said before the team's series opener against the Braves at Citizens Bank Park. "It kind of opens your mind. I told myself some days, 'Man, I led Major League Baseball in OPS against left-handed pitching last year and I can't find a job.' I'm thinking to myself, 'Why is that?' You just have to remind yourself it's a long process. Hopefully if I take care of business [in Triple-A] I'll be back and maybe in an expanded role beyond that. You've just got to stay positive and take advantage of the at-bats you're getting there."
Ruf hit .294 with 18 doubles, two triples, 20 home runs, 65 RBIs and an .885 OPS with the Lehigh Valley IronPigs, so he earned the promotion. But Ruf also could have wondered if he had fallen out of favor with some people in the organization, which is why the offense-starved Phillies never recalled him earlier.
Ruf's future with the Phillies should be interesting to watch. He posted a combined .946 OPS against lefties from 2012-15, but became a forgotten man as Tommy Joseph flourished as his replacement at first base. Joseph figures to be the team's first baseman next season.
Ruf is out of options. The Phillies could choose to keep him on the 40-man roster, but if they put him on outright waivers and he clears before the Dec. 2 tender date he can elect to become a Minor League free agent. If that happened it would not be surprising to see Ruf move on.
But if the Phillies tender him a contract and later decide to put him on outright waivers and he clears, they can keep him in the organization. Of course, he could not be optioned to the Minor Leagues once the season starts.
"No idea," Ruf said, asked if he knows where he'll be in six months. "You never know in this game. Find a fit with a good team and hopefully things will work out."
Japan could be an option, but Ruf prefers to play in the big leagues.
"I think I can help this team in some sort of role," he said. "It's just if they have a role that they see me succeeding in and helping them in."
The Phillies also recalled right-hander Colton Murray and left-hander Patrick Schuster from Triple-A. They also activated infielder Andres Blanco from the disabled list. He had been sidelined with a broken left index finger.
Todd Zolecki has covered the Phillies since 2003, and for MLB.com since 2009. Read his Phillies blog The Zo Zone, follow him on Twitter and listen to his podcast. This story was not subject to the approval of Major League Baseball or its clubs.