Orioles add 5 to active roster for stretch drive
With Bourn, Stubbs added, club recalls Aquino, Joseph, Wilson from Triple-A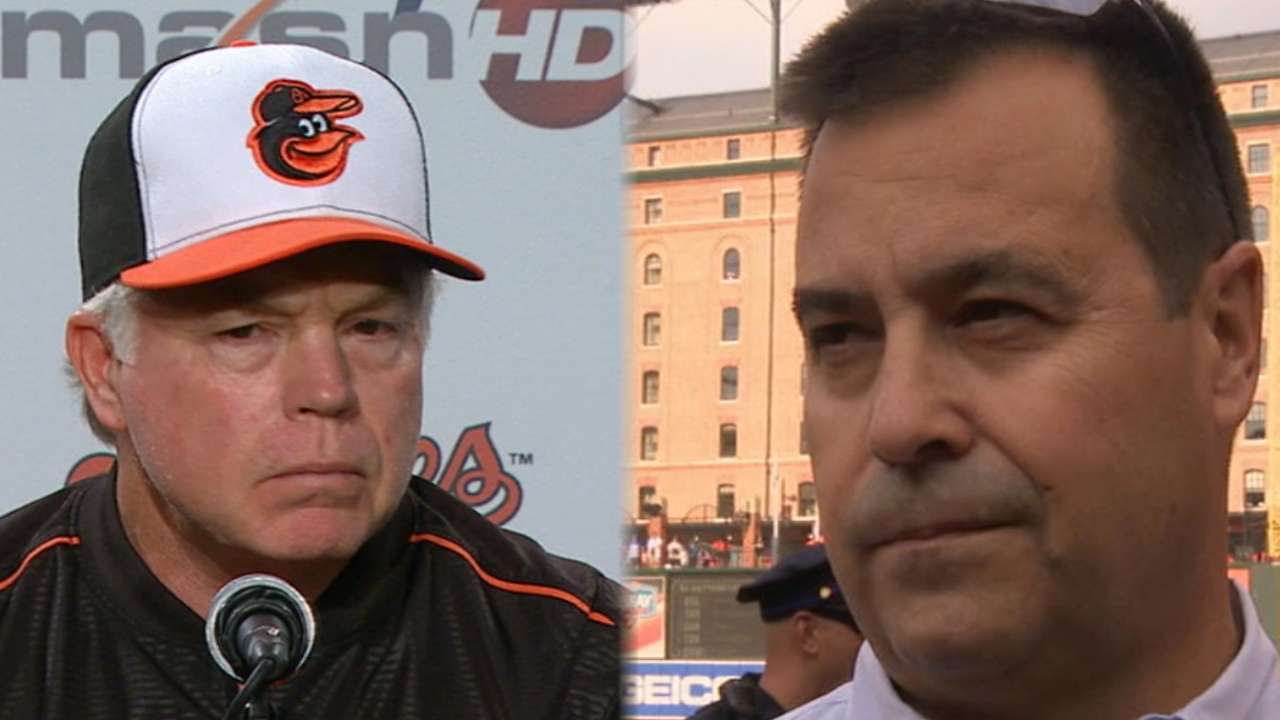 BALTIMORE -- The Orioles recalled three players from Triple-A Norfolk -- left-hander Jayson Aquino, catcher Caleb Joseph and right-hander Tyler Wilson -- as part of the first wave of September callups on Friday, while adding newly acquired outfielder Michael Bourn and Drew Stubbs to the active roster.
Bourn was acquired Wednesday from Arizona, while Stubbs was claimed off waivers from the Rangers on the same day.
"Two guys with great track records of terrific defense, stolen bases. Something that I think we were lacking just a little bit," Orioles center fielder Adam Jones said of Bourn and Stubbs. "Two guys who are veterans who can come in here and help us out. So, I like it."
Bourn and Stubbs help shore up the biggest issue for executive vice president of baseball operations Dan Duquette, who said on Wednesday that the club had targeted defensive-minded outfielders to help Jones.
"It's always kind of a whirlwind, whenever you get shifted from one team to the next, but landing here for the month of September and being right in the thick of things is always exciting," said Stubbs, who missed two and a half months earlier this year with a foot injury. "Playing meaningful games in September is something I think every player enjoys and looks forward to. And I think it's going to be a lot of fun."
The move adds another element for Bourn, who was unsigned on Opening Day and got a chance with Toronto and then Arizona, before coming to Baltimore.
"It's been crazy for me, but I tried to make the most of the situation no matter what I was doing," Bourn said. "I'm here now and going to try to do the same thing."
Aquino, 23, posted a 3.72 ERA between Double-A Bowie and Norfolk this season. He made his Major League debut on July 4, tossing a scoreless two-thirds of an inning.
Joseph is hitting .193 with two doubles in 40 games with the Orioles this season, while Wilson is 4-6 with a 5.38 ERA in 20 games (13 starts) for Baltimore.
Brittany Ghiroli has covered the Orioles for MLB.com since 2010. Read her blog, Britt's Bird Watch, follow her on Facebook and Twitter @britt_ghiroli, and listen to her podcast. This story was not subject to the approval of Major League Baseball or its clubs.