MLB.com Columnist
Jim Callis
Inbox: Who are the top prospects in the Arizona Fall League?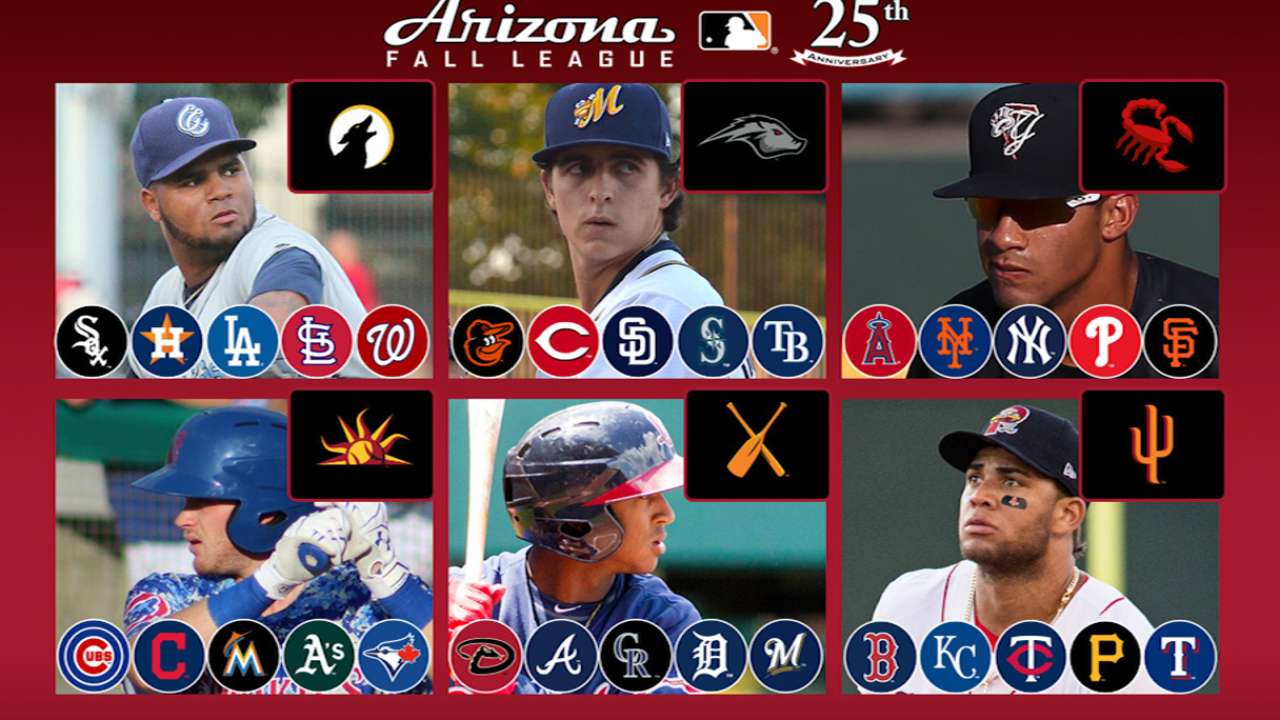 The College World Series and the Arizona Fall League are the two baseball events I enjoy covering most. The AFL released its initial rosters on Wednesday, and as usual, the league will be loaded with prospects. Twenty-one of MLBPipeline.com's Top 100 Prospects will be there, which naturally led me to create an AFL preseason All-Prospect Team:
Zack Collins, C, Glendale Desert Dogs (White Sox)
Cody Bellinger, 1B, Glendale Desert Dogs (Dodgers)
Ozzie Albies, 2B, Salt River Rafters (Braves)
Yoan Moncada, 3B, Surprise Saguaros (Red Sox)
Gleyber Torres, SS, Scottsdale Scorpions (Yankees)
Eloy Jimenez, OF, Mesa Solar Sox (Cubs)
Austin Meadows, OF, Surprise Saguaros (Pirates)
Bradley Zimmer, OF, Mesa Solar Sox (Indians)
Luiz Gohara, LHP, Peoria Javelinas (Mariners)
Francis Martes, RHP, Glendale Desert Dogs (Astros)
@jimcallisMLB @MLBPipeline Which prospects are you the most excited to see in the AFL?Other than the big names like Moncada and Meadows.

— Ja_Kow (@Ja_kow) September 1, 2016
Excluding my All-Prospect Team listed above, there are a lot of players whom I'll be excited to see in the AFL. I'll give you one Top 100 Prospect and one non-Top 100 guy for each of the six clubs (Torres is Scottsdale's lone Top 100 representative, so I'll list two non-Top 100 Scorpions):
Glendale: Willie Calhoun, 2B (Dodgers) and Paul DeJong, 3B (Cardinals)
Mesa: Anthony Alford, OF (Blue Jays) and Conner Greene, RHP (Blue Jays)
Peoria: Brent Honeywell, RHP (Rays) and Michael Gettys, OF (Padres)
Salt River: Brett Phillips, OF (Brewers) and Isan Diaz, SS (Brewers)
Scottsdale: Miguel Andujar, 3B (Yankees) and Gavin Cecchini, SS (Mets)
Surprise: Michael Kopech, RHP (Red Sox) and Josh Staumont, RHP (Royals)
@jimcallisMLB @MLBPipeline as a @Braves fan, is there a kid out there making a case for consensus 1-1 pick next June? #2017mlbdraft

— Stephen Phillips (@sphilli1) August 31, 2016
Twins fans may be wondering about this as well, because their club currently owns a one-game lead over the Braves for the No. 1 overall pick in the 2017 Draft.
The prospect generating the most buzz right now is Notre Dame High (Sherman Oaks, Calif.) right-hander/shortstop Hunter Greene. He has a fastball that reaches 98 mph and a hard slider, and he also has intriguing power potential. There's a split camp on whether his future is brighter as a pitcher or hitter, and I believe more clubs prefer him on the mound -- though no prep righty has gone No. 1 in the Draft.
Counting Greene as a high school arm, the top prospects in the other demographics currently are Vanderbilt outfielder Jeren Kendall, Florida right-hander Alex Faedo and Ballard High (Louisville, Ky.) outfielder Jordon Adell. The prep group looks a lot stronger than the college crop at this point.
@jimcallisMLB @MLBPipeline @MLBDraft @MLB who would you take as your shortstop for the next 10 years? Brendan Rodgers or J.P. Crawford?

— Corbin (@WhiteSox4life) September 1, 2016
Rodgers has the highest offensive potential of any shortstop who has yet to make his big league debut. When you magnify it with Coors Field, he could be a 30-homer threat in his prime.
It's not definite that Rodgers will stay at shortstop, however, so if you want a player who's a lock to remain at the position, the Phillies' Crawford would be the choice. He won't have as much power as Rodgers, but Crawford has 10- to 15-homer pop and will hit for a higher average, steal more bases and challenge for Gold Gloves.
The Mets' Amed Rosario also could factor into this discussion. He's not quite the pure hitter or defender that Crawford is, but Rosario isn't far off.
@jimcallisMLB @MLBDraft Do you like Singer's upside more right now than Faedo's?

— Vander (@vander1017) September 1, 2016
This question plays off the fact that Florida sophomore right-hander Brady Singer was our No. 1 prospect in the Cape Cod League and Gators teammate Faedo was our top-rated pitcher on the U.S. collegiate national team. As mentioned above, Faedo is in the mix to go No. 1 in the 2017 Draft, and Singer is a candidate to do the same in '18.
It's very close, and while I'll give Faedo the edge, that may be because we've seen what he can do as a starter for two years at Florida while Singer was mostly a reliever as a freshman. They have similar 92-95 mph fastball velocity, though Singer has better life on his heater. Faedo has a nastier slider and has a better track record of command at this point, plus some deception that helps his stuff play up further.
Jim Callis is a reporter for MLB.com. Follow @jimcallisMLB on Twitter. This story was not subject to the approval of Major League Baseball or its clubs.