Barraclough escapes huge bases-loaded jam
Marlins reliever starts 1-2-3 double play, fans Cespedes to end 8th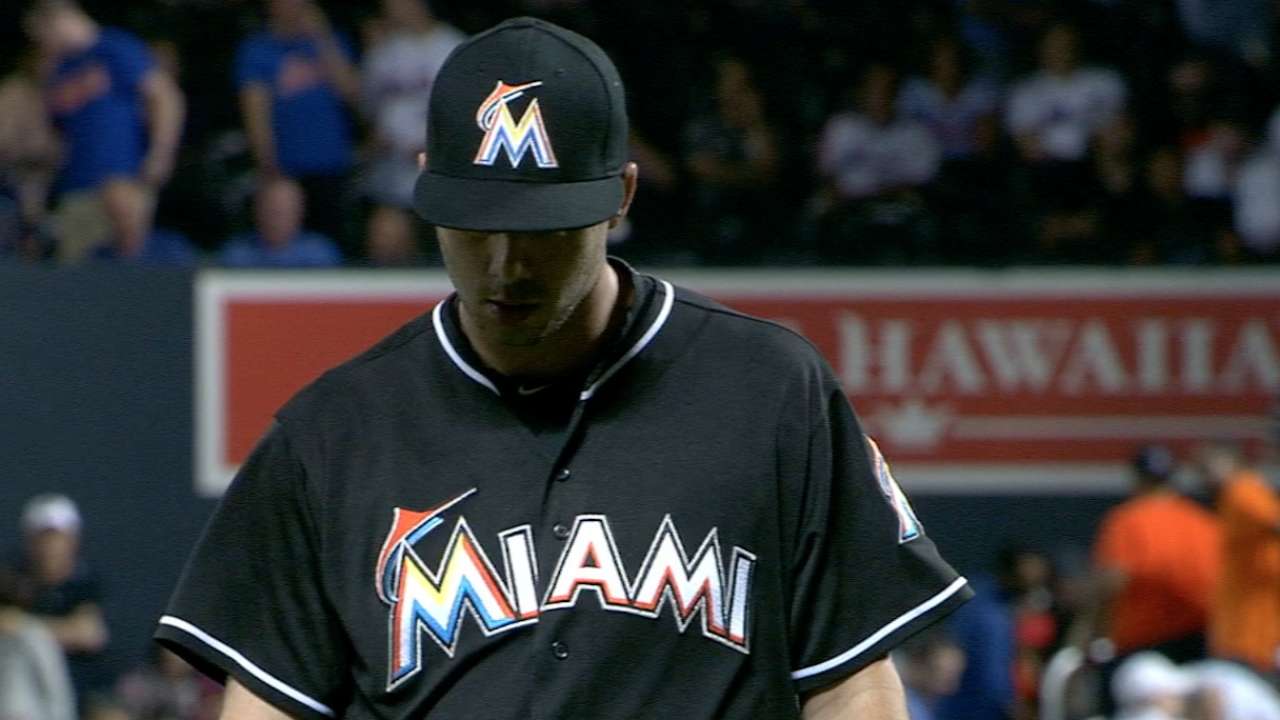 NEW YORK -- So much for a night off for reliever Kyle Barraclough. As much as manager Don Mattingly didn't want to, he felt he had no choice but to use the hard-throwing right-hander in the eighth inning on Thursday night.
The Mets were threatening, and Barraclough induced a double play with the bases loaded and then struck out pinch-hitter Yoenis Cespedes, arguably the most crucial three outs in the Marlins' 6-4 victory at Citi Field.
Leading 6-1 in the eighth inning, Nick Wittgren started off the inning, but he allowed three straight hits, a double to Curtis Granderson, followed by singles to Kelly Johnson and Jay Bruce, producing a run.
Barraclough inherited a difficult spot.
"You don't want them to get that game going," Mattingly said of the Mets. "These guys have been around. Obviously, what they were able to accomplish last year, you know that they've been through some stuff, and they're not just going to fold up, and quit playing. You don't really want to let that thing keep moving at all and turn that lineup over. I didn't want to have to use [Barraclough] tonight, but that's what we had to do."
Barraclough did the rest, although he walked Wilmer Flores to load the bases.
The big pitch was getting Michael Conforto to tap back to the mound, starting a 1-2-3 double play.
"That's what I was looking for," Barraclough said. "I was able to get it in on Flores before. He got away, took some good pitches. It was the same thing [with Conforto]. Trying to minimize the damage and hold the lead going into the next inning, turn it over to the rest of the guys."
The inning didn't get any easier as Cespedes pinch-hit with runners on second and third. But Barraclough -- he has a wipeout slider -- ran a 97-mph fastball by Cespedes, who struck out swinging.
Having a 97-mph fastball to battle with worked to the reliever's advantage.
"That helps too to have that in the tank," Barraclough said. "The adrenaline, too, and the energy. It's really fun to play in front of fans like that. Even if they are not for you, you can't tell. You just hear them screaming and it gives you a little extra on all your pitches."
Joe Frisaro has covered the Marlins for MLB.com since 2002. He writes a blog, called The Fish Pond. Follow him on Twitter @JoeFrisaro and listen to his podcast. This story was not subject to the approval of Major League Baseball or its clubs.