Santana wiggles out of jams, keeps Twins in game
Twins ace allows two runs in five frames as club snaps losing streak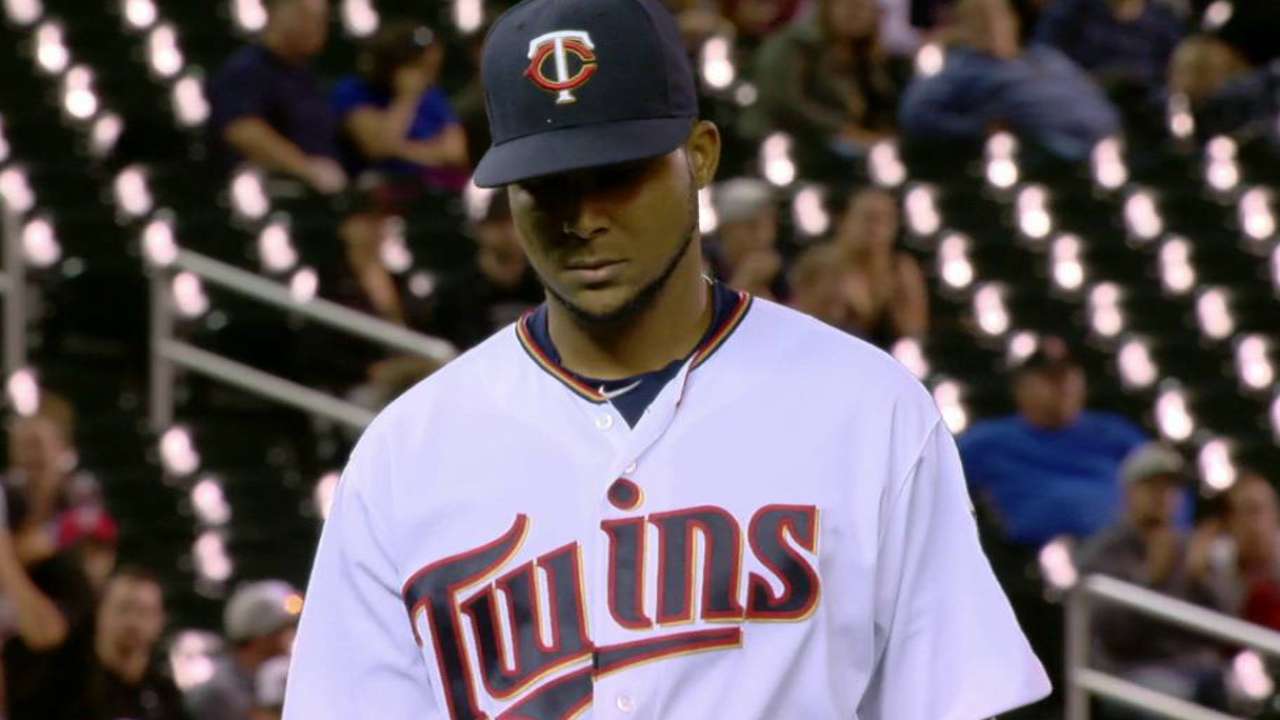 MINNEAPOLIS -- On Thursday night at Target Field, Twins ace Ervin Santana showed the 20,329 fans in attendance his best Harry Houdini impression.
Inning after inning, Santana found himself in trouble with runners on base, but inning after inning, Santana was able to slither out of jams, while limiting the damage. In the end, it wasn't easy or pretty, but Santana's harrowing five innings were crucial to the Twins as they snapped their season-high 13-game losing streak with an 8-5 victory over the White Sox.
"Not surprisingly, we broke the streak with Ervin on the mound, even though he had to fight," said manager Paul Molitor. "He's had some better games. I don't know if he's ever had to fight harder to get a win."
Santana allowed a season-high 11 hits in his five innings, but somehow escaped with only two runs allowed. And of those two runs, one was a solo homer by Todd Frazier, which had nothing to do with all of the traffic on the basepaths that Santana had to deal with all night.
"You look up there at one point, and they have 10 left on base and we have zero," Molitor said. "That was the big difference. He pitched out of jams."
He allowed three straight singles in the first inning, but was bailed out by White Sox shortstop Tim Anderson getting hit by Melky Cabrera's sharp line drive, which resulted in an automatic out. He later struck out Justin Morneau to end the inning without allowing a run.
In the second inning, he allowed two more singles, in addition to Frazier's homer, but again escaped the jam by inducing a groundout. He loaded the bases in the third, but again induced a groundout to end the threat. And to finish his outing in the fifth inning, he worked out of a first-and-second, no-out jam with two strikeouts and a groundout.
"It's tough, but at the same time, you don't think about it," Santana said. "You just try to make a good pitch, because when you don't have your good stuff, that's where you have to battle and show what you've got."
During the Twins' 13-game losing streak, the main issue had been the pitching, not the hitting. Even though Santana's outing wasn't exactly dominant, it kept the Twins in the ballgame -- and that's all Minnesota's hot offense needed to get the losing streak monkey off the team's back.
"Everybody seems more happy than yesterday," Santana said. "But still, we have three more games left to play [against the White Sox]."
Do-Hyoung Park is a reporter for MLB.com based in Minneapolis. This story was not subject to the approval of Major League Baseball or its clubs.