Contrite Puig goes 2-for-4 in return to Dodgers
Club reportedly talked trade with Brewers after waiver claim
LOS ANGELES -- Yasiel Puig's month of good behavior with Triple-A Oklahoma City earned him a return to Los Angeles, but where the outfielder and the Dodgers go from here remains a fluid situation.
In his first game back, Puig was in the starting lineup Friday against Padres left-hander Clayton Richard, batting fifth and playing right field. The right-fielder went 2-for-4 in the 4-2 loss and performed well in the field, making a solid play on a Wil Myers fly ball in the sixth inning. He grounded out with two outs and the bases loaded in the third inning.
Puig received a loud ovation as fans heard his name at Dodger Stadium for the first time since July.
"I was very happy and grateful," Puig said through an interpreter. "I thank God for the welcoming I received and the messages I received in my time, for everybody asking for my return. I'm just very grateful to everyone."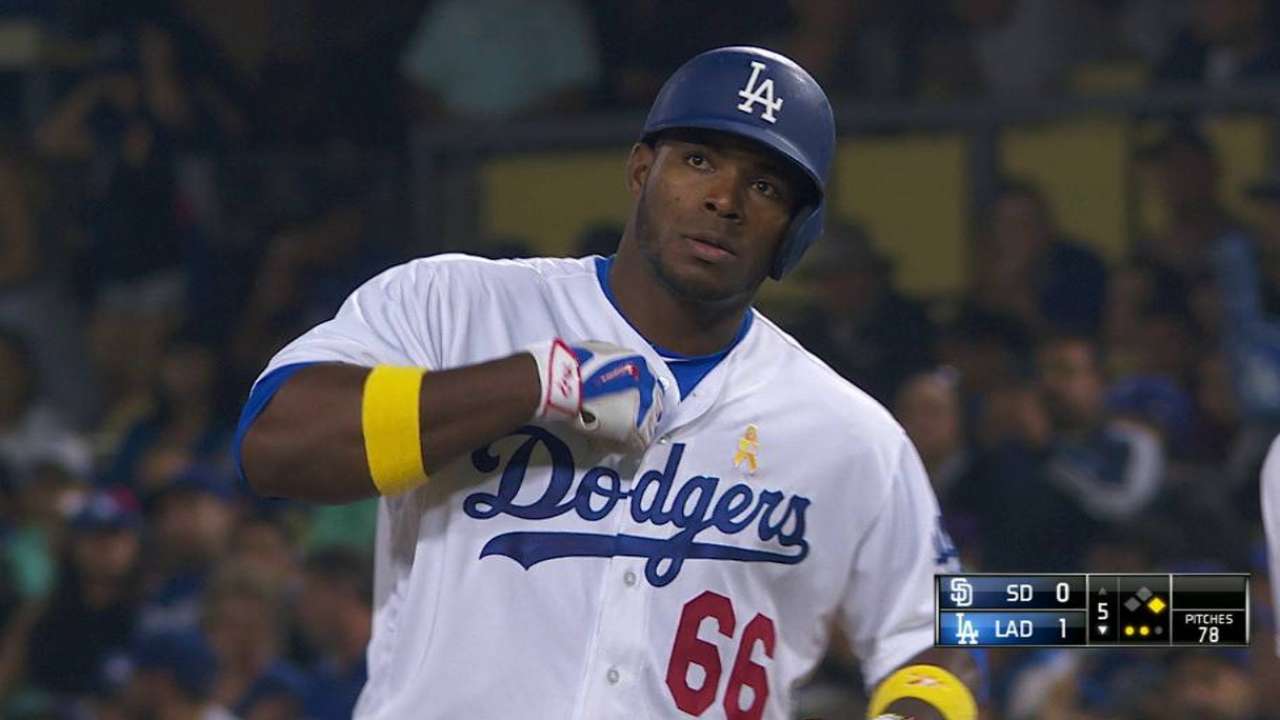 After the Dodgers were unable to find a suitable offer at the non-waiver Trade Deadline on Aug. 1, Puig was sent down to OKC with the understanding that he had to improve as a teammate if he ever wanted to return to LA.
However, the team continued to pursue a trade by placing him on revocable trade waivers. Per MLB Network's Ken Rosenthal, the Brewers made the winning claim and the two teams made a real attempt to work out a trade, with Ryan Braun among the names mentioned.
Puig was one of several September callups Friday, with Austin Barnes and Josh Fields also recalled from OKC while Louis Coleman (right shoulder fatigue) and Josh Ravin (right triceps tightness) were activated from the DL. As the outfielder met with reporters, he expressed understanding about his demotion and a willingness to improve as a teammate.
"Discipline was obviously one of the most important things. I also had to be a better teammate and better disciplined within the clubhouse," Puig said. "They made the right choice sending me down there. Now I'm doing the correct things to come back. I'm here now and I'm grateful for the opportunity."
An incident in which Puig released video of the team's late-night antics on a party bus via Snapchat marked a rocky beginning to his tenure in Triple-A and drew a public rebuke from president of baseball operations Andrew Friedman, but manager Dave Roberts said that he and the front office received strong reports that Puig had done what they wanted.
"He accomplished what we had hoped. He earned the opportunity to get back here," Roberts said. "From all the reports that we received from the guys in Oklahoma City, he abided. He was a great teammate and he actually enjoyed himself in Oklahoma City. To get him back here, we ultimately felt he made us better."
While Puig's numbers have taken a step back in recent years, his past performance against left-handed pitchers also gave him a real role upon his return. The Dodgers rank last in the Majors in OPS against left-handed pitching with a .636 mark.
"It's about winning baseball games," Roberts said. "Numbers don't lie, we haven't hit left-handed pitching. With Yasiel's track record, he's shown he can hit left-handed pitching and also play plus defense."
Josh Reddick's difficult first month as a Dodger could also loosen up right field for Puig, at least against left-handed starters. In his first 94 plate appearances with LA, Reddick is hitting .161/.223/.172 with a single RBI.
A trade in the offseason remains a significant possibility for Puig, but good behavior and a real need for him as a player at least allowed him to make his way back to the Dodgers.
"He was humbled to go down to Triple-A," Roberts said. "Fairly or unfairly, there's a lot of attention on Yasiel, good or bad. To swallow your pride and take care of business and look yourself in the mirror and say 'I've got to better,' that's tough to do. For him to to do that says a lot about his character."
Roberts added that a few of Puig's teammates have already talked to him, voicing their expectations and reopening communication.
Jack Baer is a reporter for MLB.com based in Los Angeles. This story was not subject to the approval of Major League Baseball or its clubs.