Make-or-break stakes in 6 weekend series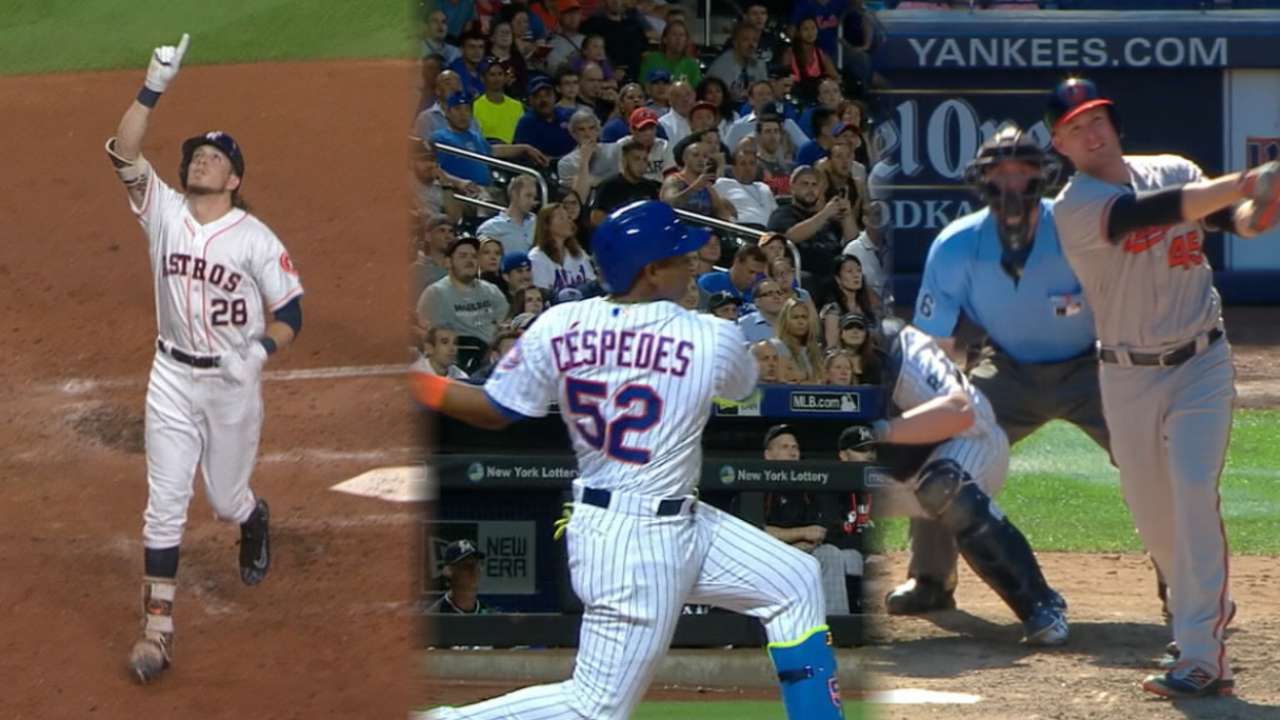 With the regular season nearing an end, the postseason picture is beginning to take shape. Nonetheless, much could change between now and the beginning of October as teams make their final push in the standings. This weekend promises plenty of compelling drama featuring potential playoff previews and a number of contenders meeting head-to-head.
By the end of the day Sunday, the postseason landscape, particularly the Wild Card races, could be dramatically different. Below is a look at six series featuring 12 playoff contenders to look forward to this weekend, each available for streaming live on MLB.TV.
MLB.TV Premium has returned with the same features as last year, and is only $24.99 for the rest of the season. This package has the best value and provides access to more than 400 devices and a free subscription to the MLB.com At Bat Premium app (a $19.99 value). It offers the best picture quality ever -- a new 60 frames per second -- for supported devices.
Nats look to spoil Mets' playoff hopes: WSH@NYM, 7:10 p.m. (all times in ET)
The Nationals and Mets open a three-game series at Citi Field today in somewhat of a role reversal from last season. The Mets entered last September with a 6 1/2-game lead on the Nationals in the National League East and went 7-2 against the Nationals from July 31 and on, including two three-game sweeps. New York ended up winning the division by seven games, and the Nationals' only two victories in that span came after the Mets had already clinched.
But now it's the Nats who have the edge, 9 1/2 games up while the Mets compete for a Wild Card spot. With six more games between these clubs, Washington has an opportunity to play spoiler to New York's playoff hopes in the way the Mets did to them in 2015.
"The challenge is not to figure that you have anything made," Nationals manager Dusty Baker said. "You can't make a playoff push until you actually mathematically eliminate everybody else, unless you start counting chickens before they hatch."
And this time, the Nationals have Daniel Murphy on their side, who's slashing .341/.384/.600 with a career-best 25 homers in his first season with Washington. The 31-year-old signed with the Nats this offseason after spending the first seven years of his career in New York. Through 13 games against his former club, Murphy is hitting .423 (22-for-52) with seven home runs and 21 RBIs.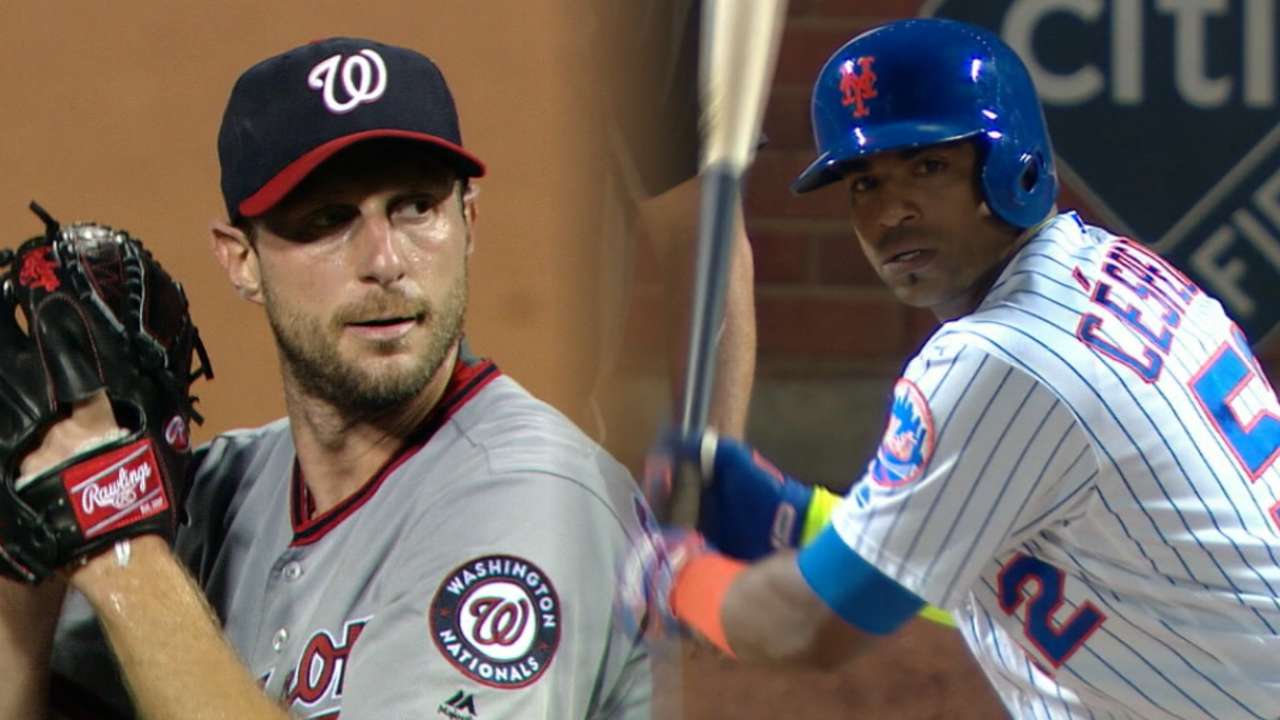 Marlins, Indians open Interleague series: MIA@CLE, 7:10 p.m. ET
The Marlins and Indians will share the field today for the opener of what may be the most meaningful series between these organizations since they met nearly 20 years ago in the 1997 World Series, which Miami won in seven games.
The Tribe enters tonight's Interleague bout with a 4 1/2-game hold on the American League Central. Cleveland is seeking its first division title since 2007. The Indians have been absent from the playoffs since losing the 2013 AL Wild Card Game. The Marlins, meanwhile, are vying for the franchise's third postseason appearance and its first since winning the World Series in 2003. The Marlins are three games back of the Cardinals for the NL's second Wild Card spot.
"It's going to be a fun month of September," Indians second baseman Jason Kipnis said. "That's what we wanted it to be. We wanted to have some important games, and we're definitely going to get that."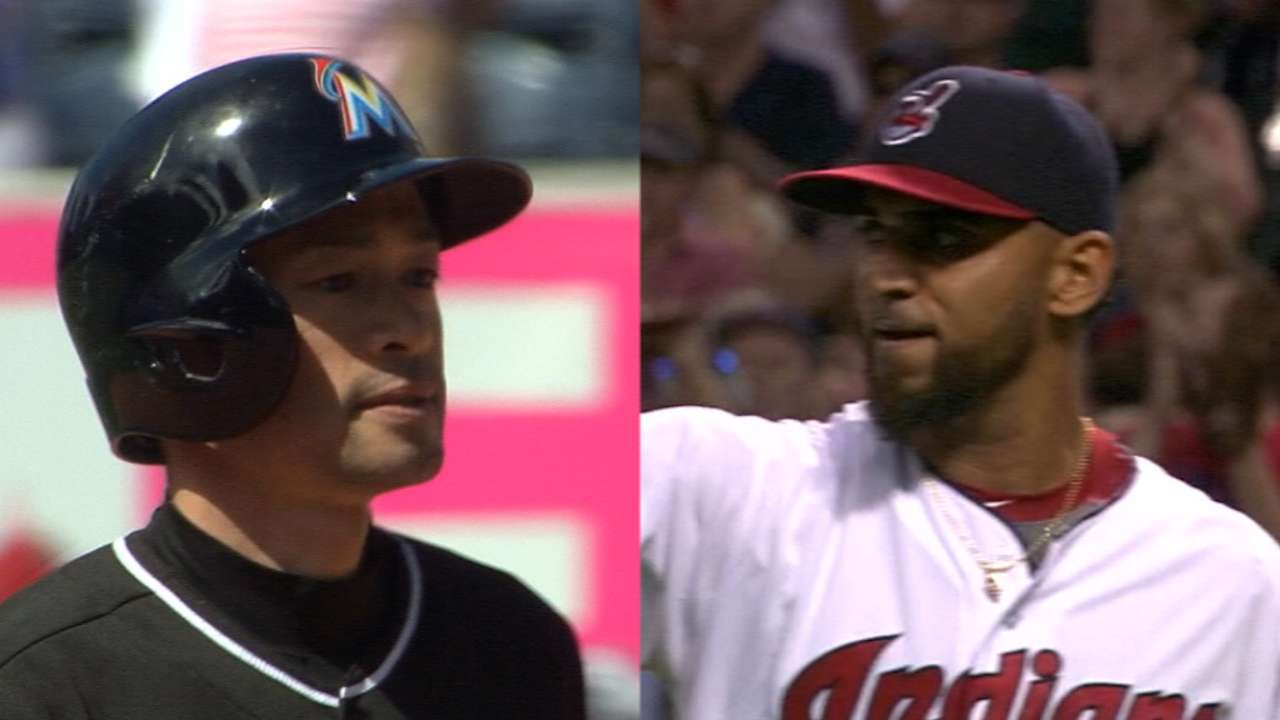 Texas showdown: HOU@TEX, 8:05 p.m.
Carlos Gomez will reunite with his former teammates today, facing the Astros for the first time since they released him when these Texas rivals begin a three-game series at Globe Life Park. Gomez has already made an impact with his new club, hitting a grand slam for the Rangers against the Mariners on Wednesday.
This matchup marks the beginning of a stretch of 13 consecutive games for the Astros against teams currently in first place, bookended by two series vs. Texas. Houston has just 29 games remaining to overcome its 8 1/2-game deficit in the AL West or to secure a Wild Card spot; the Astros are one game out for the second Wild Card berth.
"If we want to catch the Rangers, we need to beat the Rangers," Astros manager A.J. Hinch said. "We know it's a tough place to play, we know they're a really good team and if we continue to win series, we're going to like where we're at."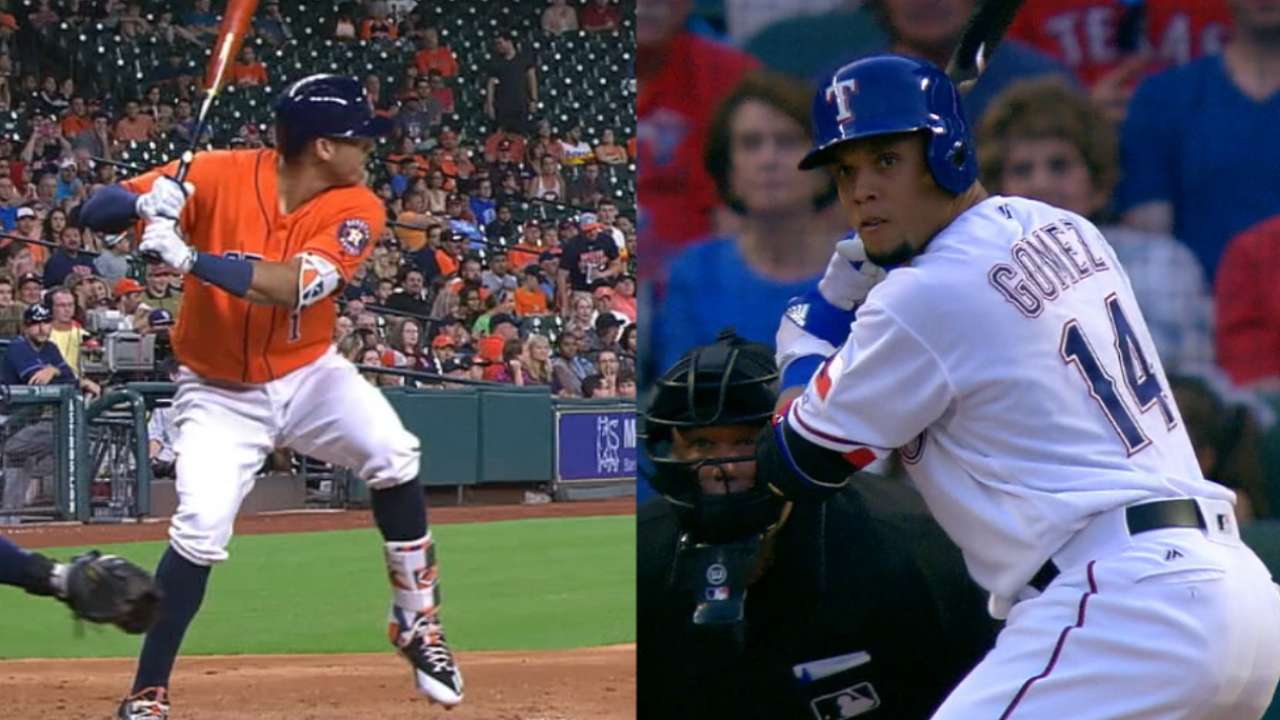 AL Wild Card contenders clash in Kansas City: DET@KC, 8:15 p.m.
The defending World Series champion Royals know what it takes to get to October, entering September as one of the hottest teams. After posting a 7-19 record in July, the Royals surged back into the postseason picture with a strong showing in August (20-9), including winning 18 of their last 24 games. Kansas City has an opportunity to gain further ground in the Wild Card race in a matchup with the Tigers this weekend, when a Royals sweep will even the teams in the standings.
"This is a group that can do it," Royals manager Ned Yost said of making the playoffs. "It's a group of guys that believe in themselves. It's a group that doesn't give up. That's all you can ask for at the end of the day."
The Tigers have enjoyed a similar late-season rise to claim shared possession of the AL's second Wild Card spot while they continue to pursue the Indians in the AL Central.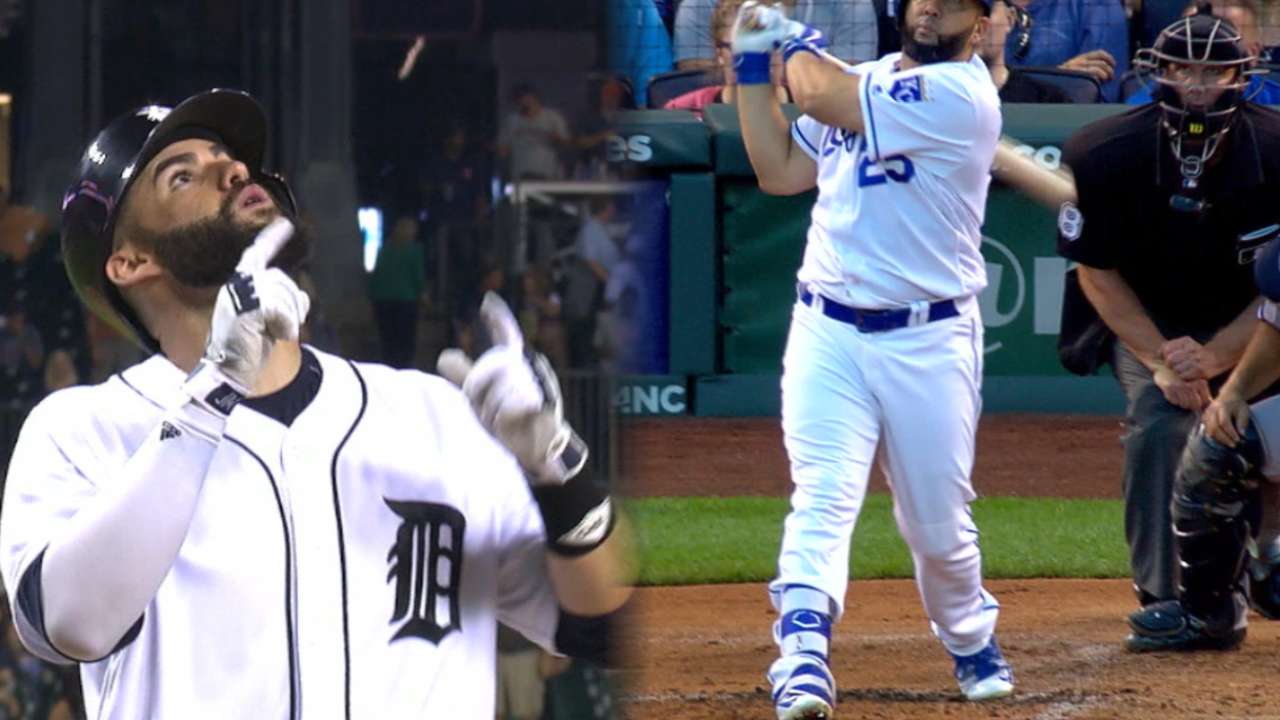 Yankees challenge O's hold on Wild Card spot: NYY@BAL, 7:05 p.m. ET
Typically teams that are major sellers at the Trade Deadline aren't in contention when the calendar flips to September, but the Yankees have defied convention this season. Despite trading away several key contributors, New York has won 13 of its last 20 games and remains in the postseason mix with numerous young players -- including Gary Sanchez, Aaron Judge and Tyler Austin -- stepping up for the club.
"I feel good about the guys in this room," said Yankees manager Joe Girardi, whose club is 2 1/2 games behind the Orioles and Tigers for the second AL Wild Card spot. "The opportunity is in front of us. There's a hill to climb, but I really believe in these guys, and I believe we're going to continue to fight."
The Yankees will look to keep rolling against Baltimore, one of several teams they're competing with in a crowded Wild Card field. The slumping Orioles have been trending in the opposite direction, losing five of their last seven games. The O's face a tough schedule down the stretch, playing the majority of their games on the road and against contending teams.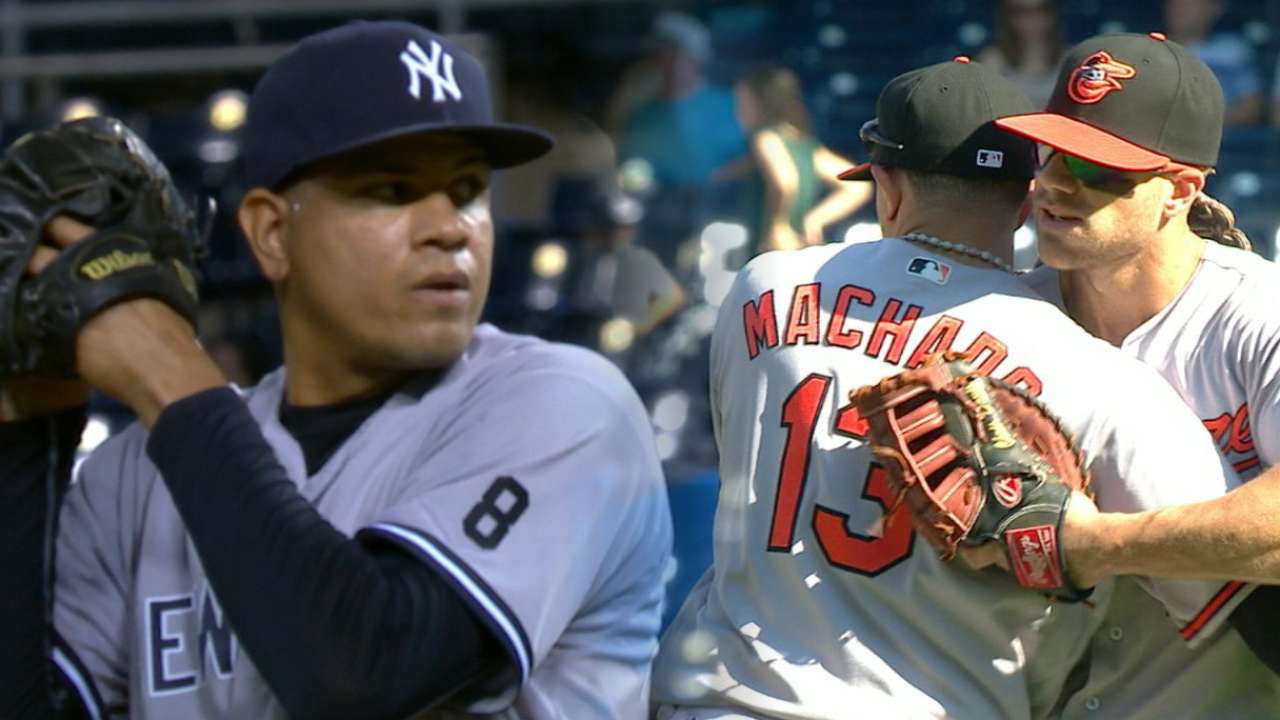 Giants take on NL's top team at Wrigley: SF@CHC, 2:20 p.m. ET
The Giants struggled out of the gate in the second half, going 9-25 and ceding the NL West lead to the Dodgers. But they still remain in possession of the NL's top Wild Card spot and have six more head-to-head matchups with Los Angeles. The Giants' record is on par with the club's standing at this point in each of their last three championship seasons and they're hoping they can rekindle some of that even-numbered year magic.
They draw a tough assignment this weekend, however, as they continue a four-game set against the Cubs at Wrigley Field. With a dominant pitching staff and a potent offense, the Cubs (86-47) boast the best record in baseball.
"It's definitely one game at a time, but it's starting to enter our minds of how many games do we have to win to clinch," first baseman Anthony Rizzo said. "We have to stay focused and keep playing."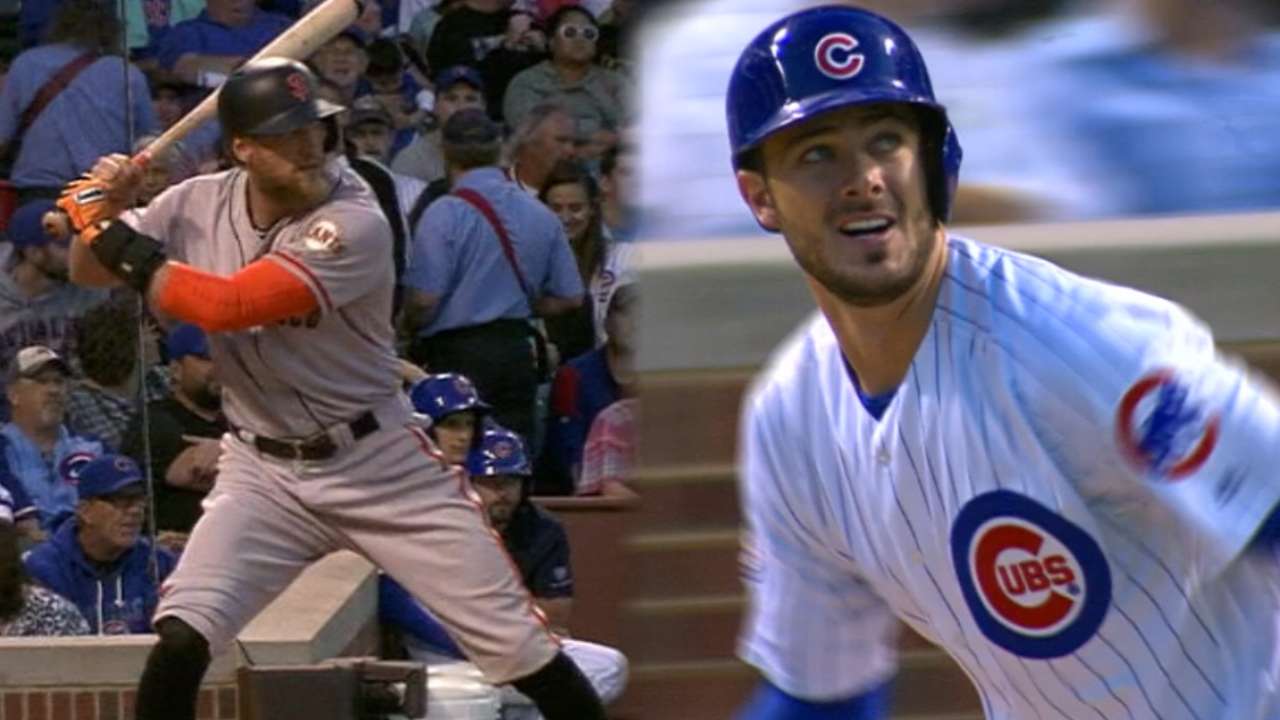 MLB.TV Premium subscribers get the Mosaic View -- split screen or quad, available on PC or Mac only. That always comes in handy, especially when scoreboard-watching looms. MLB.TV Premium and MLB.TV Single Team subscribers both enjoy HD and both will get real-time highlights and player stats automatically loaded moments after they occur (only for the game you are watching with MLB.TV Single Team, and for all games with MLB.TV Premium).
Chad Thornburg is a reporter for MLB.com. This story was not subject to the approval of Major League Baseball or its clubs.