Edwards' 1st save caps Cubs' perfect 'pen night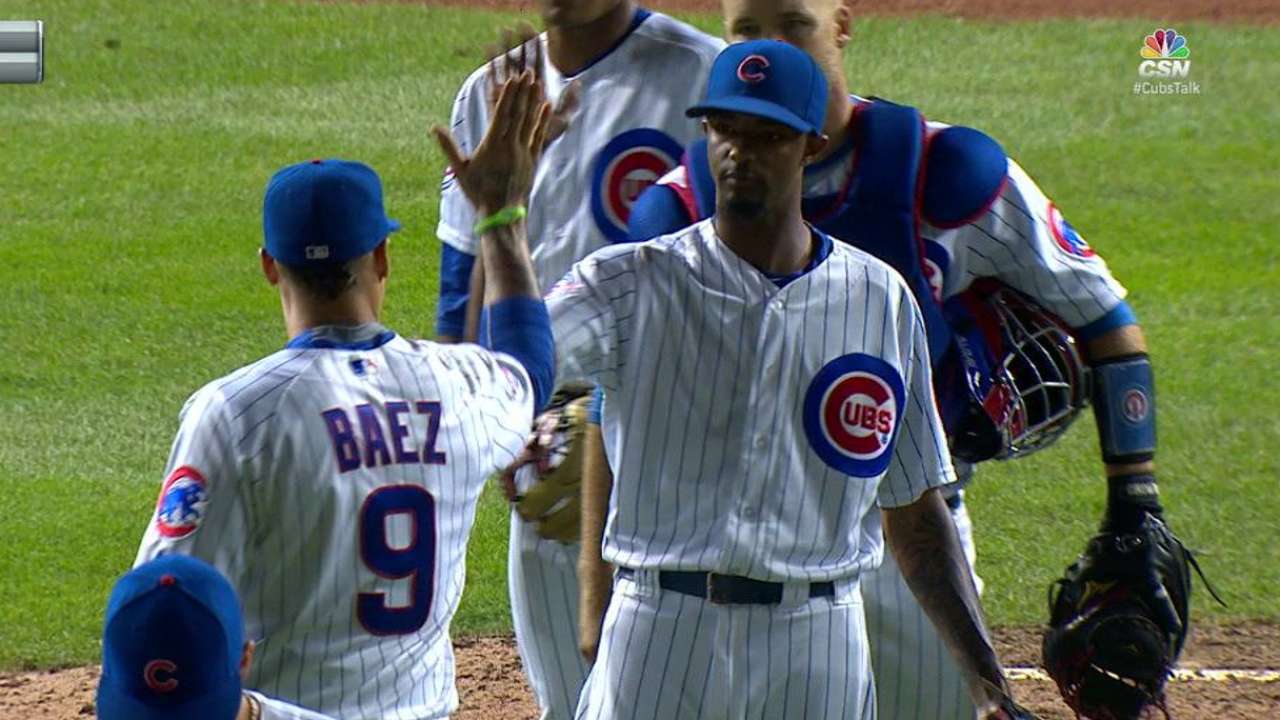 CHICAGO -- Carl Edwards Jr. tried to stay calm. It was the ninth inning, 38,000-plus at Wrigley Field, and the Cubs had a one-run lead over the Giants. The rookie right-hander tried to channel his inner Mariano Rivera to help him.
"I'm not going to lie, I was nervous," Edwards said. "My main goal was to get first-pitch strikes. I told myself, 'First-pitch strikes,' and it made the at-bats much easier."
Edwards struck out Hunter Pence on a 97-mph fastball, and got Brandon Crawford and Joe Panik to ground out to preserve the Cubs' 5-4 victory Thursday night over the Giants, giving Edwards his first big league save.
"We just couldn't tack on," Giants manager Bruce Bochy said. "That's the difference. Their 'pen did quite a job on us."
Three Cubs relievers combined for five perfect innings. Rookie Rob Zastryzny and veteran Joe Smith, who was activated from the disabled list on Thursday, each pitched two innings. Cubs manager Joe Maddon was limited in his bullpen options, and closer Aroldis Chapman was not available after pitching in three straight games. It was up to Edwards.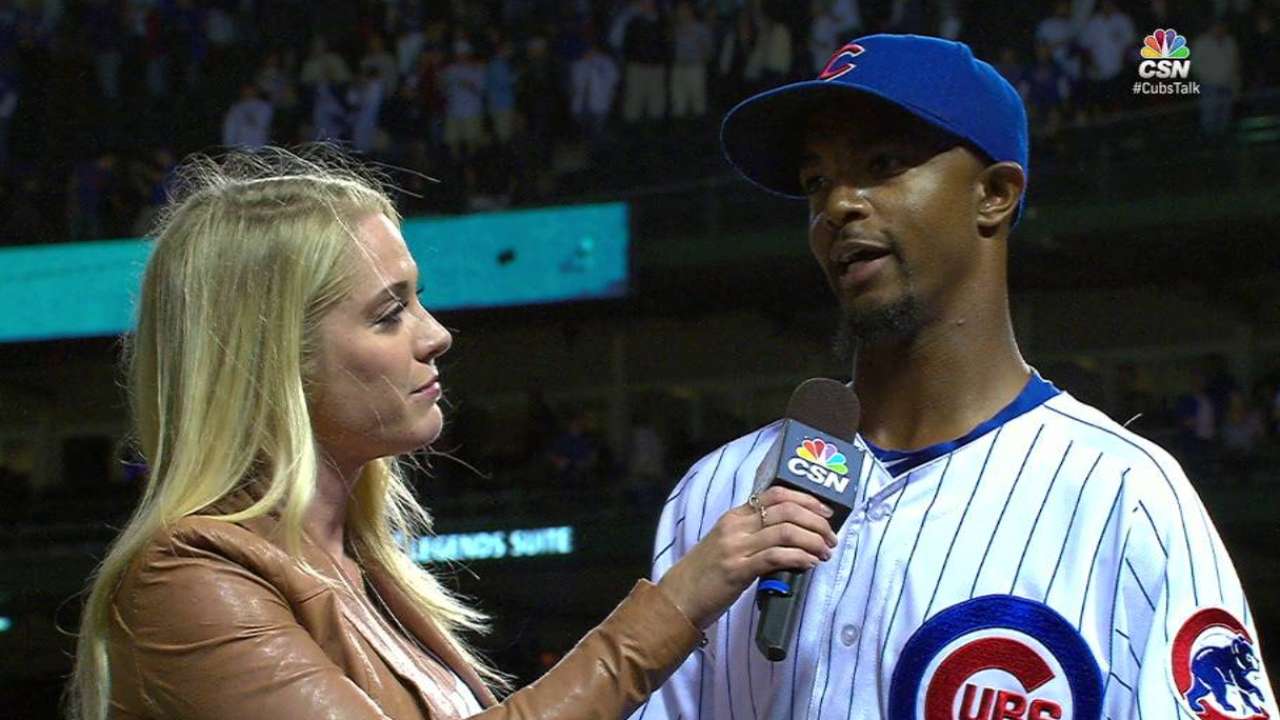 "From the sidelines, I just loved his focus," Maddon said of Edwards. "The head down, then pull up, see the target, throw the baseball. And his command of the curveball set everything up, beyond his velocity."
Edwards has learned from watching Chapman, the hard-throwing lefty.
"It's funny but when he's warming up, I'm like a little kid in the candy store," Edwards said. "I'm stuck, and I'm just looking at him and watching everything he does. Of course, I'm not going to throw 107 [mph] -- that's a little exaggeration -- but my main thing, once I got to professional baseball, was Mariano, Mariano. I started watching more video of Mariano. It's not trying to be him, but watching his pitch locations, his natural movement, and I put that in my head.
"If [pitching in relief] is my role in the Major Leagues, it's something I'll have to get better at," Edwards said. "Just continuing to watch his videos has helped me a lot."
Edwards was a starter, but the Cubs shifted him to a relief role after some shoulder issues limited him to 48 innings over 10 starts in 2014. He's been called on in key situations, having to face the Mets' Yoenis Cespedes, the Angels' Mike Trout and Albert Pujols, and the Dodgers' Corey Seager and Justin Turner this season. And Edwards hasn't blinked. Maddon has repeated that he wants to be careful with Edwards, and not use him in back-to-back outings.
"I'll let [Maddon] make that decision," Edwards said.
What will Edwards remember the most from his first save?
"What I'll remember the most is David Ross coming to me and saying, 'Good job, that was very exciting to catch,'" Edwards said of the 39-year-old veteran who is retiring after this season. "For me personally, having him back there for me to have my first save, I was very happy. I told him, too. I told him, 'Dude, I had so much confidence just because you were back there.'"
Carrie Muskat has covered the Cubs since 1987, and for MLB.com since 2001. She writes a blog, Muskat Ramblings. You can follow her on Twitter @CarrieMuskat and listen to her podcast. This story was not subject to the approval of Major League Baseball or its clubs.