Braves' rejuvenated offense ties mark from '53
Atlanta scores at least 7 runs for 5th straight home game
ATLANTA -- Based on how the Braves performed through most of this season's first four months, it would have been safe to assume anything they did for the first time in more than 60 years would have something to do with a dubious distinction. But that was before Major League Baseball's least-productive offense suddenly transformed into a formidable unit.
With Thursday afternoon's 9-6 win over the Padres at Turner Field, the Braves tallied at least seven runs for the fifth consecutive home game for the first time since Aug. 7-10, 1953. The last time they accomplished this feat, they were playing a game in Milwaukee that featured Eddie Mathews, Warren Spahn and Cardinals legend Stan Musial.
"It doesn't surprise me at all," Braves first baseman Freddie Freeman said while turning his head and attempting to hide a wide smile.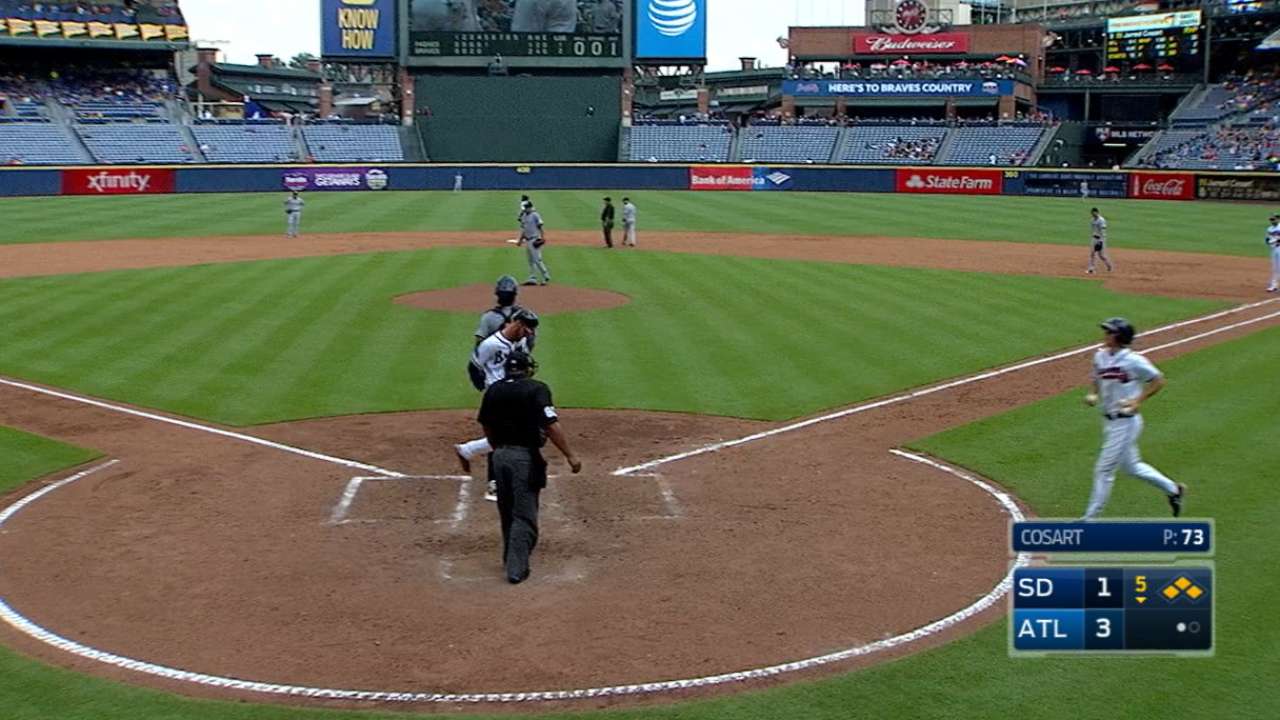 This stretch of offensive success dates back to the final two games of a four-game series against the Nationals on Aug. 18-21. It's obviously not easy to score at least seven runs on a consecutive basis within any five-game stretch, but it's truly remarkable that this feat has been accomplished by this year's Braves, who totaled seven runs or fewer in five of the 10 three-game series they played at Turner Field through the end of July.
"I've always been a big believer in if you handle the rough times, there's always something good on the back end of it," Braves manager Brian Snitker said. "If you handle it and are accountable, good things will happen."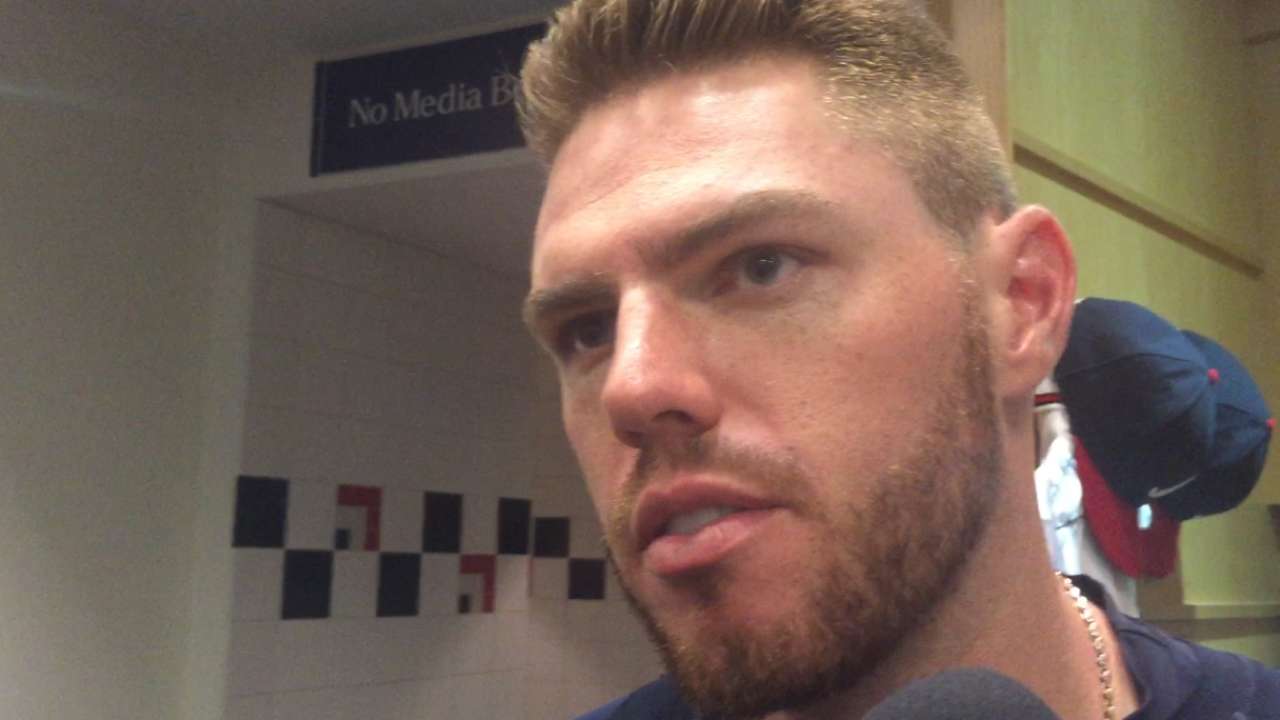 The Braves finished July having scored 18 fewer runs than any other big league club. But since acquiring Matt Kemp from the Padres and adding him to the middle of their lineup on Aug. 2, they have averaged 5.26 runs per game which, entering Thursday, ranked as MLB's third-best mark within that span.
"A big part of it has been Ender [Inciarte] at the top of our lineup," Freeman said. "He's been huge. Obviously with Matt lengthening our lineup, we've just been kind of steamrolling lately."
Freeman has certainly played a significant role in this surge, as he has batted .313 and compiled a 1.172 OPS since the start of August. His two-run shot in Thursday's win was his 28th home run of the season and 10th within a span of 81 at-bats.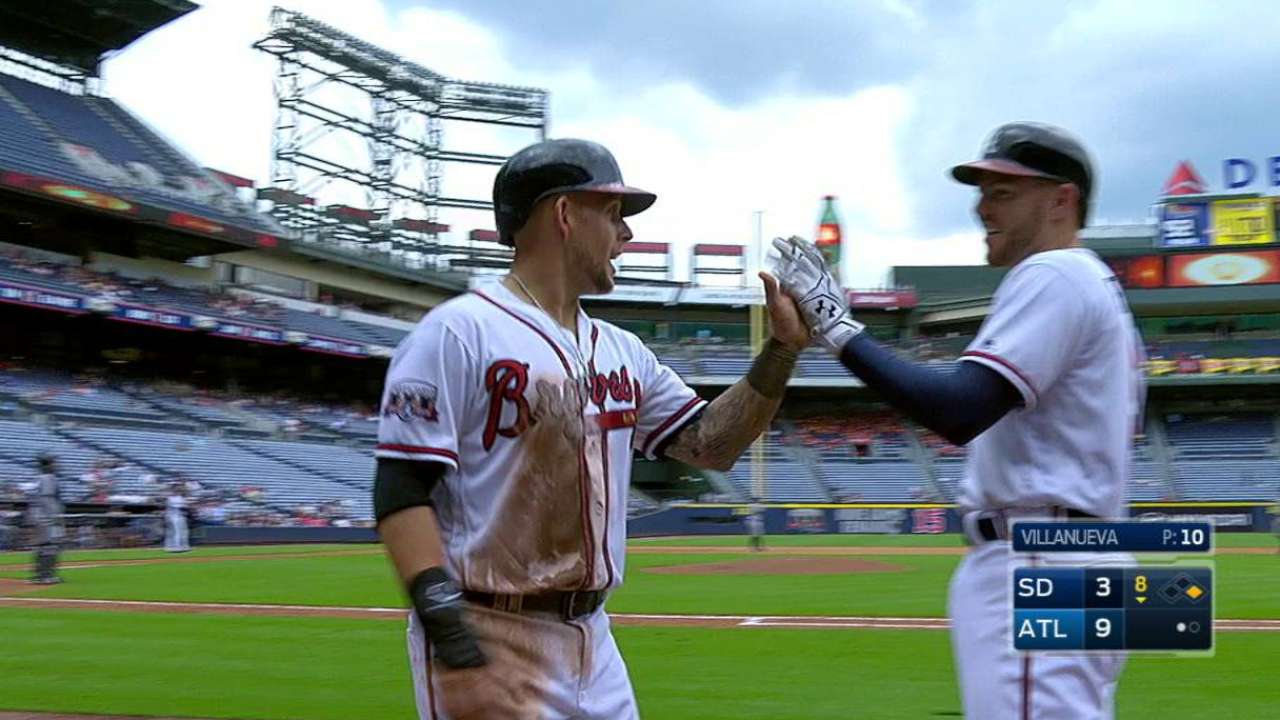 With Freeman and Kemp batting in front of him, Nick Markakis has produced a .764 OPS and collected 21 of his 73 RBIs in 29 games dating back to the end of July. But as Freeman mentioned, much of the credit must be directed toward Inciarte, who has proven his value as a leadoff man, while hitting .386 with a .443 on-base percentage over his past 31 games.
"It says a lot about the guys," Snitker said. "They've just hung in there and kept working. … We're not into the overall record. We're into today. These guys come and bring it every day."
Mark Bowman has covered the Braves for MLB.com since 2001. This story was not subject to the approval of Major League Baseball or its clubs.