Green calling on Padres to 'run through the finish line'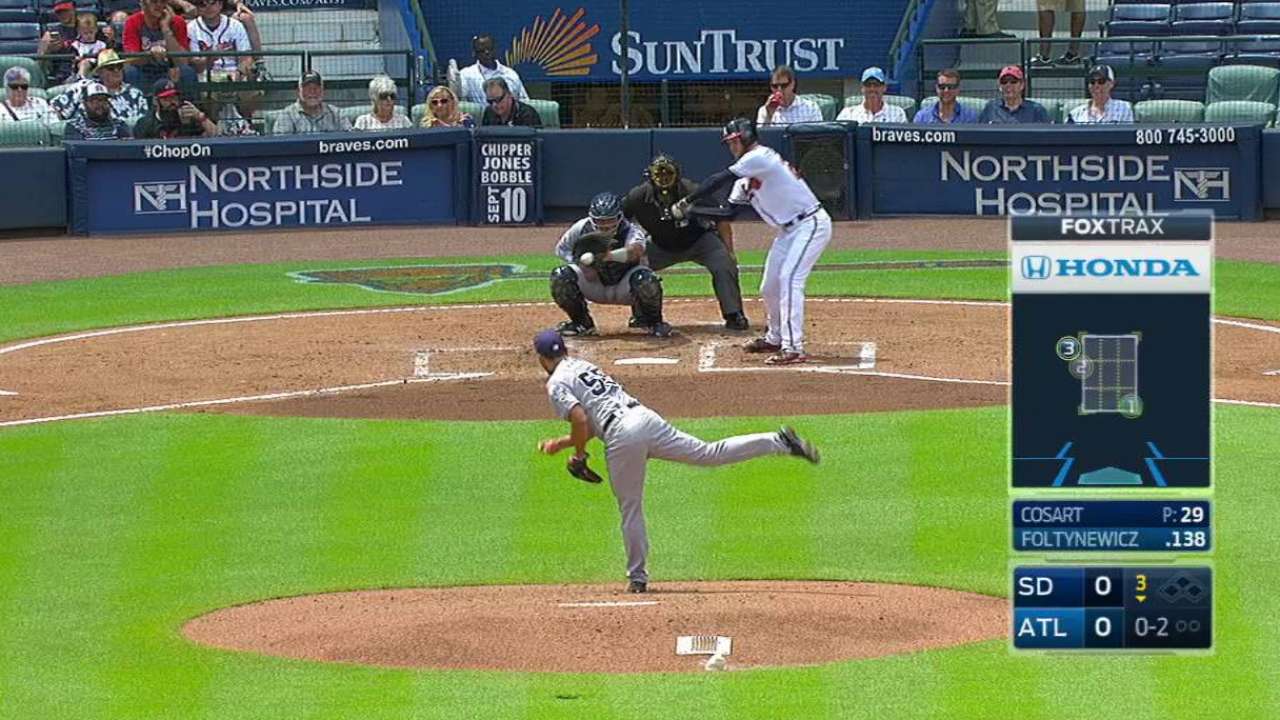 ATLANTA -- The baseball season is often compared to a marathon -- which fits nicely with Padres manager Andy Green's demand for his players to "run through the finish line."
The Padres lost to the Braves, 9-6, on Thursday, and there's been some fatigue showing on an injury-riddled and rookie-laden roster. But in Green's eyes, the final month of the season can serve as a crucial learning experience for his young team.
"Playing through September is a new concept to them, and it can be very tiring, it can be very trying," Green said. "I want to see guys finish strong. I want to see us get better at the fine details of the game, execute things that we know we can do well."
Until a late rally on Thursday, the Padres didn't execute many of those fine details, as they were swept by the Braves in their final visit to Turner Field. Starter Jarred Cosart left a series of offspeed pitches up in the zone and was roughed up, becoming the third starter in as many days to be removed before the fifth inning was over.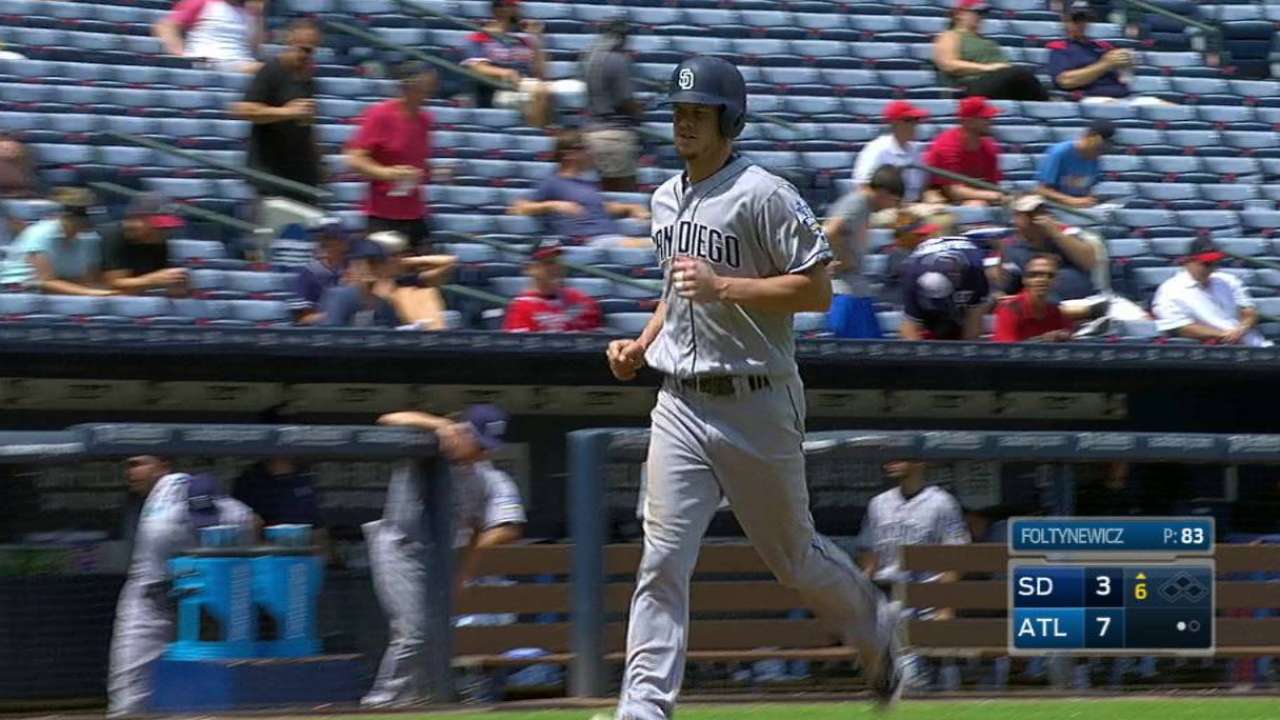 Things may have turned out differently for him if shortstop Luis Sardinas hadn't taken his time fielding a slow ground ball by opposing starter Mike Foltynewicz, who beat out a single, sparking a five-run Braves rally.
After the play, Green had a chat with Sardinas in the dugout, with the goal of acknowledging the youngster's mistake and learning from it.
"As the roster has turned over, you look at Sardinas," Green said. "He was not a part of our club in Spring Training, not a part of our club until about a week ago. You want to introduce the way you want to play, the style you want to play, the aggression you want to play with.
"That goes to everybody that shows up for the first time. That's something that guys learn from as they get here and as they're here a little bit longer. In the middle of a season, it's a serious adjustment."
On top of the turnover, the Padres' roster has been depleted by injuries this season, with 13 players currently on the disabled list. Those ailments have led to a suboptimal roster construction. Several young players -- namely their all-rookie outfield of Travis Jankowski, Alex Dickerson and Jabari Blash (before his finger injury) -- were thrust into an everyday Major League workload with no reprieve.
The Padres will get some help Friday, when utilityman Alexi Amarista (left hamstring strain) returns from the disabled list.
"We've got a lot of guys here that are trying to establish themselves as Major Leaguers," Green said before Thursday's game. "This is the opportunity to grind through another month of the season."
Renfroe named PCL MVP
Outfielder Hunter Renfroe, the Padres' No. 3 prospect according to MLBPipeline, was voted the Most Valuable Player of the Pacific Coast League on Thursday. He batted .306 with a league-leading .559 slugging percentage and 29 homers, good enough for second in the PCL.
Renfroe joins the growing list of Padres Minor Leaguers to earn individual honors this season. Lake Elsinore infielder Luis Urias took home Cal League MVP and Rookie of the Year honors, while Carlos Asuaje was named the PCL Rookie of the Year on Wednesday.
"As an organization, we're really pleased with what those guys have done," Green said.
It's appears likely that Renfroe, Asuaje and a few youngsters will be called up once El Paso's playoff run comes to an end. The Chihuahuas clinched the Pacific Southern Division title on Wednesday night.
Padres, TinCaps extend player development contract
The Padres and their Class A affiliate, the Fort Wayne TinCaps, announced an extension of their player development contract through the 2018 season on Thursday.
The TinCaps have been affiliated with Padres in the Midwest League since 1999.
"We're truly thrilled to extend our partnership with the Padres," TinCaps President Mike Nutter said in a statement. "In a lot of ways, we feel closer than ever to the great folks in San Diego, and this relationship has been mutually beneficial to both of us."
AJ Cassavell covers the Padres for MLB.com. Follow him on Twitter @ajcassavell. This story was not subject to the approval of Major League Baseball or its clubs.