Callups signal a step closer to future for Reds
Herrera, Winker candidates to join big league club as roster expands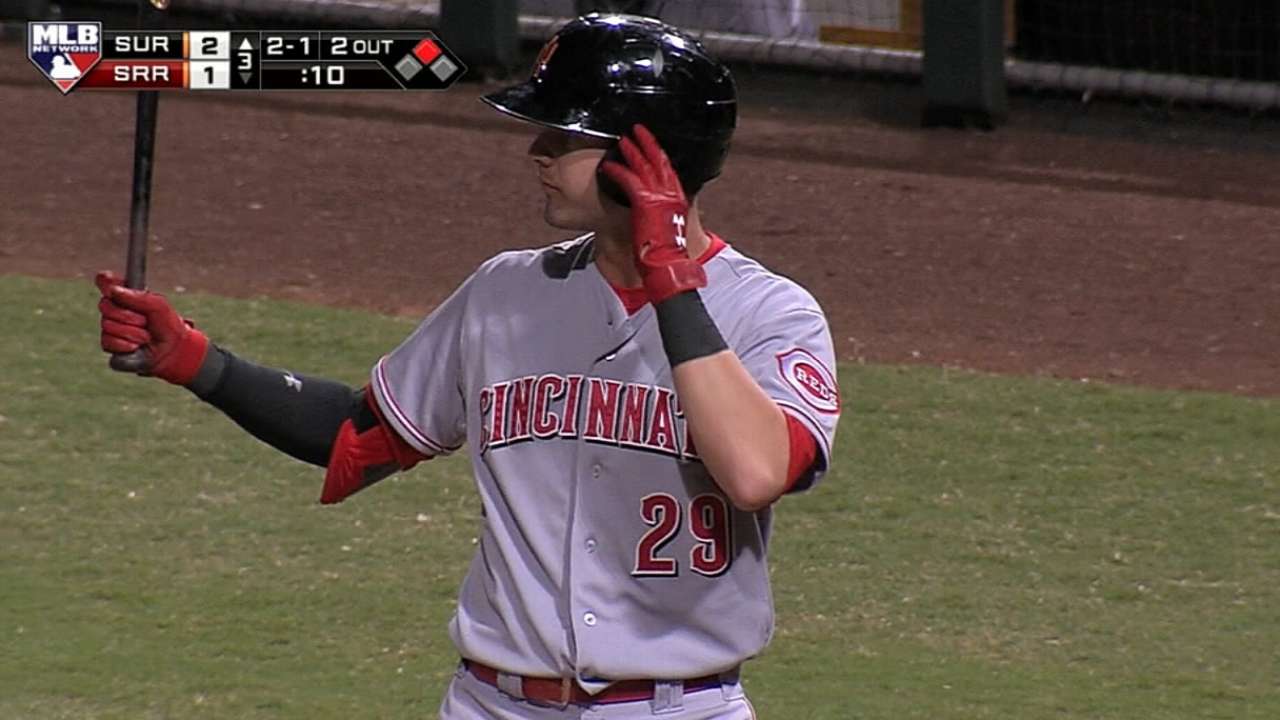 LOUISVILLE, Ky. -- With the successes of young starters Anthony DeSclafani and Brandon Finnegan and the sneak peeks at prospects like Cody Reed and Robert Stephenson, much of the focus of the Reds' rebuild has centered on pitching in 2016.
But considering the struggles of Reed and Stephenson and a combined 14 Triple-A starts for Amir Garrett and Rookie Davis, it might actually be the Reds' future offense that's closer to fruition.
The question marks surrounding Devin Mesoraco and the catcher's position aside, it's not farfetched to imagine a 2017 Opening Day roster for Cincinnati that includes an infield of Joey Votto, Dilson Herrera, Jose Peraza and Eugenio Suarez and an outfield corps that includes Adam Duvall, Billy Hamilton, Scott Schebler and Jesse Winker.
Of that group, Herrera and Winker are the missing pieces to the puzzle, and after both had relatively successful Triple-A campaigns this year, it's not impossible that they could be added to the expanded Major League roster between Thursday and the end of Louisville's season.
"I think at the beginning of the year, you realize that you're at the last stop in the Minor Leagues, and I was thinking about [the Sept. 1 callup date] a little bit," said Winker, who is ranked No. 3 in the organization. "But now, I've just kind of forgotten about everything and just come to the field ready to play."
Winker was an uber-prospect from the start, drafted by the Reds in the supplemental first round of the 2012 Draft out of high school. Herrera, now in his third organization after the non-waiver Trade Deadline deal that brought him to Cincinnati from the Mets, was signed as a 16-year-old out of Colombia in 2010 for $220,000. Winker received a signing bonus of $1 million.
Herrera rose faster than Winker did, getting his first Major League promotion from the Mets in 2014 -- a short 18-game tryout in September as a 20-year-old. He got a longer look in '15, but he ended up breaking his right middle finger and hit .211 in 31 games. If Herrera does get his next callup in '16, he hopes to take advantage and learn as much as possible from veteran Brandon Phillips.
"I have to talk to him, because he knows a lot about defense, about how to play baseball and he's got big experience there," Herrera said.
Both Winker and Herrera are around .300 hitters in their Minor League careers, and both are having solid offensive seasons -- Winker at .303 with 48 RBIs, Herrera at .275 with 15 homers and 64 RBIs -- but are question marks in terms of defense and durability.
Winker has had injury problems through most of his career, missing about a month in both 2013 and '14, including a sprained right wrist in the latter campaign. Wrist injuries popped up again for Winker in '16, costing him another month. Although he's hit well since his return, Winker has seen an absence of power, dropping from 13 homers in '15 to five this season, two of which came during his rehab stint in Rookie ball.
Defensively, Winker has gotten most of his reps of late in right field this season, with center and left field being locked up by Duvall and Hamilton. Winker was viewed as a defensive liability, keeping him from a potential promotion, until Louisville manager Delino DeShields prompted a chat.
"I had to have a conversation with him. I'm like, I feel like he's going to hit, but the rest of his game needed to improve, especially his outfield play," DeShields said. "It starts in batting practice. Instead of standing out there and holding court every day, you've got to shag, you've got to run balls down, you've got to work on your jumps. He's really picked it up as far as that. Still some work to do, but really, really improved has his defense."
For Herrera, the defense and the injury concerns are more closely tied. Herrera spent a little more than a week relegated to the bench and DH duty with an undisclosed injury to his arm. Back at second base now, Herrera's arm strength is still an issue.
"He's got some pop, his hands are good, he's got good actions," DeShields said. "His throwing needs to improve. So hopefully … the offseason with no activity and strengthening and hopefully he can get some arm strength back. Outside of that, I like what I see so far."
Cody Pace is a reporter for MLB.com based in Cincinnati. This story was not subject to the approval of Major League Baseball or its clubs.