Pirates looking to finish strong again in 2016
Despite up and down season, Bucs enter September in postseason race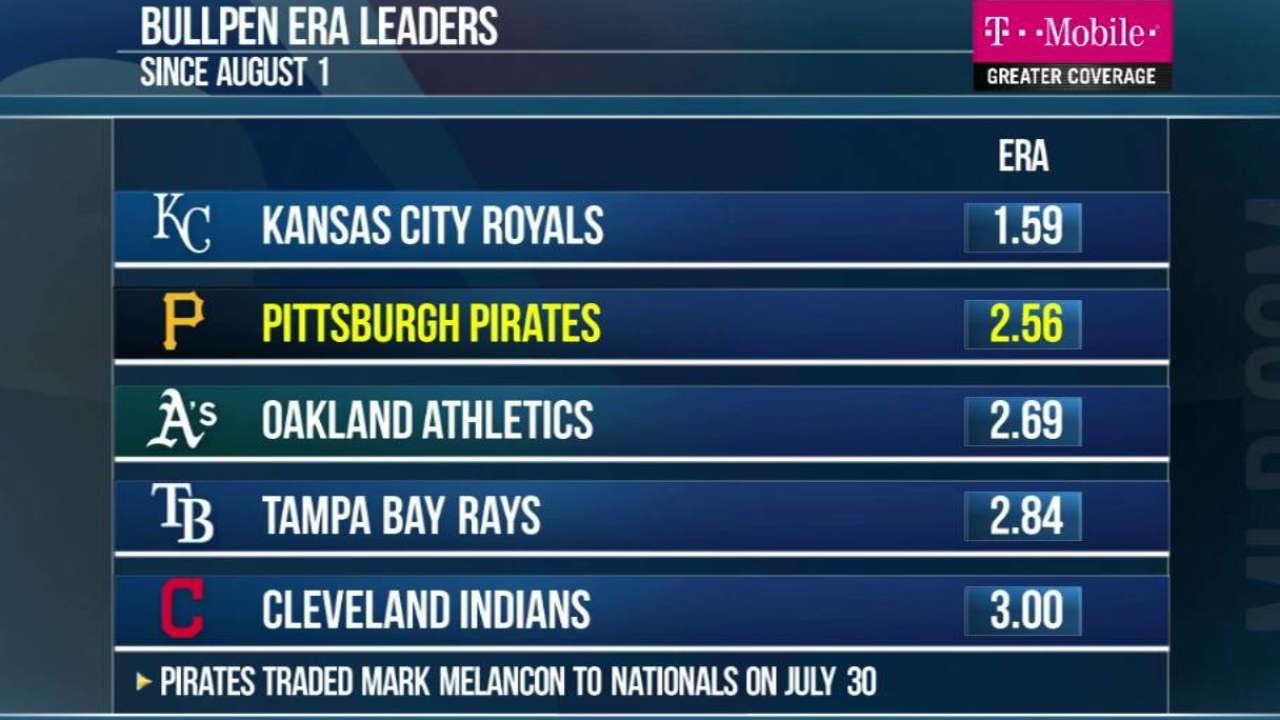 CHICAGO -- It's been an "Etch-a-Sketch" season in Pittsburgh, as manager Clint Hurdle recently described it. The Pirates have hardly followed a straight line anywhere, veering through ups and downs, injuries and trades, wonderful rookie performances and disappointing veteran downturns.
But with a little more than a month left to play, the Pirates are still in the postseason picture. They woke up Thursday morning trailing the Cardinals by 2 1/2 games for the second National League Wild Card spot.
"I think we play with urgency all year, but you do know the games are running out," Hurdle said. "We're getting toward the end of the calendar. … We've got a month of baseball left."
It's not where they hoped to be last offseason. After a third straight appearance in the NL Wild Card Game -- and their second loss in a row -- Pittsburgh set its sights on the NL Central title. Those hopes fizzled early, and they've since fallen 17 1/2 games behind the division-leading Cubs. Their best shot now is another Wild Card berth. And the Bucs believe they're well-positioned to get back.
"We're still in a good spot. We can control our own future. That's all you can ask for when you get to September," right-hander Ryan Vogelsong said. "Everything that we've been through this year -- the ups and downs and injuries, just battling and grinding the whole year -- we're in a much better spot than a lot of people. I think we have to be excited about that and continue to keep our focus on that and keep grinding, keep pushing this thing and try to get in."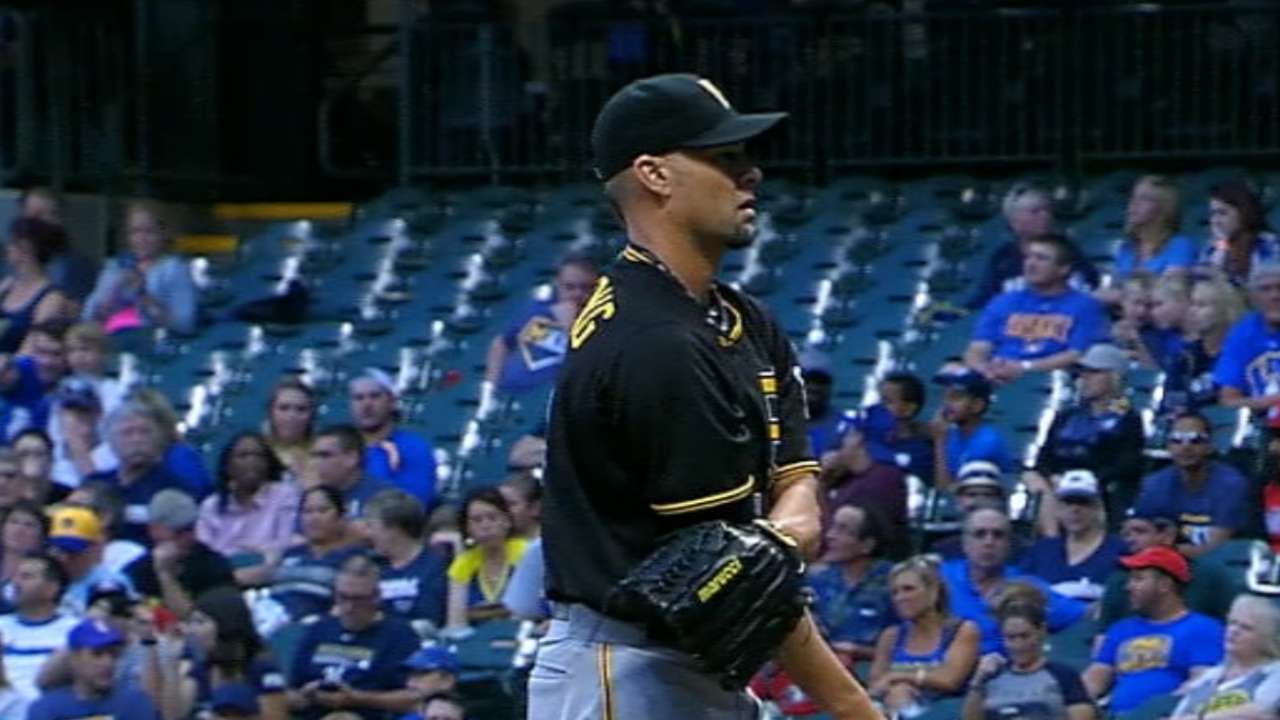 The Pirates' road ahead is mostly favorable. They will play 17 of their final 31 games at PNC Park, kicking off a 10-game homestand Friday night against the Brewers with Jameson Taillon on the mound. Only 13 of those 31 games will come against teams with a winning record, and six of those will pit the Bucs against the Cards, the club they're currently chasing.
If the Pirates are going to make a push, now is the time. Of their next 21 games, 18 will come against the rebuilding Brewers, Reds and Phillies. Their season-ending stretch might be their toughest of the year: three against the Nationals and four against the Cubs at home, then Games 160-162 in St. Louis.
"Doesn't matter. This is the big leagues. Everybody's good," shortstop Jordy Mercer said. "You've got to come ready to play, no matter what. It doesn't matter if our schedule's soft or hard or whatever. We've got to play every day. Doesn't matter who we're playing."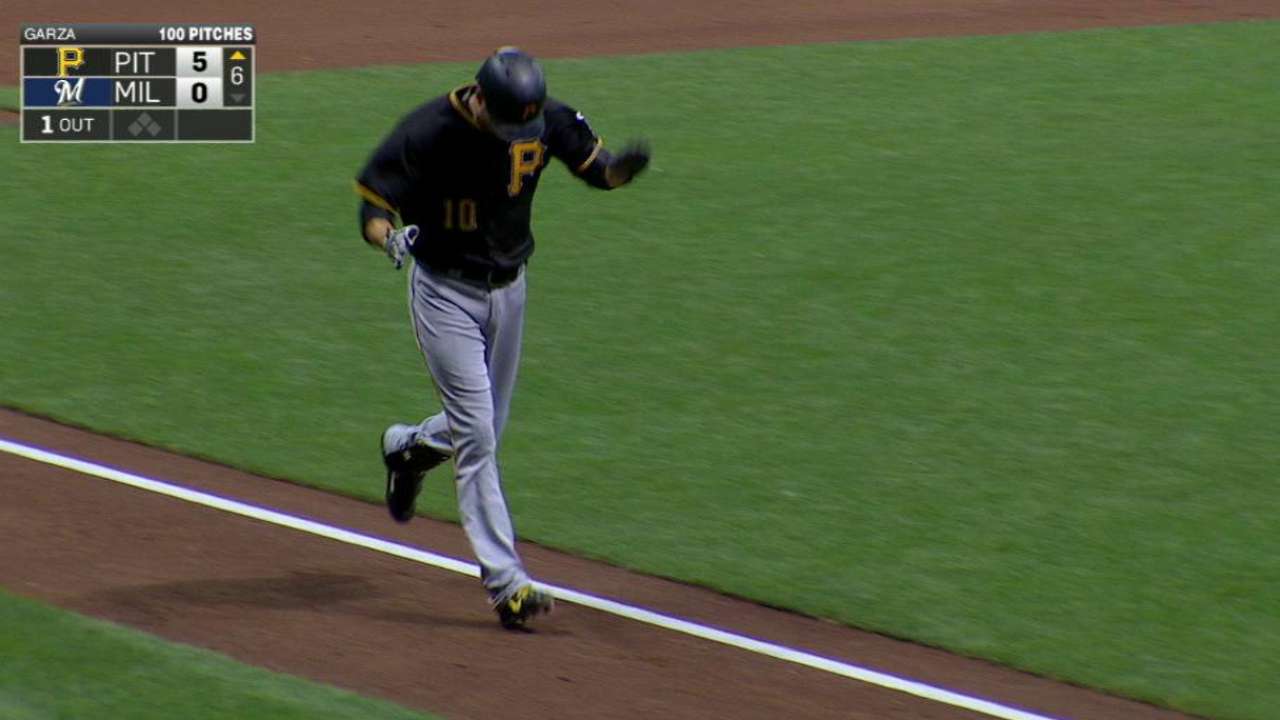 After collapses in 2011 and '12, strong Septembers have been one of the Bucs' trademarks in recent years. They went 15-12 in '13, 17-9 in '14 and 19-14 last September and October.
"It seems like the trend is every year we finish strong. This year's no different," closer Tony Watson said. "We expect to finish strong. We're playing good baseball now. It's about to turn into September. That's when it all counts and you head into October strong.
"That's our goal, to play October baseball. It's one of those years where you piece everything together."
The Pirates have had to piece it together from the beginning. They rebuilt their roster in the offseason, moving on from familiar faces like Neil Walker, Pedro Alvarez. A.J. Burnett and Charlie Morton, and paving the way for rookies like Taillon, Josh Bell, Chad Kuhl, Steven Brault, Adam Frazier and Tyler Glasnow.
In a way, the Bucs have balanced the roles of contender and rebuilder, remaining in the postseason hunt while reshaping their roster for the years to come. Through it all, they've held their ground and put themselves within striking distance of a postseason spot.
Now, the Pirates must determine how their "Etch-a-Sketch" season will shake out.
"I think we're solid," Watson said. "It's funny, you say the ups and downs of the season -- it happens every year. It's a long season. You see it every year.
"We're in a position where we can go do some damage down the stretch and play our best ball at the end."
The road ahead
The Pirates seem to be getting hot just in time to keep their postseason hopes afloat, and they have six games remaining against the division rival they're chasing: the Cardinals. The Bucs have balanced contention with a slight rebuild, completely overhauling their rotation and trading several key veterans while injecting youth into the roster, and their reward may be a fourth straight NL Wild Card Game appearance.
• Home games: 17
• Road games: 14
• Games v teams over .500: 13
• Two key series: Sept. 5-7, vs. Cardinals; Sept. 30-Oct. 2, at Cardinals
• Help on way? Gerrit Cole (elbow inflammation) is out indefinitely; Jung Ho Kang (left shoulder) is nearing a return; Glasnow (top prospect in Triple-A) could make an impact in the rotation or bullpen
• Cause for concern: Will their ragtag rotation of veterans (Ivan Nova, Vogelsong) and rookies (Taillon, Kuhl) hold up over the final month? Can Andrew McCutchen redeem his rough season with another hot month? Is the bullpen stretch-run-ready without former closer Mark Melancon?
Adam Berry has covered the Pirates for MLB.com since 2015. Follow him on Twitter at @adamdberry. This story was not subject to the approval of Major League Baseball or its clubs.