Grinding Dodgers have eyes on prize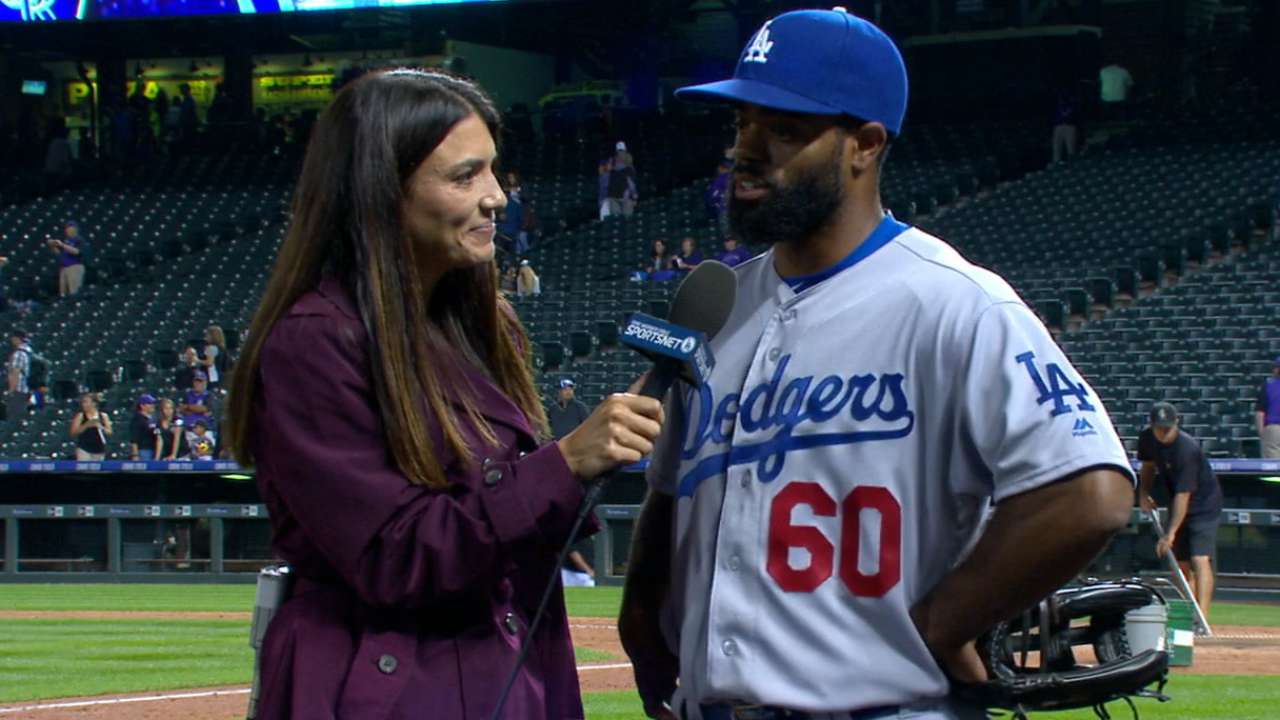 LOS ANGELES -- As unpopular as the A.J. Ellis trade was in the Dodgers' clubhouse, it also served as a stark reminder that this is pennant-race time and management is focused more than ever on gaining incremental edges.
While some personnel moves this season have been out of the box, even puzzling at times, the bottom line is that the Dodgers enter September in first place after erasing an eight-game deficit, despite incessant injuries. Whatever the front office is doing, the club is in pole position for a fourth consecutive division title so it can avoid the National League Wild Card Game.
The return of Clayton Kershaw could be days -- instead of weeks -- away. Among other potential healing reinforcements are Scott Kazmir, Brett Anderson, Brandon McCarthy and Andre Ethier. Yasiel Puig, claiming to be humbled by a demotion, will get a callup this weekend, according to a source (the club has not confirmed). Rookie Corey Seager has emerged as an MVP candidate and the offense has heated up in the second half.
• Kershaw poised to make weekend rehab start
"I think we're in a great position to get done what we need to get done," said third baseman Justin Turner. "We've had some young guys step up big time, we've got some veteran guys coming of the DL that will help a lot and a bullpen consisting of all the guys that have been in the mix all year because of the expanded roster."
The division is likely to be decided by the six games remaining between the Dodgers and Giants: Sept. 19-21 at Dodger Stadium and Sept. 30-Oct. 2 at AT&T Park, in what figures to be Hall of Fame broadcaster Vin Scully's regular-season farewell.
The Dodgers have 13 remaining home games and 16 road games (including a nine-game trip to Miami, Yankee Stadium and Arizona), with only 12 of the remaining 29 games against teams with records better than .500. It all begins Friday night with a homestand against the Padres and D-backs.
So the Dodgers could be healthier and deeper in September than they've been since Spring Training, with a kind schedule. The offense has hit its stride after a slow first half, the bullpen has carried the pitching load and the club is fundamentally sound enough not to beat itself with silly mistakes.
That last part doesn't get headlines, only victories. Manager Dave Roberts said the mantra from the first day of Spring Training must continue for the Dodgers to succeed in September and October.
"The reason I think we don't beat ourselves, something we talked about from Day 1 of Spring Training, is focusing for three hours," he said. "During the course of a 162-game season there will be lapses and physical errors. But our guys do a very good job of playing every pitch. As easy as that sounds, it's difficult to do for six months. In a single answer, that's what I attribute it to. That's what makes Chase Utley so great, the detail of every single pitch."
Closer Kenley Jansen said that's the mentality that has inspired the bullpen to pick up the burden caused by an injured starting rotation.
"We've kept grinding," he said. "Last year and the year before, we were still in the race, but this is a much tighter race. We know we've got to fight, dealing with injuries and all that stuff, and the Giants are battling. It's going to be fun but a test for us too to keep the title this year.
"This is a grinding group, but the most fun group I've been on the way everybody has each other's back. It feels like a family, the atmosphere and chemistry. Everybody knows we have to grind, that makes us special here. As a bullpen, we know the gate opens in the sixth [inning]. We don't complain. We know, whatever it takes."
The road ahead
It's been a remarkable run so far as the Dodgers seek their fourth consecutive division title, despite the absence of Kershaw since June 26. The injury siege, especially with the starting rotation, has been unprecedented. But management has patched holes with rookies, while the bullpen and second-half offensive surge have erased an eight-game deficit and pulled the Dodgers into first place.

• Home games: 13
• Road games: 16
• Games vs. teams over .500: 12

• Two key series: Sept. 19-21 vs. Giants; Sept. 30-Oct. 2 at Giants

• Help on the way? Possibly returning from injury -- Kershaw, Anderson, McCarthy, Alex Wood, Ethier, Louis Coleman. Less likely -- Kazmir. To be recalled -- Puig.

• Cause for concern: With Kershaw in particular, but for any injured player, there's no assurance they return, or at what level of performance. That aside, the offense that has carried the club in the second half seems to have cooled.
Ken Gurnick has covered the Dodgers since 1989, and for MLB.com since 2001. This story was not subject to the approval of Major League Baseball or its clubs.