Not ready to end the party, Marlins add depth
Key injured players expected to return, join Minor Leaguers in Miami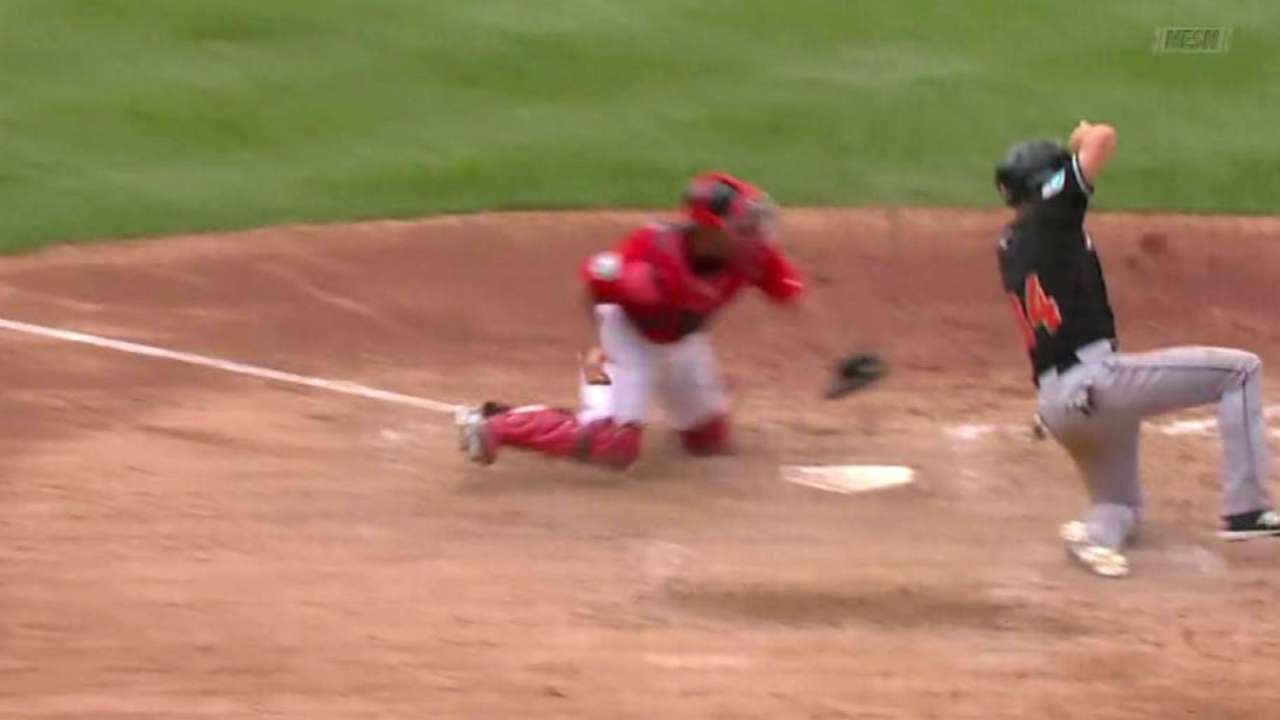 NEW YORK -- "Club Marlins" is the exclusive postgame party place for Miami players. After each victory, they turn the clubhouse into a nightclub, complete with costumes, fog machines and loud music.
With the September postseason push set to begin, the Marlins are not quite ready to announce "last call," and turn the lights out on what has thus far been a rewarding season.
To Miami, despite its disappointing August, the club intends to push forward in hopes of earning a National League Wild Card spot. The Marlins haven't been to the postseason since winning the World Series in 2003, and the team isn't giving up the chase just yet.
"I like our club and our makeup," manager Don Mattingly said. "We'll see where we go this last month. We think it's going to be a fun month for us. We're going to learn a lot about our team, I think. These guys are going to learn a lot about each other, and learn a lot about themselves playing in these types of games."
In order for the Marlins to recover from their August slide, a number of factors must come into play. Foremost, they'll need some of their slumping players to pick things up. And secondly, they could use some reinforcements.
That will come in the form of September callups, which will add depth, and the possible return of several core injured players.
Expected to be called up on Thursday are Triple-A New Orleans catcher Tomas Telis, and right-handed relievers Nefi Ogando and Brian Ellington.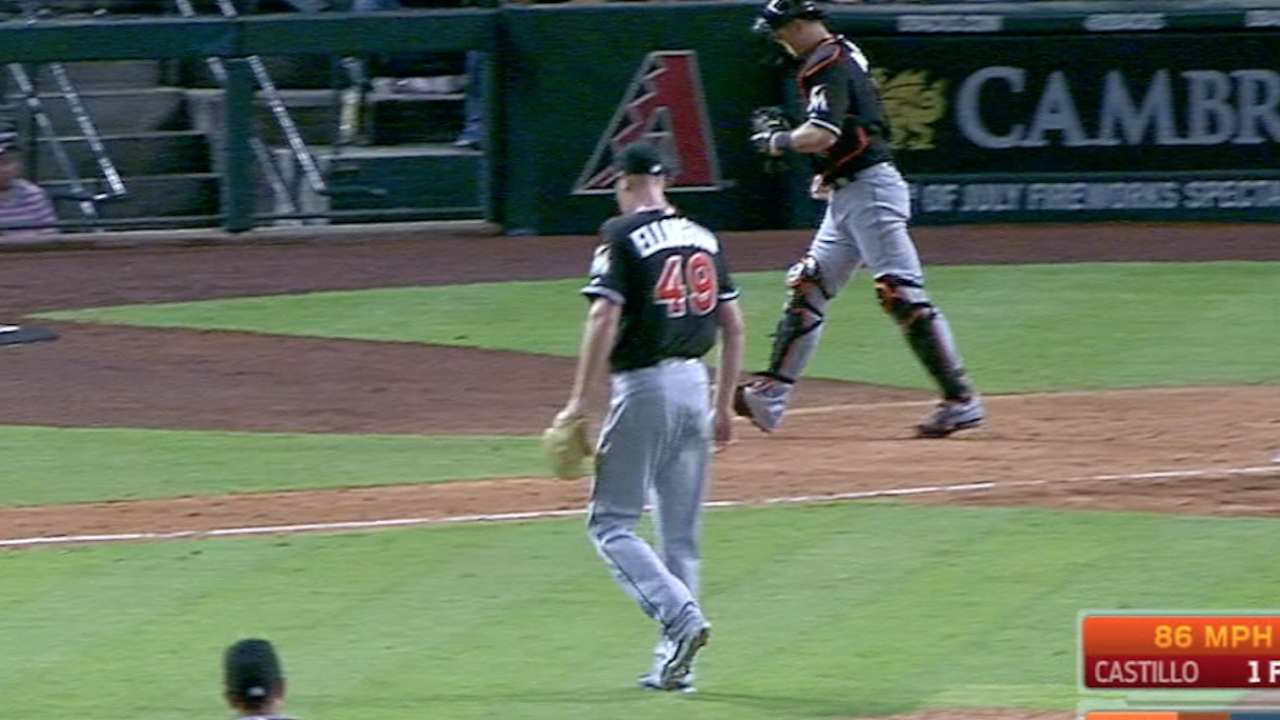 The Marlins' postseason hopes may hinge on health.
Derek Dietrich (bruised right knee), Adam Conley (third finger tendinitis), Wei-Yin Chen (left elbow), Justin Bour (right ankle) and Giancarlo Stanton (left groin) enter the month on the disabled list.
Dietrich is expected back on Saturday at Cleveland. Conley and Chen, two left-handed starters, could be back close to Sept. 20. Bour also is looking at the middle of the month, while Stanton, if possible, would be the final week of the season.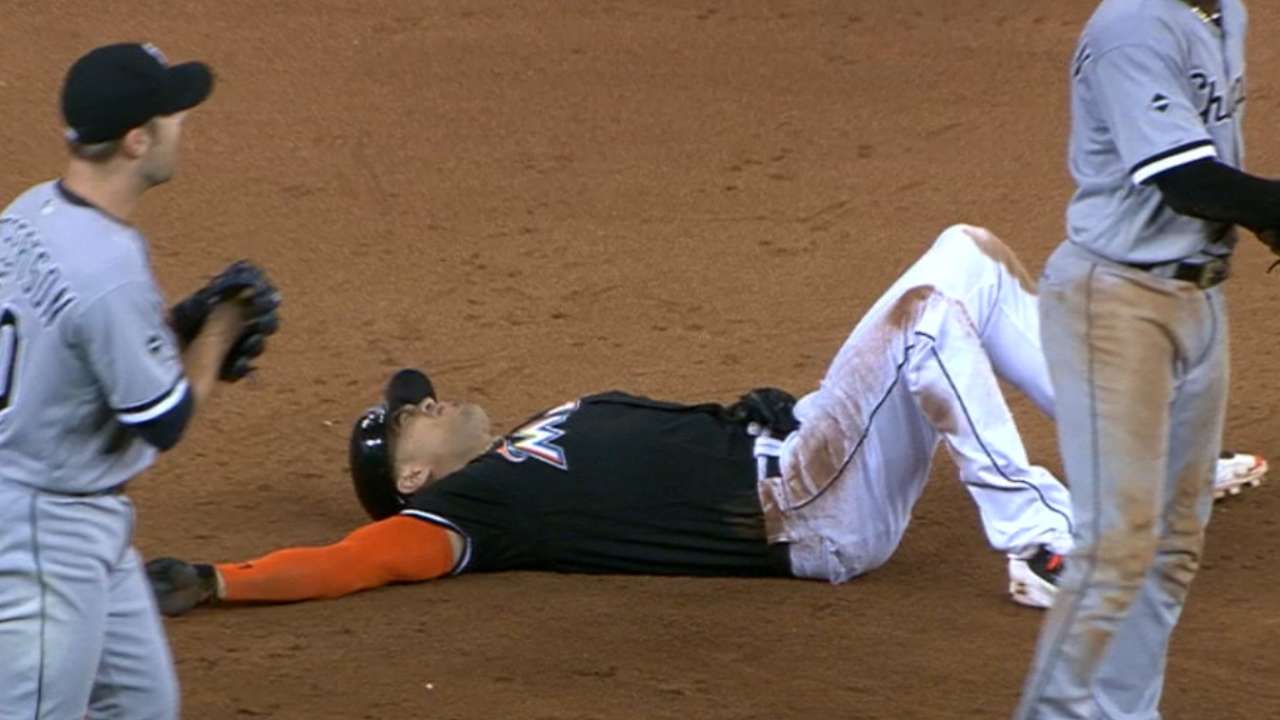 Reliever Bryan Morris, recovering from back surgery, could also be added early in September.
Until they're ready, the Marlins will have to go with what they have. Later in the month, they'll also bring up some depth from the Minor Leagues. Left-hander Justin Nicolino and lefty reliever Hunter Cervenka are expected to get the nod.
"September callups are different things for different teams," Mattingly said. "If you're a team that is 20 games out, now is a time to find out what you have and what you're thinking about playing for the next season.
"But for a team that is in a playoff hunt or in a pennant race, you're not doing a lot of things differently. It's just nice to have different pieces. The extra guys afford you to be able to do some things a little bit differently in September."
The road ahead
• Home games: 16
• Road games: 13
• Games vs. teams over .500: 16

• Two key series: Sept. 19-21 vs. Nationals; Sept. 26-28 vs. Mets

• Help on the way? Dietrich (bruised right knee) could be reinstated on Saturday at Cleveland. Conley (bruised left hand) and Bour (right ankle sprain) could be back around Sept. 19 for the home series with the Nationals. Morris (back surgery) could be activated as early as the first week of September. Stanton (left groin strain), best-case scenario, is the Sept. 26 game against the Mets. Callup candidates are Telis, Nicolino, Cervenka and Ellington.

• Cause for concern: The stability of the rotation is in question. Fernandez's innings are being monitored, while Jose Urena is being asked to pitch late into September and maybe October. Also, the offense has struggled mightily in August. If Bour returns, that would be a huge addition, and there is no guarantee Stanton will return. So they may have to play out the season mostly with what they already have.
Joe Frisaro has covered the Marlins for MLB.com since 2002. He writes a blog, called The Fish Pond. Follow him on Twitter @JoeFrisaro and listen to his podcast. This story was not subject to the approval of Major League Baseball or its clubs.