Rangers maintaining focus despite defying odds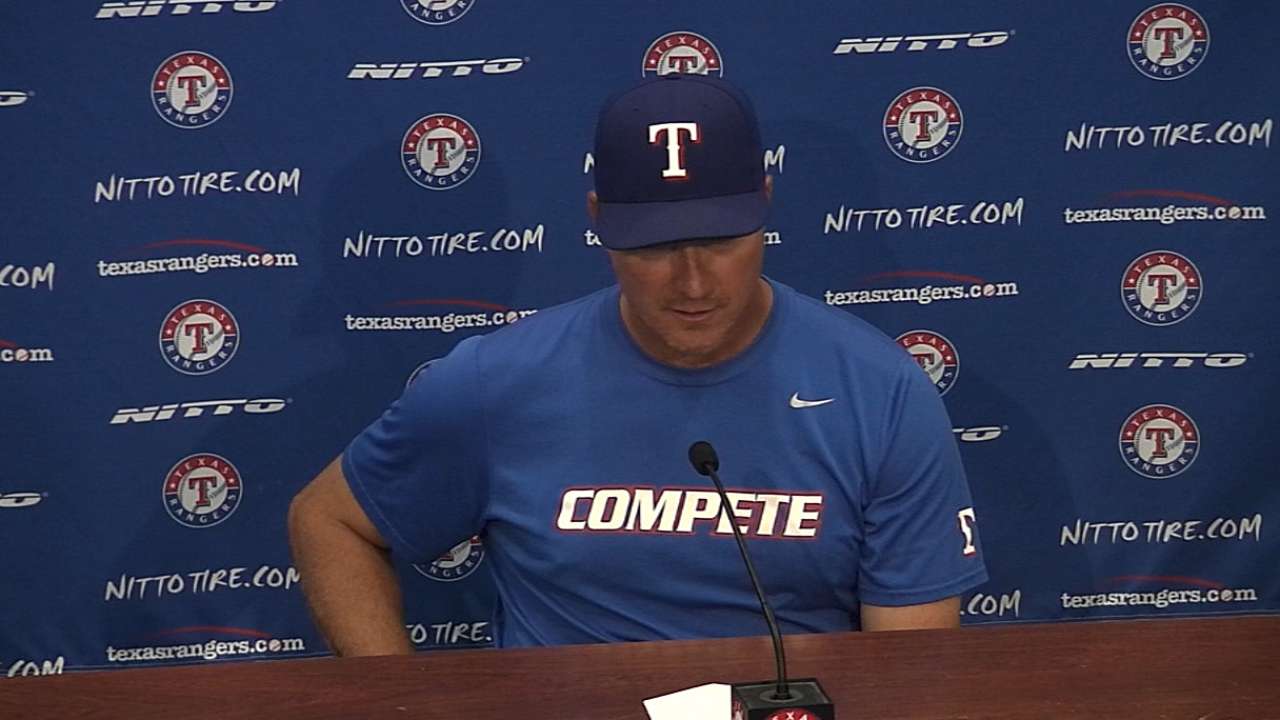 ARLINGTON -- The Rangers' record, according to the cool analytics that have popped up over the past few years, should be a lot worse than it is right now. There is no way they should be 26 games over .500 entering the final month of the season. Texas' Pythagorean won-loss record suggests it should be 68-66. That's based on the baseball theory that suggests a team's won-loss record should be in direct proportion to its overall run differential.
So, simply stated, since the Rangers have scored 635 runs and allowed 613, their overall expected record should be 68-66. It is not. However, the Rangers will begin September with a record of 80-54 and an 8 1/2-game lead in the American League West.
What all this suggests is the Rangers have been living on the edge all season. That's something to monitor carefully as they enter the stretch run and try to nail down their seventh division title in club history.
"We don't really get to choose how it happens," manager Jeff Banister said. "We play it out and this is how it happened. Every night you play a baseball game, you're on the edge. If you lived the life in the dugout, you'll know it's always on the edge."
The single biggest reason for the variation is the Rangers' extraordinary record (30-8) in one-run games. The .789 winning percentage would be the highest in modern Major League history if it stands up. By comparison, the last two seasons the Rangers won the division, they were 30-23 in one-run games in 2010 and 19-24 in '11. Their best year was in 1990, when they were 37-23.
"They only give you one win if you win by 10," Banister said. "The art of winning is winning by one. You can't point your finger at any one single thing. It comes down to a group of guys that aren't one-dimensional and can beat you many different ways. I'll never argue with a win -- whether it's one run, two or 10. They all feel the same way."
The Rangers have also had 39 come-from-behind victories this season, another indication they have been living on the edge all year.
"It has been an unbelievable year," first baseman Mitch Moreland said. "The resiliency, I know it's kind of a cliche, but we never, ever quit. Night in and night out, that's the way we play the game."
So now Texas has 28 games left to stay on the edge, keep that edge and continue to defy its Pythagorean expectations. Another division title is within the Rangers' grasp, even if they aren't supposed to be this good or this far out front in the division.
"The message is as it has been all year long," Banister said. "'Don't look into any crystal ball. Don't look past today and don't reflect on yesterday. The only place to be is where your feet are. Concentrate on that.'
"We talk about exhales. When you exhale, the next thing you know is you find yourself in a bad speed. The message is, 'Just go out and play hard.'"
The Rangers have players who understand September and October beyond just winning a division title last year. Cole Hamels was the World Series MVP for the Phillies in 2008. Adrian Beltre, Elvis Andrus, Moreland, Derek Holland and Colby Lewis all played in the World Series for the Rangers. Carlos Beltran has played in 52 postseason games, with a career .332 batting average and 16 home runs in 184 at-bats.
Having lived on the edge all season, the Rangers should be able to handle the pressure of the postseason.
"Playoff opportunities shape great players," Banister said. "Playoff opportunities heighten their desires. That's why you see great players do their thing in great moments. It doesn't matter what sport, you see it happen."
The road ahead
The Rangers have seemingly sealed their second consecutive AL West title despite battling a ton of injury adversity in their rotation and lineup, in part because of a potentially record-setting winning percentage (.789) in one-run games.

• Home games: 15
• Road games: 13
• Games vs. teams over .500: 10

• Two key series: Sept. 5-8 at Mariners; Sept. 12-14 at Astros

• Help on the way? Right-hander Lewis is expected to come off the disabled list in the next week and rejoin the rotation. Right-hander Tanner Scheppers, who has been sidelined all season while recovering from left knee surgery, could reinforce the bullpen. Joey Gallo should lead the September callups.

• Cause for concern: The Rangers still need their overworked bullpen to hold up to the end. Jeremy Jeffress was acquired from the Brewers to add depth, but he is on the restricted list. Scheppers could help along with September callups Andrew Faulkner and Jose Leclerc.
T.R. Sullivan has covered the Rangers since 1989, and for MLB.com since 2006. Follow him on Twitter @Sullivan_Ranger and listen to his podcast. This story was not subject to the approval of Major League Baseball or its clubs.