Baby Bombers fueling Yanks' hope in stretch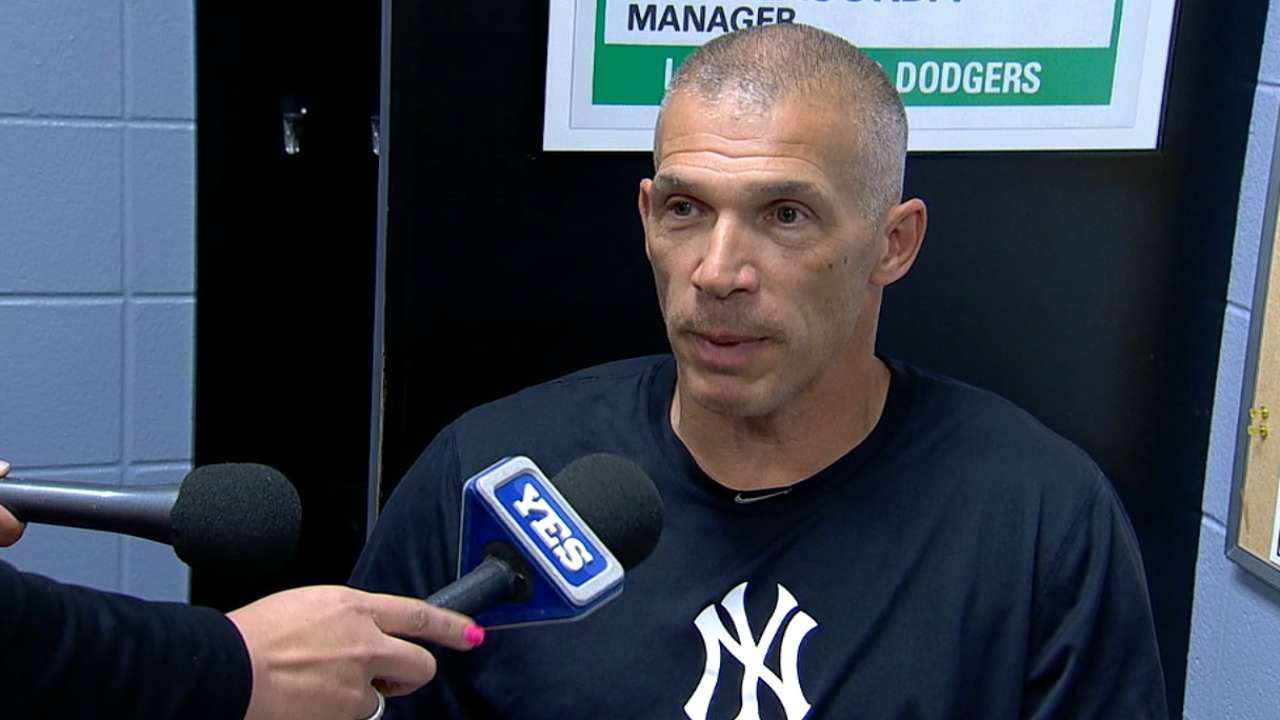 Over the past couple of weeks, Gary Sanchez has made a habit of making the impossible look easy, so it should come as no surprise that the big-swinging rookie believes these Yankees are poised to power into the postseason.
After all, Sanchez just scored back-to-back American League Player of the Week Awards, and all he had to do was replicate Barry Bonds' staggering 73-homer pace from 2001. After a feat like that, leap-frogging a few teams to grab an AL Wild Card spot seems like a layup.
"It's definitely a nice feeling when you're doing well, and at the same time, the team is doing well," Sanchez said through an interpreter. "We're right there in the fight; it's even better. If we keep winning games, we'll have a good chance of making the playoffs."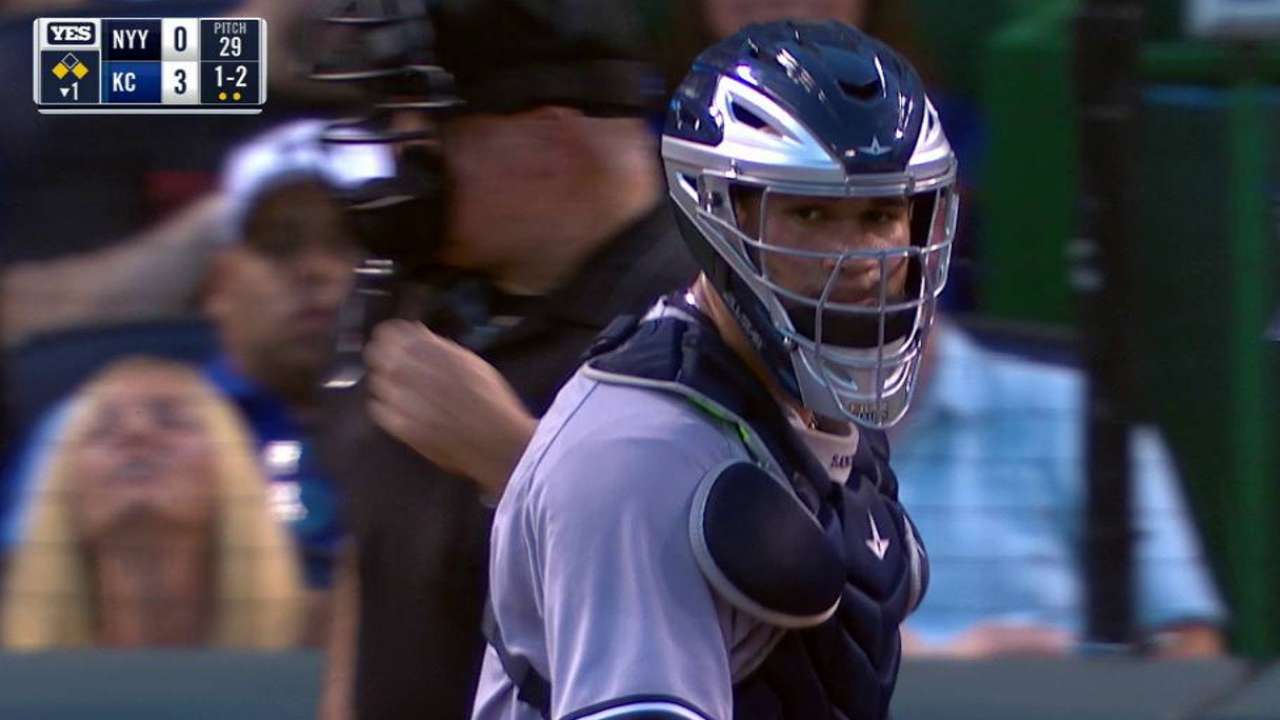 Wednesday's 5-4, 13-inning victory over the Royals moved the Yanks within 2 1/2 games of the second AL Wild Card spot, as they tied their season-high mark of six games over .500 (69-63). They trail the Orioles, Tigers and Astros in the AL Wild Card chase.
"I feel good. I've said it all along, I feel good about the guys in this room," Yankees manager Joe Girardi said. "I've said all along, too -- the opportunity is in front of us. There's a hill to climb, but I really believe in these guys, and I believe we're going to continue to fight."
Though the Yanks' playoff percentage sits in the single digits, they have won 13 of 20 games -- including four consecutive series -- as they prepare to begin the September leg of their chase. Those odds are nearly the same as they were in July, when managing general partner Hal Steinbrenner was convinced to trade away Carlos Beltran, Aroldis Chapman, Andrew Miller and Ivan Nova for prospects.
A new crop of Baby Bombers -- paced by Sanchez, Aaron Judge and Tyler Austin -- softened the blow of those personnel changes, along with help from veterans like Starlin Castro, Didi Gregorius and Mark Teixeira. The Yankees may have been counted out, but they never felt like their season was over.
"We've been playing exciting ball," Dellin Betances said. "These young guys, man, they've been doing it. I guess a lot of the energy feeds off to these other guys. Castro, Didi, Sanch has been doing a hell of job behind the plate and obviously hitting, Judge. All the young guys, their energy is just feeding off well, and we're playing good ball."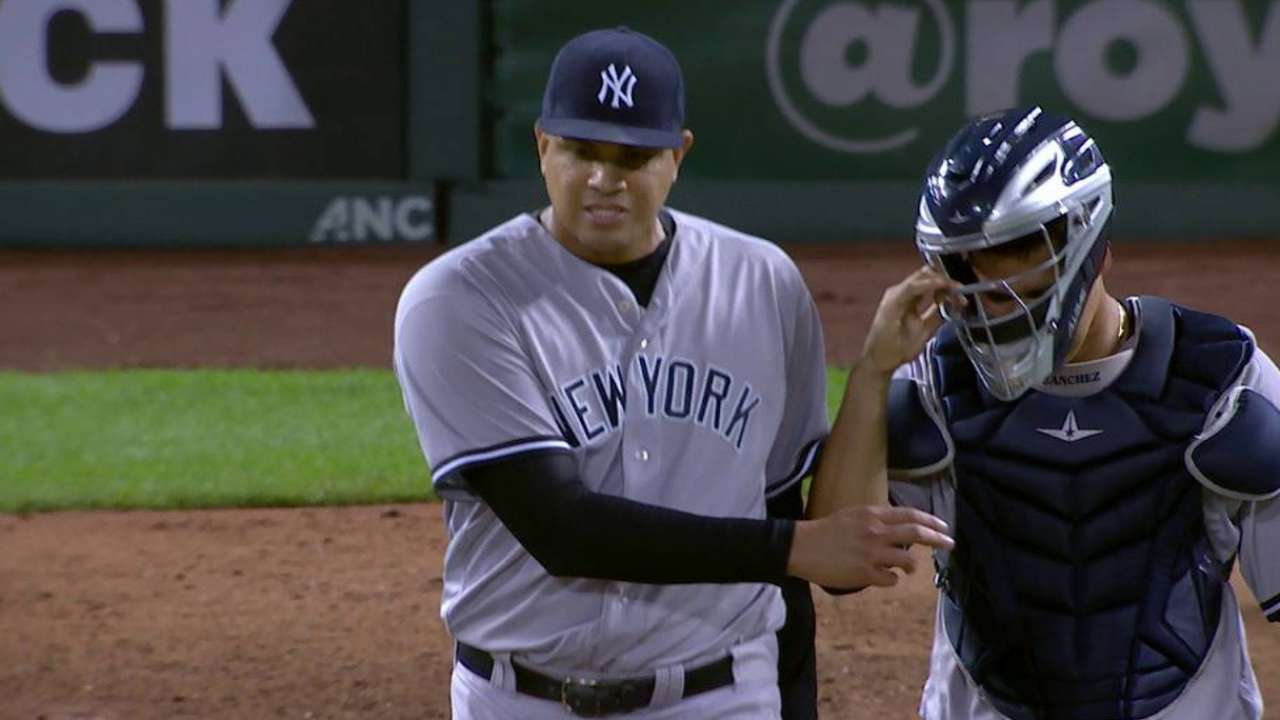 With 30 games remaining, more than one observer has noted that the mood in the Yanks' clubhouse seems to be more optimistic than it has all season.
"We're closer and we're playing a lot better," Chase Headley said. "To say that you believed that you had a chance to make the playoffs a month ago, that's all fine and good. But until you start playing better and giving yourself a chance, obviously we're in much better position now than we were then. We dug ourselves a pretty good hole at the beginning, so it's been an uphill climb, but we're still climbing."
The Yankees' upcoming schedule promises few soft spots. New York plays just seven games against a club under .500, and those Rays have played the Yanks to a 6-6 record thus far. Other than a three-game set with the Dodgers, the Bombers will see almost nothing but AL East competition the rest of the way.
Girardi said that he sees the 27 games against division rivals as a positive, even though New York is just 21-28 against the AL East this year. One reason to believe: the Yankees have played better in divisional competition of late, going 11-11 in the second half and 7-5 in August.
"We've been loose, playing like we have nothing to lose, and that's worked for us," Adam Warren said. "So why not keep doing that?"
The road ahead
The Yanks insisted that they weren't waving the white flag on anything by dealing away some of their most attractive assets in late July. They may have known exactly what they were doing. Fueled by an exciting crop of Baby Bombers, the Yankees have renewed hope for a postseason appearance as they attempt to close the gap on the second AL Wild Card.

• Home games: 16
• Road games: 14
• Games vs. teams over .500: 23

• Two key series: Sept. 2-4 at Orioles; Sept. 15-18 at Red Sox

• Help on the way? Luis Severino and Bryan Mitchell are among the pitchers who are expected to be summoned from the Minor Leagues when rosters expand in September, adding depth to a staff that needs it in the wake of trades and injuries. Also likely to be called up is versatile fan favorite Rob Refsnyder.

• Cause for concern: The underbelly of the bullpen has been an issue since the Yankees shipped Chapman and Miller away, as manager Joe Girardi has been attempting to learn on the fly with some of his lesser-known relievers. It has been a trial by fire for the young Yankees, especially Austin and Judge. The schedule offers few soft spots; even the Rays have played New York to a 6-6 record so far this year.
Bryan Hoch has covered the Yankees for MLB.com since 2007. This story was not subject to the approval of Major League Baseball or its clubs.