Bullpen lets Rockies' big lead slip away late
Ottavino gives up five runs in nightcap, including go-ahead slam in ninth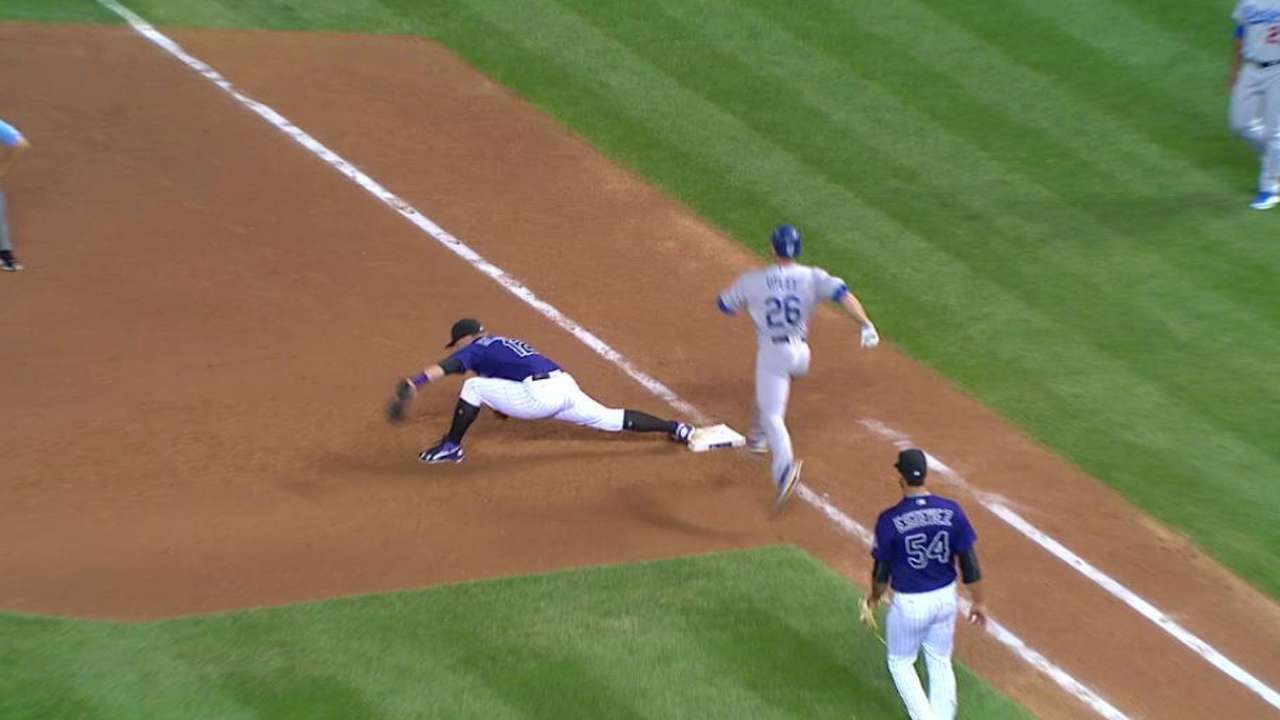 DENVER -- The Rockies' bullpen has not been the most consistent unit, but Wednesday's performance in a 10-8 loss to the Dodgers in the second game of a doubleheader was perhaps their roughest.
Colorado led by six runs with two innings to go -- a situation in which Major League teams were 448-1 this season -- but managed to surrender eight runs.
Closer Adam Ottavino had only allowed one run this season over 18 2/3 innings, but was charged with five runs on two walks and three hits with the go-ahead runs coming on Andrew Toles' first career grand slam.
"You're going to blow games," Ottavino said. "You're going to lose games. You're going to pitch bad from time to time. I should never give up five runs in an inning. I should never walk two guys in an inning."
The two walks for Ottavino were especially uncharacteristic considering he had previously only issued four. However, three of the four were against left-handers, and both walks Wednesday were against left-handers -- Corey Seager to lead off the inning and Joc Pederson directly preceding the grand slam.
"It shouldn't be, but I've been walking more lefties for whatever reason -- trying to be a little perfect, I guess," Ottavino said. "I didn't have my best command tonight and I really let everybody down. I just fell behind the first guy. It was more of the same the rest of the way."
The Rockies were in a tough situation with another game played mere hours beforehand. Usual late-inning options left-hander Boone Logan and right-hander Carlos Estevez both pitched an inning, which left a series of lesser options for the second game.
After starter Jeff Hoffman lasted five innings in the nightcap, Jordan Lyles and Jake McGee both gave scoreless innings of relief, but trouble came in the eighth. Matt Carasiti put three straight batters on after getting the first batter out, and Estevez, having thrown 13 pitches earlier in the day, allowed two of his runs to score.
"It's different in the second end of a doubleheader," Rockies manager Walt Weiss said. "We used our backend guys in the first game, so we were trying to stay off certain guys. It puts you in a precarious situation there. Bottom line is we're up six with six outs to go, and we've got to win that game."
Ottavino is just 2-for-4 in save situations since being named the closer on Aug. 9. The team now has 22 blown saves -- second in the National League and fourth in baseball -- and has lost six games when leading after eight innings. Only the Mariners (seven) have lost more. Now all Ottavino can do is move forward.
"You have no choice, really," Ottavino said. "I can't wait to pitch again, honestly. That's about as disappointing as it gets."
Ben Weinrib is a reporter for MLB.com based in Denver. This story was not subject to the approval of Major League Baseball or its clubs.