Winning return to bigs for sharp Sanchez
Right-hander allows one unearned run against Orioles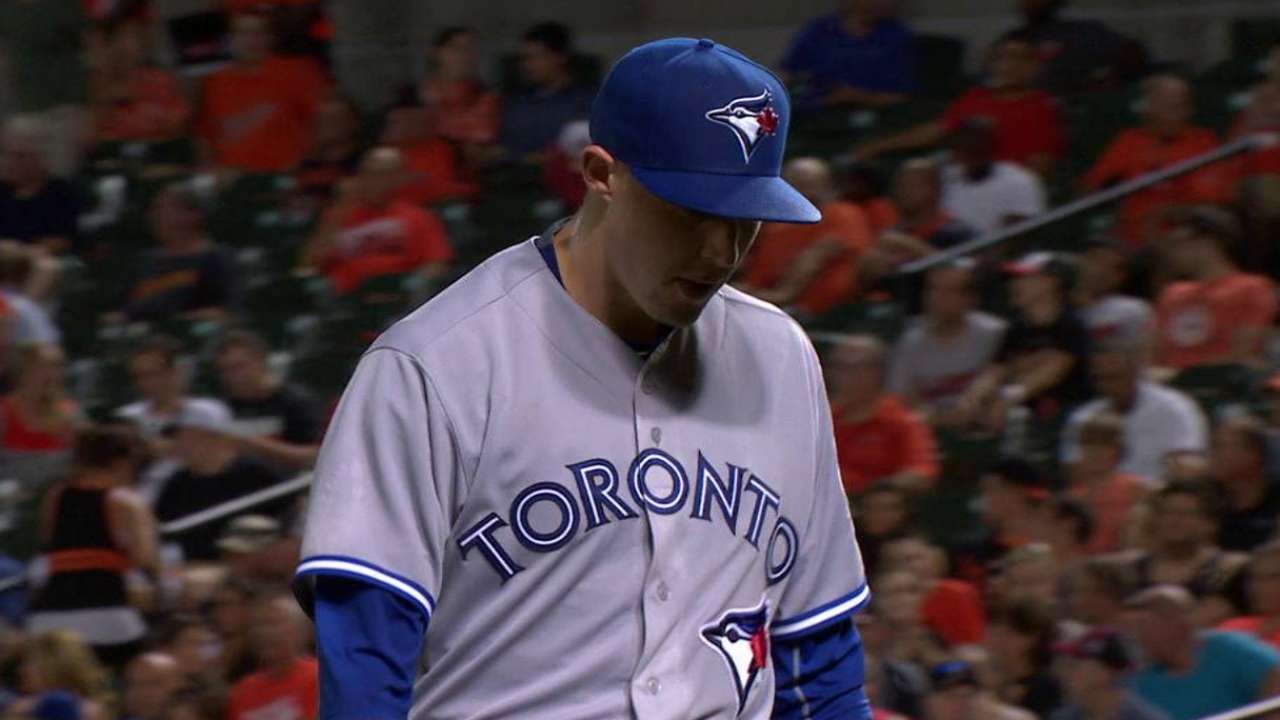 BALTIMORE -- Aaron Sanchez showed no signs of rust Wednesday in his return to the Majors. After being sent to the Minors for 10 days to keep his innings down, the 24-year-old righty fired six innings while allowing just one unearned run in Toronto's 5-3 victory over the Orioles at Camden Yards.
Pitching after his longest layoff of the season, he worked around five hits and three walks to lower his season ERA to 2.88 on a career-high 112 pitches. Sanchez trails just White Sox lefty Jose Quintana for the lowest ERA in the American League among qualified starters.
"I think that rest probably did him a world of wonders," manager John Gibbons said.
While there is a chance the Blue Jays eventually shut Sanchez down before season's end, Gibbons said pregame they didn't have any end date set. And as long as Sanchez remains in the rotation, he's a front-line starter on the AL's best pitching staff.
"He looked sharp, man," catcher Russell Martin said. "Didn't skip a beat."
After the game, Sanchez conceded being away was a challenge, but he understood why the club made the choice. He said he took his stint in the Minors "very serious," using the 10 days as a chance to rest and get stronger for his return to Toronto.
"My thing was, I didn't forget how to pitch," Sanchez said. "Understanding that even when you do get back into the big league atmosphere that it's back to the basics and back to what you've been doing all year."
The only time he ran into trouble was the fifth, when he allowed back-to-back two-out singles. Sanchez induced a grounder to third against All-Star Manny Machado, but Josh Donaldson didn't field it cleanly, allowing a run to score.
Sanchez proceeded to walk Chris Davis, but facing Major League home run leader Mark Trumbo with the bases loaded, he escaped the jam and went on to improve to 13-2 on the year.
"They battled, they made a run at him late, but it just shows you how far he's come," Gibbons said. "He managed to hang in there and get the big out in the fifth inning and went back out there for the sixth."
Ryan Baillargeon is a reporter for MLB.com based in Baltimore and covered the Blue Jays on Wednesday. This story was not subject to the approval of Major League Baseball or its clubs.