MLB.com Columnist
Mike Bauman
Power surge: Cards relying on long ball in '16
MILWAUKEE -- When Yadier Molina homered in the fourth inning Wednesday night, it marked a franchise-record 20th straight game in which the St. Louis Cardinals had hit a home run.
This turned out to be relatively small consolation, as the Cardinals, looking for a three-game sweep over the Brewers, wound up producing no other runs in a 3-1 loss at Miller Park.
What the home run did was underscore the dramatic difference in the 2016 Cardinals. A team that successfully specialized in run prevention in recent seasons is now a power-hitting, run-creating bunch.
The Cardinals have reached the postseason in five straight years and have won the last three National League Central titles. Much of this success had to do with pitching and defense. But with the current team's pitching staff hit hard by injuries, the long-ball offense is helping to keep the Cards afloat in the NL Wild Card race.
The Cardinals lead the NL with 189 homers in 132 games. Contrast this work with recent seasons. The 2015 Cards finished 11th in the NL with 137 homers. The 2014 Cardinals finished 15th with 105 homers. The 2013 Cards, eventually a World Series team, finished 13th with 125 homers.
The home runs in 20 consecutive games broke the franchise record set in July 2006. The Cardinals have hit 40 home runs in the last 20 games, led by Jedd Gyorko with nine, Brandon Moss and Randal Grichuk with seven each, and Stephen Piscotty with five.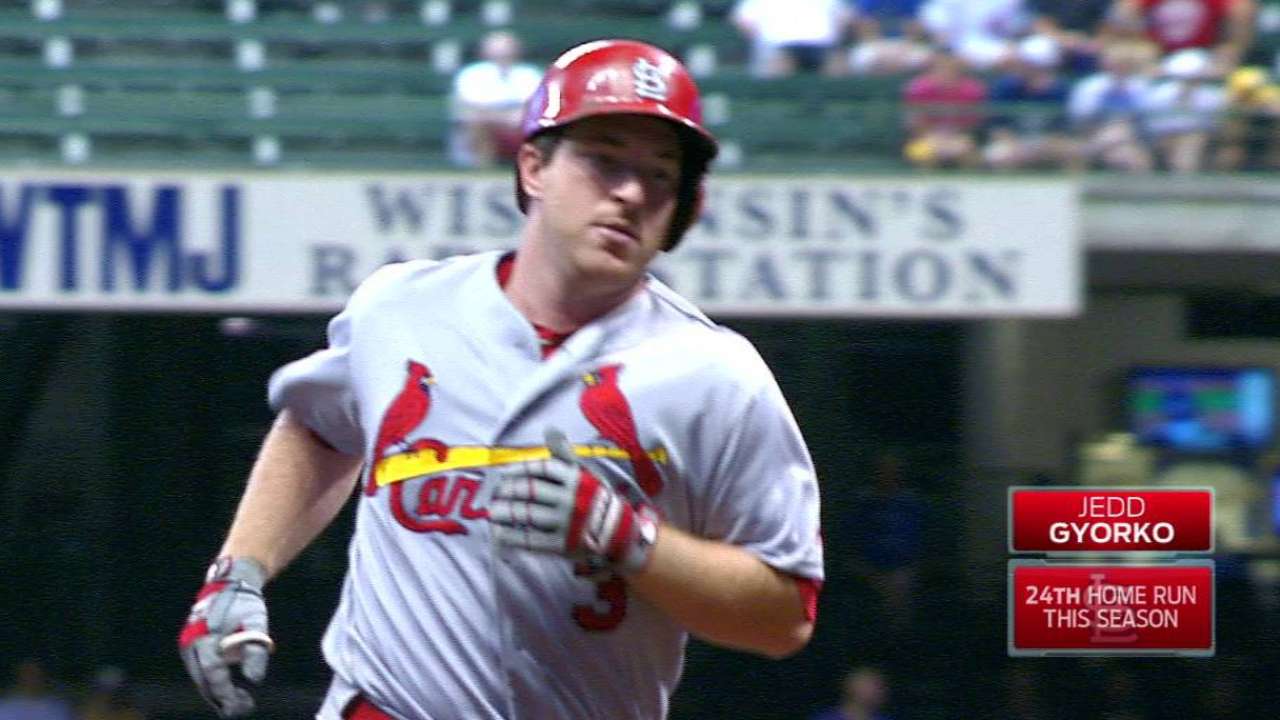 The Cards have kept hitting with power despite the fact that shortstop Aledmys Diaz and left fielder Matt Holliday are both on the disabled list. When did this club become a power-hitting outfit?
"I still attribute it to the fact that the ball carried at Busch [Stadium] in April for some reason," Cardinals manager Mike Matheny said. "I think we would have hit homers anyway, just because of the makeup of this team. But it was really encouraging for our guys, because I've seen the opposite, where we've had players get out there and smash the ball and it would be out of almost any park, and they're seeing it caught on the track. Pretty soon that keeps happening, you've got to make an adjustment, so then they change their swing path.
"If you get a ball kind of in between and you watch it sail out of the park, you're positively reinforced in that train of thought and that approach. That's really what I saw early on. I can't explain it. I've tried to get meteorologists to explain what kind of phenomenon was going on in Busch in April that hasn't been going on for the last several years. But that kind of set the tone."
The power goes a long way toward explaining what otherwise might be an inexplicable home/road split for the Redbirds. The Cards have baseball's best road record at 40-25, but are only 30-37 at home. Their power is more likely to be rewarded on the road at parks that are more hitter-friendly than Busch Stadium.
"That's the only viable explanation," Matheny said. "The only thing that really explains it is that as well as the ball has carried at Busch, it's still a tough park to hit the ball out of. I can think of four or five balls that Matt Carpenter has hit [at Busch Stadium] and when he came back in I said: 'Did you get it?' and he said: 'I killed that ball.' And it was caught before it even got to the wall.
"Our park plays that way. It always has. We've had more home runs there, but home and road, we've had more on the road. So maybe that's a definition of why we've struggled at home a little bit, because we've depended so much on the long ball."
The Cardinals' power is shared. Nine players have 11 or more home runs. Moss leads the Cards in homers with 25 in just 363 plate appearances. Gyorko has 24 in just 334 plate appearances. He has been on a power surge, hitting 17 homers since the All-Star break, 10 in August.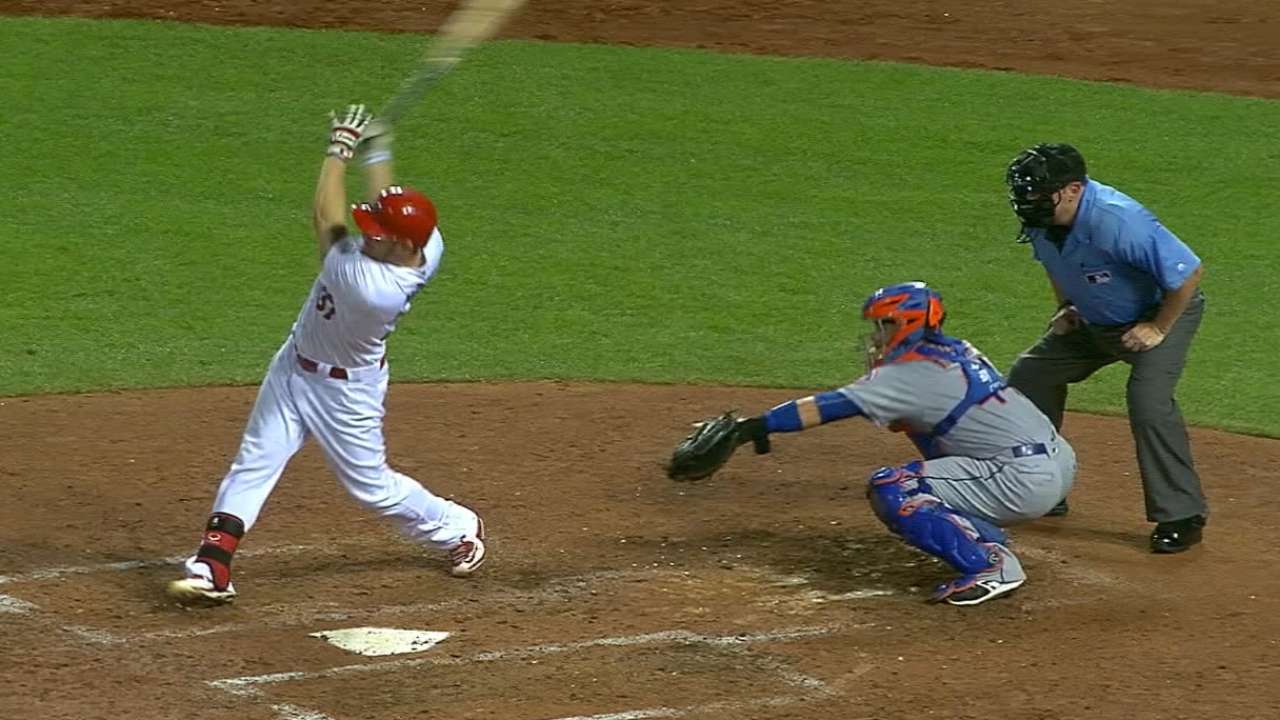 Gyorko came to the Cardinals in a trade with the Padres for Jon Jay. He had hit 23 home runs in his rookie season of 2013, but had not repeated that success. This was not a high-visibility transaction, with Gyorko being brought to St. Louis initially as a utility player and a bat off the bench. But Brewers manager Craig Counsell said Gyorko's current run should not be surprising.
"He's a player that has had big success in the big leagues and he had it at a young age," Counsell said. "I always think that player has it in him to do that again. I think those guys that perform in the big leagues at a younger age, they've got it in them. So it's going to come out again.
"I think he'd tell you he's not a shortstop. He's filling in for Diaz. But look, he's dangerous right now."
Collectively as well, the Cardinals have become more dangerous with their power potential. This still isn't quite as much of a sure thing as leading both leagues in team ERA, but it is a component that should help the Cards qualify for the postseason.
Mike Bauman is a national columnist for MLB.com. This story was not subject to the approval of Major League Baseball or its clubs.