Phillies hope offense steps up in final month
Mackanin believes ability is there, 'but they have to start producing'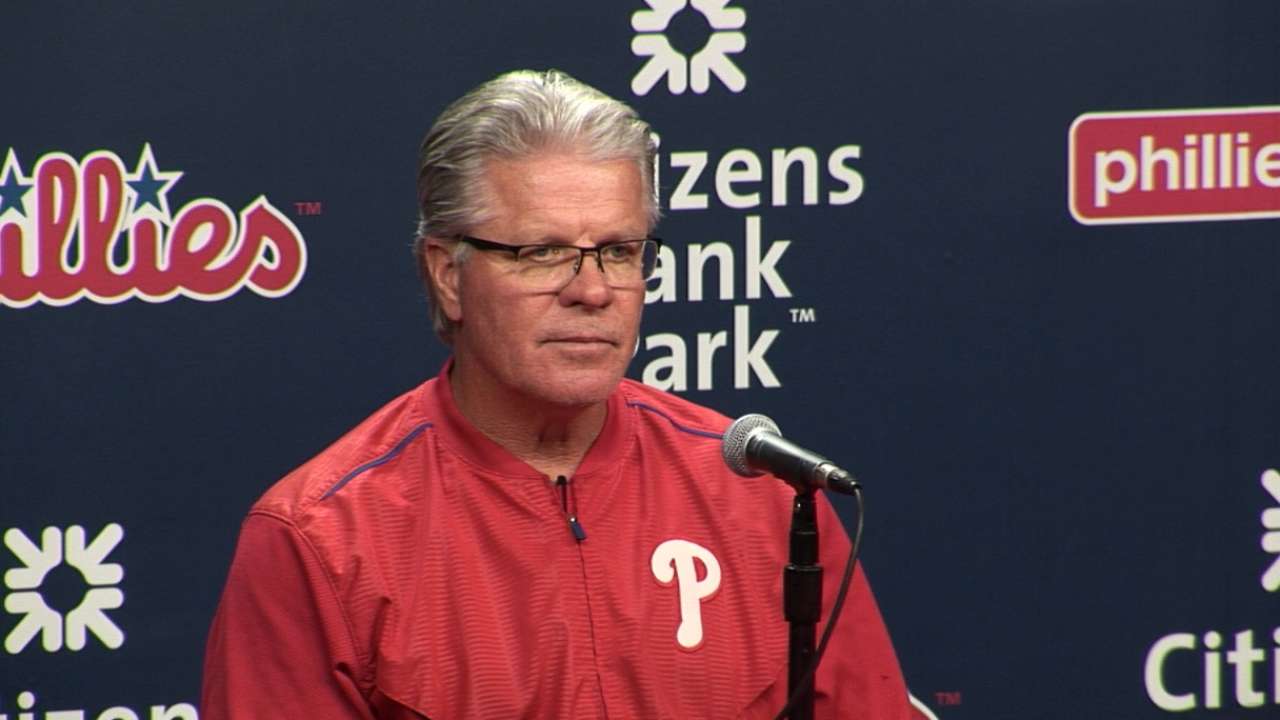 PHILADELPHIA -- The Phillies believe strong starting pitching is the key to their next step up in the National League East standings.
The first few weeks of the 2016 season strengthened that case, as the Phils surprised almost everybody in baseball with a 24-17 start, thanks almost entirely to a better-than-expected rotation. But as the Phillies lost to the Nationals on Wednesday night at Citizens Bank Park, 2-1, it also is clear they eventually need to find some offense, too.
The Phillies managed just nine hits in the series sweep. They had four hits Monday, three hits Tuesday and two hits Wednesday. They tied a franchise record with three consecutive games of four or fewer hits. It last happened in August 2010.
"We're up and down," Phillies manager Pete Mackanin said. "We have our streaks where we're hot and cold. Still, if you look at the season-long statistics, we're still close to the bottom in a lot of categories. So we need to improve in that department."
The Phillies are averaging 3.7 runs per game, last in MLB. They are last with a .296 on-base percentage, and they are 29th with a .385 slugging percentage. The team is on pace for its lowest runs-per-game average since 1988 (3.69) and its lowest on-base percentage since '68 (.294).
"We're going to continue looking [for offense]," Mackanin said. "You take a guy like Cesar [Hernandez] -- he's really made strides. You look at Freddy [Galvis] -- 15 home runs and going on 60 RBIs, plays an outstanding shortstop. [Maikel] Franco needs to get back to where he needs to be. There's enough guys. [Odubel] Herrera is hitting .280, even though he's not having a good second half. [Aaron] Altherr looks like he's got a good-looking future ahead of him.
"So we have enough here to get excited about, but they have to start producing."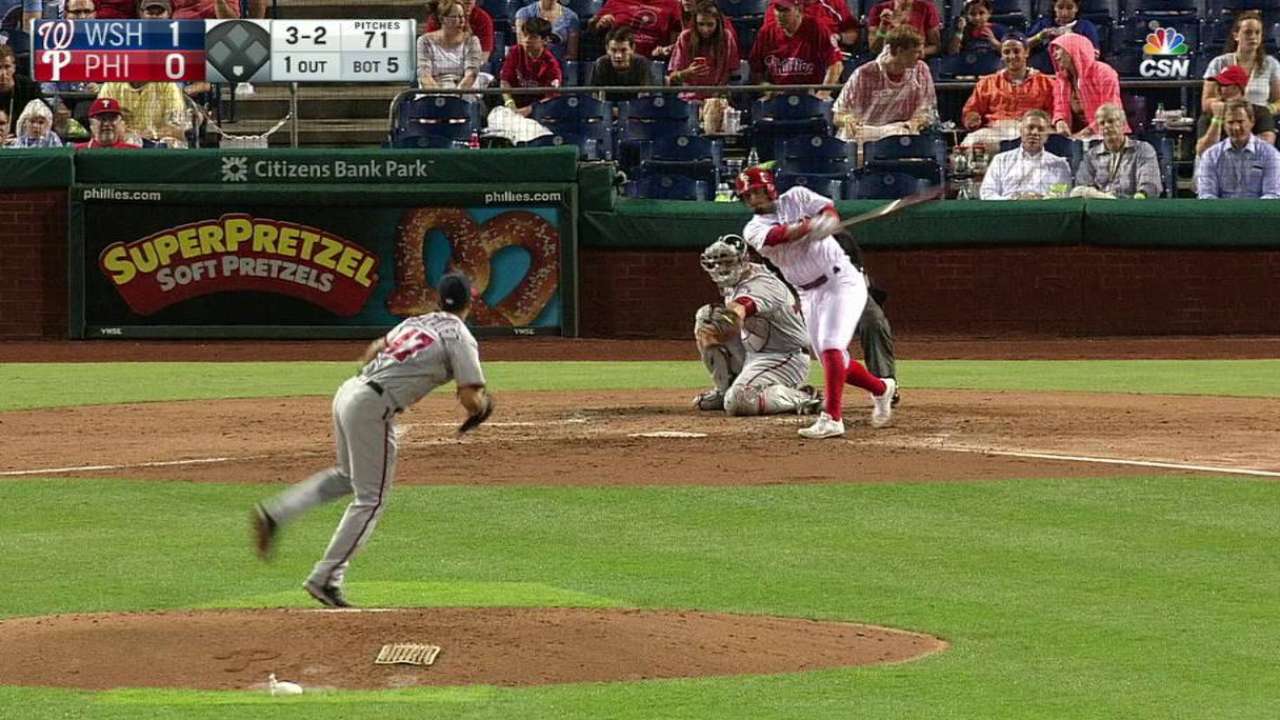 Herrera had been one of the team's brightest spots in the first half of the season, earning his way as the Phillies' only representative on the National League All-Star team. Since he learned he made the team on July 5, he has hit .247 with three home runs, 10 RBIs and a .656 OPS. He hit .303 with 10 homers, 32 RBIs and an .833 OPS beforehand.
"I wouldn't call it regressing," Mackanin said about Herrera's second half. "You talk about the sophomore jinx. If this is his sophomore jinx and he's hitting .280, I'll take it. He's got a lot of things to figure out, but perhaps the All-Star Game changed him a little bit and made him a little more comfortable. It's hard to say."
Herrera said he doesn't think he has become lax since the All-Star Game.
"Not really," he said. "Actually, now I'm hungrier. I want to go back there. I know that it takes a lot of work to be there with all those star guys. I know why you would think that it made me feel comfortable because I'm not doing what I was doing before, but no, no, I'm hungry. I want to get better."
The Phillies hope more than just Herrera picks up their hitting entering the season's final month. They need it.
Todd Zolecki has covered the Phillies since 2003, and for MLB.com since 2009. Read his Phillies blog The Zo Zone, follow him on Twitter and listen to his podcast. This story was not subject to the approval of Major League Baseball or its clubs.