Nolasco records elusive 1st win as Angel with CG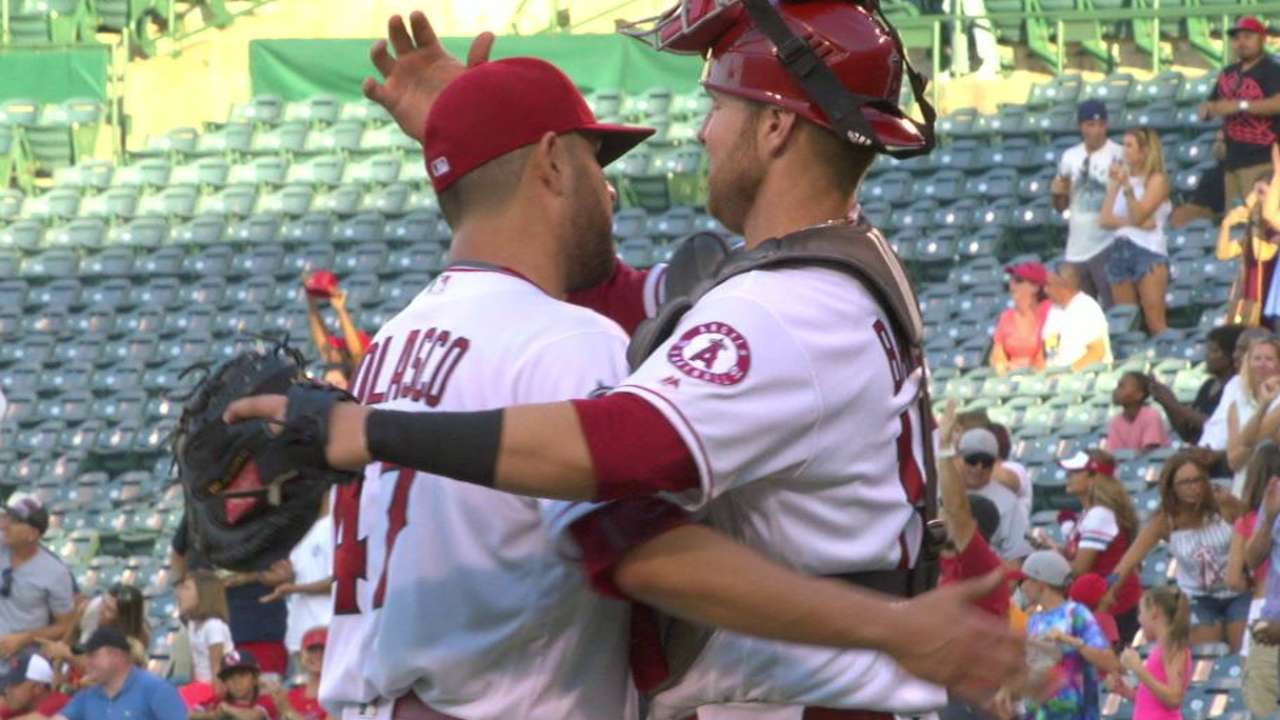 ANAHEIM -- The Angels have benefited from improved pitching over their last 10 games, and Ricky Nolasco took things one step further with a complete game against the Reds to complete a sweep on Wednesday.
Nolasco was on his game from start to finish, as he scattered four hits, struck out seven and walked none for his first shutout in nearly four years in a 3-0 win over Cincinnati at Angel Stadium. The Angels have won five straight and eight of their last 10.
"It's definitely nice and a good feeling to be out there trying to get the last out," said Nolasco, who recorded 12 straight outs to end the game and finished with 94 pitches. "I was just trying to be efficient and fill up the strike zone, not walk anybody."
C.J. Cron drove in a pair and Jefry Marte added an RBI to back Nolasco, who won for the first time in six starts with the Angels. Nolasco also benefited from solid infield defense.
"We made some good plays behind me and scored some runs when we needed to and that was good," said Nolasco, who last pitched a shutout on Sept. 9, 2012, with the Marlins.
Nolasco said he wasn't discouraged by his first five starts with the Angels, during which he went 0-4 with a 5.70 ERA. He was acquired from the Twins along with pitching prospect Alex Meyer in a non-waiver Trade Deadline deal that sent Hector Santiago and Minor League pitcher Alan Busenitz to Minnesota.
"Obviously, I would have liked to win earlier, but I like where I'm at as far as throwing the ball and making good pitches," Nolasco said. "I feel good, eating up innings and I think anytime you're doing that, you're giving your team a chance to win games."
Nolasco retired 16 of the final 17 batters he faced. He pounded the strike zone, featured a nasty slider and used all of his pitches to keep the Reds guessing.
"He has that in him, and that's encouraging," Angels manager Mike Scioscia said.
Nolasco cruised for much of the afternoon, his only trouble coming in the sixth inning. After a leadoff double and a sacrifice put a runner on third with one out, Nolasco induced a ground ball to third as Marte fielded a tough hop and fired to first for the second out. Joey Votto followed with a rocket that was snagged by second baseman Kaleb Cowart.
"Outside of that, had a lot of soft contact, pitched to his spots, and that's obviously a terrific ballgame," Scioscia said.
The Angels have 10 shutouts on the season, tied with the Indians for the most in the Majors. The Halos have six shutouts in the second half, one more than the Reds for the most in the big leagues.
"Good starting pitching and winning is always contagious," Nolasco said. "I've learned that through my career. It's not something that we talk about, but it's something that just happens. It's just contagious like that. Just to be able to keep that ball rolling is good, and hopefully we can keep it going Friday in Seattle."
Austin Laymance is a reporter for MLB.com based in Los Angeles. This story was not subject to the approval of Major League Baseball or its clubs.