Gomez's slam sparks Rangers' homer frenzy
Newcomer puts in extra prep to face Felix; Odor adds two more, leads team with 27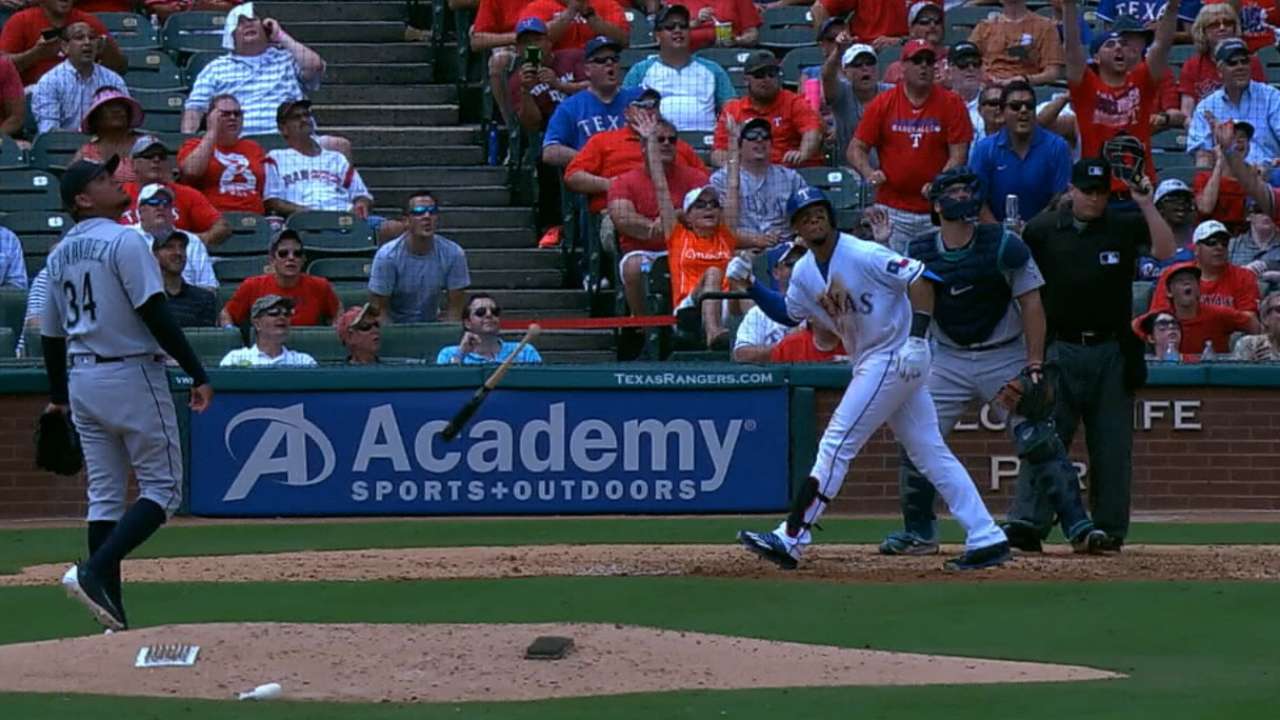 ARLINGTON -- Rangers outfielder Carlos Gomez said he arrived at Globe Life Park two hours earlier than he was scheduled to for the team's series finale against the Mariners on Wednesday afternoon, looking to get some extra work in with a matchup against Felix Hernandez looming. Gomez entered the game 3-for-22 since joining the Rangers last Thursday.
Gomez made good on the extra time he put in when he launched his third career grand slam in the fourth inning off Hernandez in the Rangers' 14-1 win to secure a sweep of the three-game series and a fifth straight win. His grand slam sparked a five-homer attack from the Rangers, matching their season high.
"He's had a couple games in there where his hitting probably wasn't the way he wanted it to be," said Adrian Beltre, who hit a two-run homer in the fifth. "But he's been a key for us to winning ballgames. He's the kind of guy that can impact in more than one facet. He's a five-tool player. He needs to feel comfortable here and know that he's just one of the guys -- not to be the [only] guy."
• Grand slams mean 40% off pizza
The newest member of the Rangers has not had an issue with finding comfort in the clubhouse, which he said is the best he's been a part of in his career. Gomez's new teammates have supported him while he's endured some struggles offensively out of the gate.
"It's been great," Gomez said before the game. "When you go 0-for-4 with four strikeouts, you feel like you go 2-for-4. With the energy they play with, everybody comes to [me] and says, 'You're OK, you're our left fielder.' When you're around people like that -- not one, everybody -- it's fun."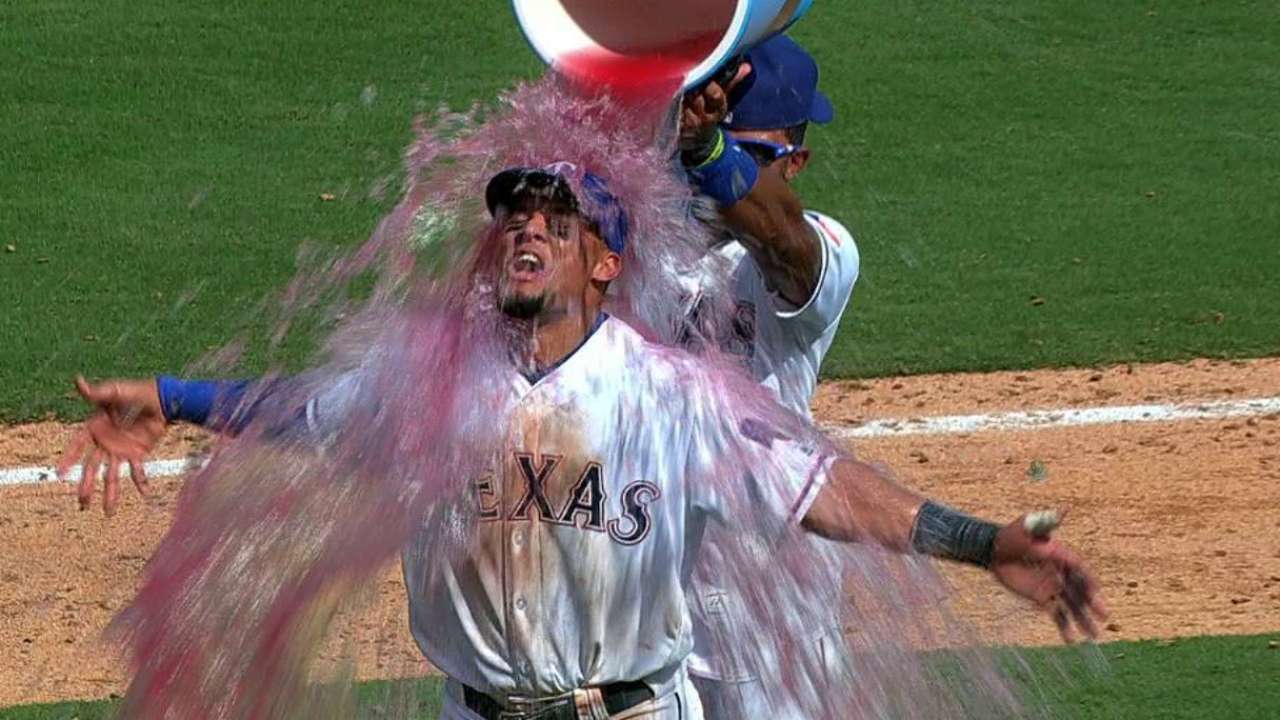 Gomez combined with Tuesday night's walk-off hero, Rougned Odor, to drive in nine runs. Odor hit two more homers and matched his career high with five RBIs. He has three home runs in his last six plate appearances. The second of his home runs came off Mariners switch-pitcher Pat Venditte in the eighth and went a projected 443 feet from home plate, into the upper deck in right field, per Statcast™.
"I've been feeling pretty good the last couple of games," Odor said. "I've been working with [hitting coaches Justin Mashore and Anthony Iapoce] all year, and they've helped me a lot with my approach and stuff like that."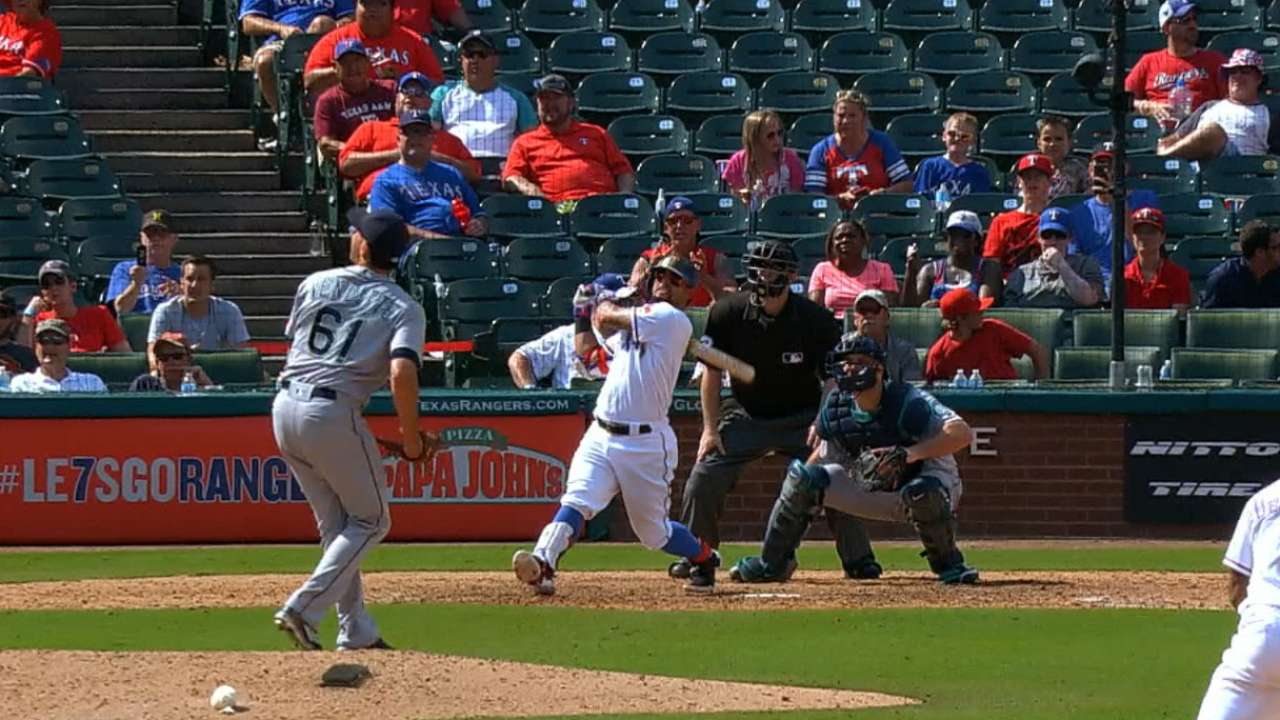 Odor leads the Rangers with 27 home runs. He's positioned to become the third Rangers second baseman to hit 30 home runs in a season, along with Alfonso Soriano and Ian Kinsler.
"I don't think about that," Odor said. "I'm just trying to do my best on defense, and at the plate, too."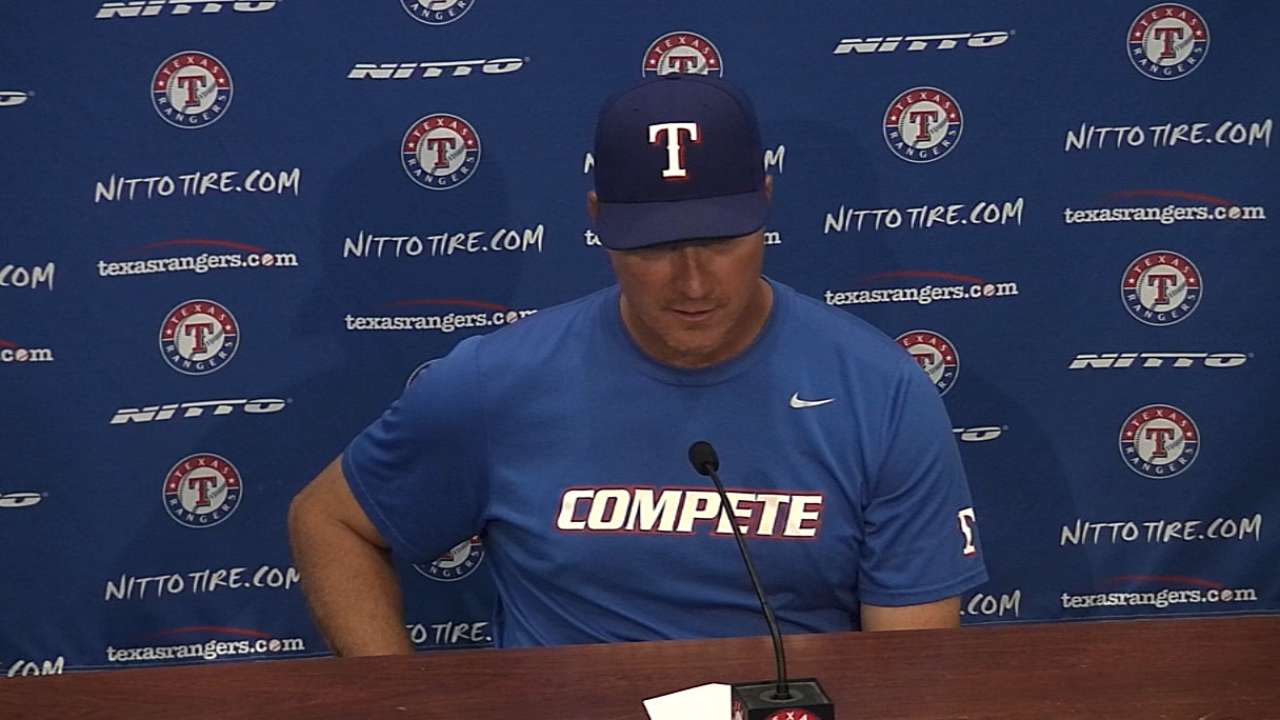 Three batters before Odor hit his second homer, outfielder Ryan Rua got into the act with a solo shot to right-center, traveling a projected 428 feet, according to Statcast™. It was Rua's first home run since July 2. He entered the game as a pinch-hitter for Ian Desmond in the sixth.
"It's always good to get in there and contribute in wins, especially the way we've been playing of late," Rua said. "I haven't really been myself this second half. I'm still working on some stuff in the cage, but it feels better day by day."
Ryan Posner is a reporter for MLB.com based in Texas. This story was not subject to the approval of Major League Baseball or its clubs.