Taillon expected to headline September callups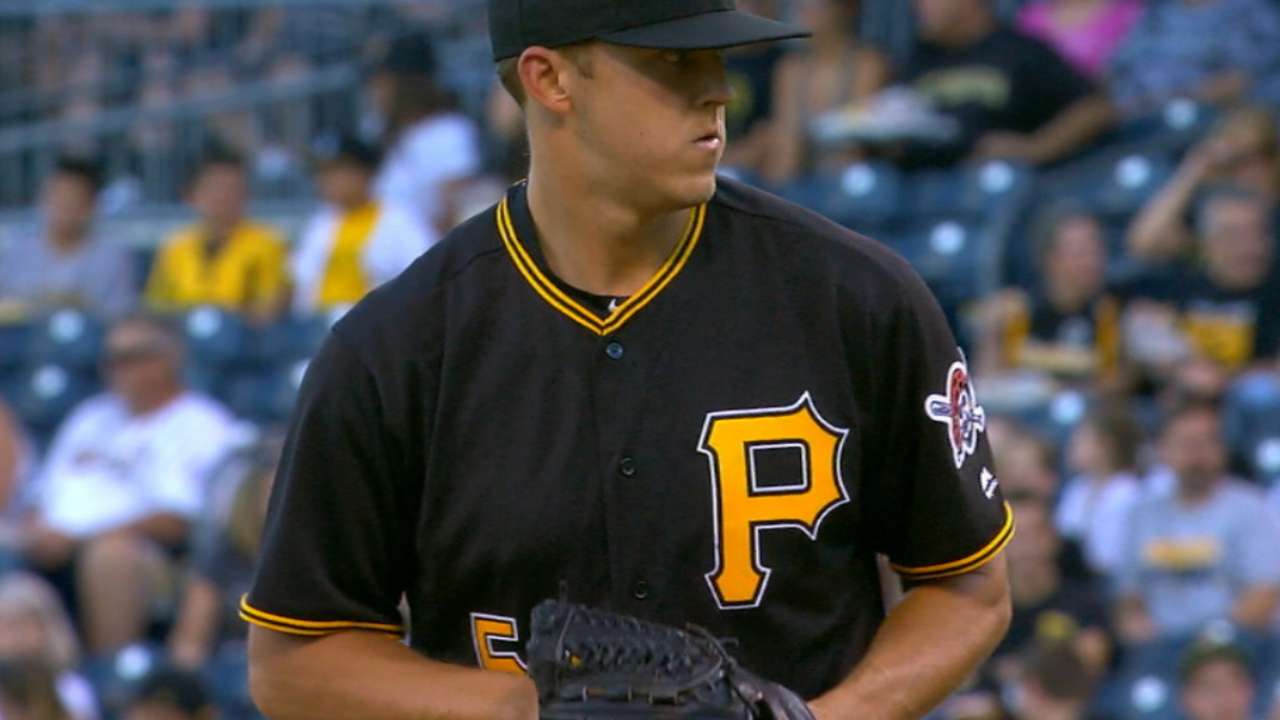 CHICAGO -- The Pirates' clubhouse could be a little bit more crowded when they return to PNC Park on Friday.
Major League active rosters expand from 25 to 40 players on Thursday, an off-day for the Bucs, but expect to see a few familiar faces back with the club when they open a three-game series against the Brewers on Friday. The Pirates will use the added roster flexibility to bolster the club with role players and young arms.
Their first round of callups likely will include catcher Chris Stewart, utility man Adam Frazier and starting pitchers Jameson Taillon and Steven Brault.
Taillon will start Friday and Brault will get the call on Sunday, manager Clint Hurdle said Wednesday at Wrigley Field. Both rookies were optioned to Rookie-level Bristol on Tuesday in a procedural move that allowed Pittsburgh to call up Alen Hanson and Kelvin Marte. Frazier was sent to Bristol in a similar move on Sunday but should return Friday to his role as a utility player off the bench, making occasional starts at second base and in the outfield.
Stewart is nearing the end of a rehab assignment with Double-A Altoona, testing his balky left knee by playing every other day. He has been on the disabled list since July 2, and his return will round out a catching corps that already includes starter Francisco Cervelli and backup Eric Fryer.
Top prospect Tyler Glasnow should rejoin the team at some point in September, whether the right-hander is needed as a spot starter or power arm out of the bullpen. So might catcher Elias Diaz, although Pittsburgh will already be set with three backstops. Reliever Curtis Partch and infielders Max Moroff and Jason Rogers are on the 40-man roster, have spent time with the Pirates this season and could return as well.
The Pirates called up Hanson for his second stint in the Majors. The rookie infielder won't start much, if at all, down the stretch, but he is a classic September speed-and-defense callup.
"The first time they called me up, you're a little nervous. There's things you need to learn, things you want to adjust to," Hanson said through interpreter Mike Gonzalez. "But this time, I feel a lot more confident, a lot more comfortable. ... I'm ready."
That statement also applies to Marte, the 28-year-old reliever with 10 years of Minor League experience. The left-hander has worked as a starter and out of the bullpen this season, and his addition provides Hurdle with another long-relief option or an additional weapon against left-handed hitters.
Marte received word at 2 a.m. Tuesday that he would be called up for the first time, and his excitement was evident as he spoke in the visitor's clubhouse at Wrigley Field on Wednesday.
"This has been a dream come true," Marte said through Gonzalez. "This is something I've been working very hard for, and I'm glad to be here. ... It's been a long journey. It's been a lot of fighting, a lot of struggles. But at the same time, it's been a great journey."
The Pirates' biggest boost in September could come off the DL. Gerrit Cole (right elbow inflammation) expects to pitch again this season, and Jung Ho Kang (left shoulder subluxation) is nearing a return to game action.
Adam Berry has covered the Pirates for MLB.com since 2015. Follow him on Twitter at @adamdberry. This story was not subject to the approval of Major League Baseball or its clubs.