Royals in September: A bug and a dream
With Rally Mantis Jr. in tow, Kansas City looks to continue resurgence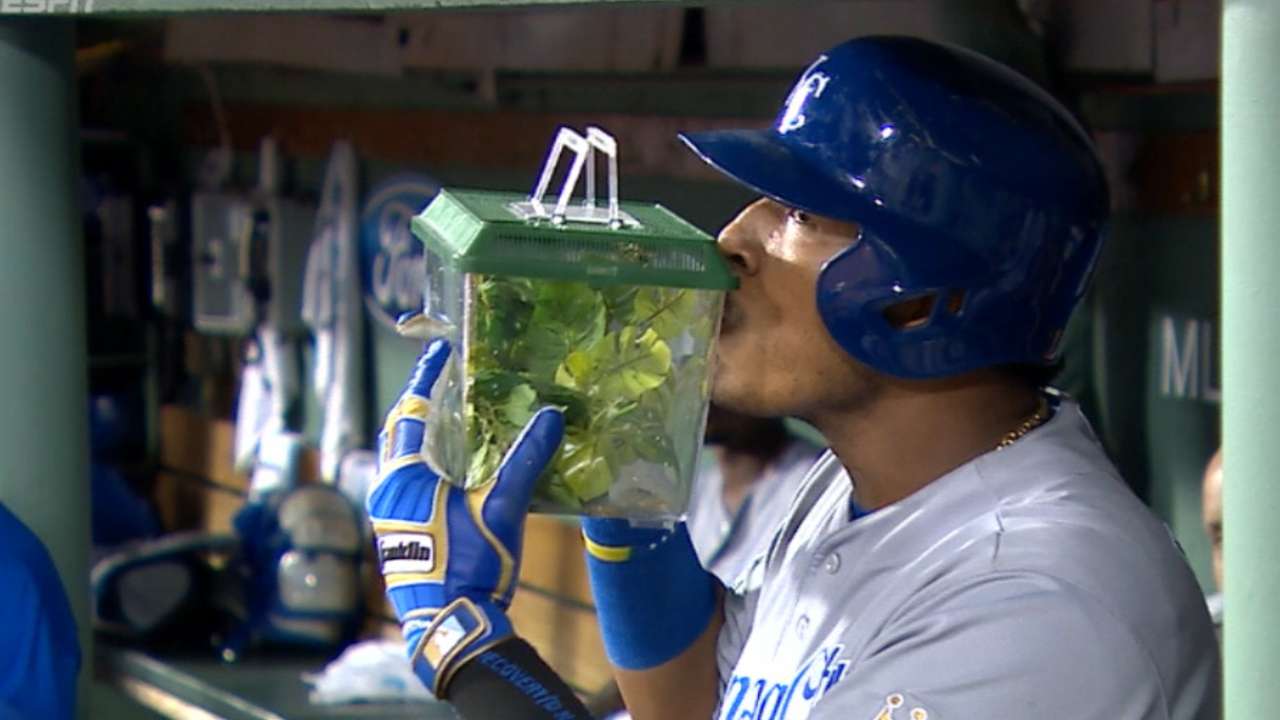 KANSAS CITY -- The joke going around inside the Kansas City Royals' clubhouse earlier this week was that the most important move the team made this season was acquiring outfielder Billy Burns from the A's right before the non-waiver Trade Deadline.
Not that Burns, a fifth outfielder, has had much of a chance to excel on the field. But it was Burns who was walking through the dugout one steamy early August afternoon and then suddenly spotted a Praying Mantis perched on a railing.
Burns scooped it up and placed it on top of his cap. Burns then paraded around the dugout, a scene that brought much-needed comic relief for a team that was reeling and had plummeted to fourth place in the American League Central standings.
Funny thing is, the Royals went out and beat the Blue Jays that night. The next day, the mantis still was hanging around the dugout. And Kansas City beat Toronto again.
The Royals then took two of three from the White Sox. The mantis -- dubbed the Rally Mantis -- wouldn't leave.
So as Kansas City prepared to depart on a road trip through Minnesota and Detroit, Burns decided to take Rally Mantis with him on the team plane. What happened after that is well-documented: The Rally Mantis died in Minnesota (the players gave it a brief eulogy and a "hydro burial" -- i.e., flushed it down the toilet); another mantis appeared on their dugout in Detroit and the players adopted that one immediately, even purchasing a luxurious critter cage for it. That mantis was dubbed Rally Mantis Jr., and it has been with the team ever since, residing prominently in the clubhouse.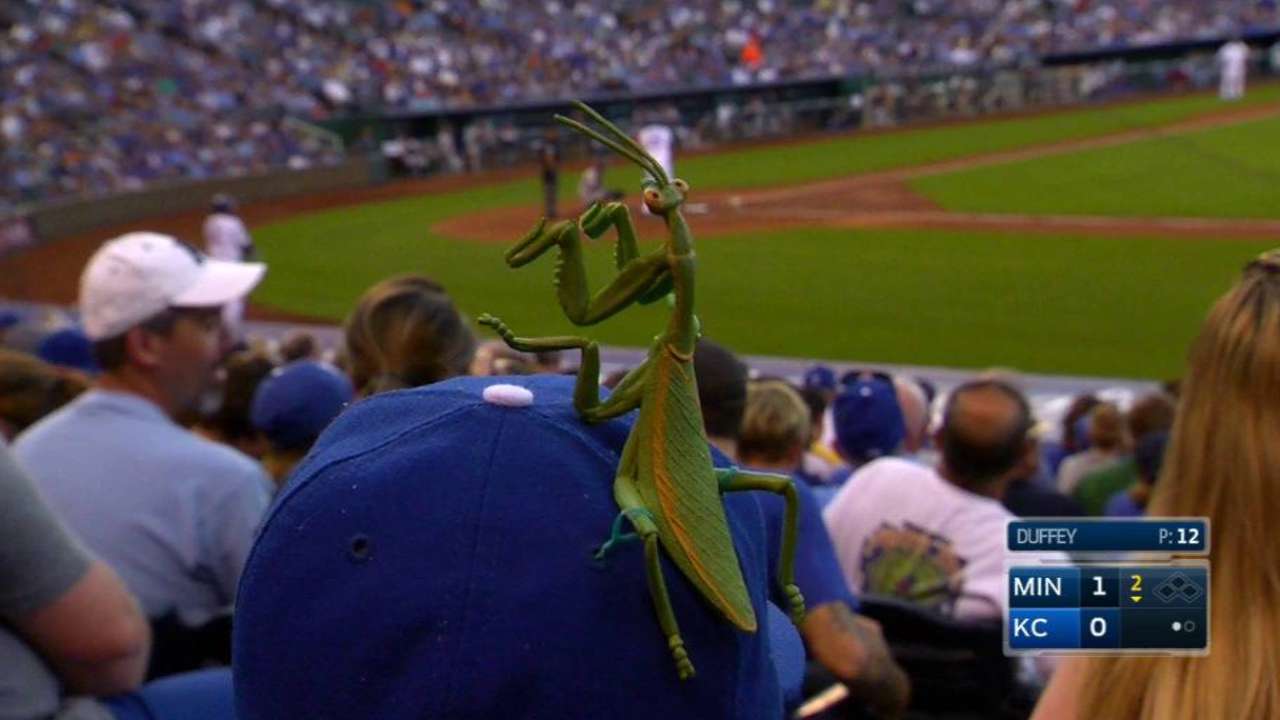 Burns has been the critter caretaker.
"I mean, he really cares for it," infielder Christian Colon said.
The craziest part of all of this is that since the Royals started adopting bugs, they have vaulted back into postseason contention, winning 18 of 24 games. Kansas City is just three games behind Baltimore for the second AL Wild Card spot.
Not everyone is a bug believer, however.
"Y'all really think it's the bug?" outfielder Jarrod Dyson barked before a game in Boston last weekend. "Guess we're not the ones lifting weights and hitting and all of that?"
Manager Ned Yost is skeptical as well.
"I'm not superstitious like that," Yost said. "But this is a close group of guys that love to have fun with each other."
Other players, though, insist that the arrival of Rally Mantis and Rally Mantis Jr. loosened up the clubhouse.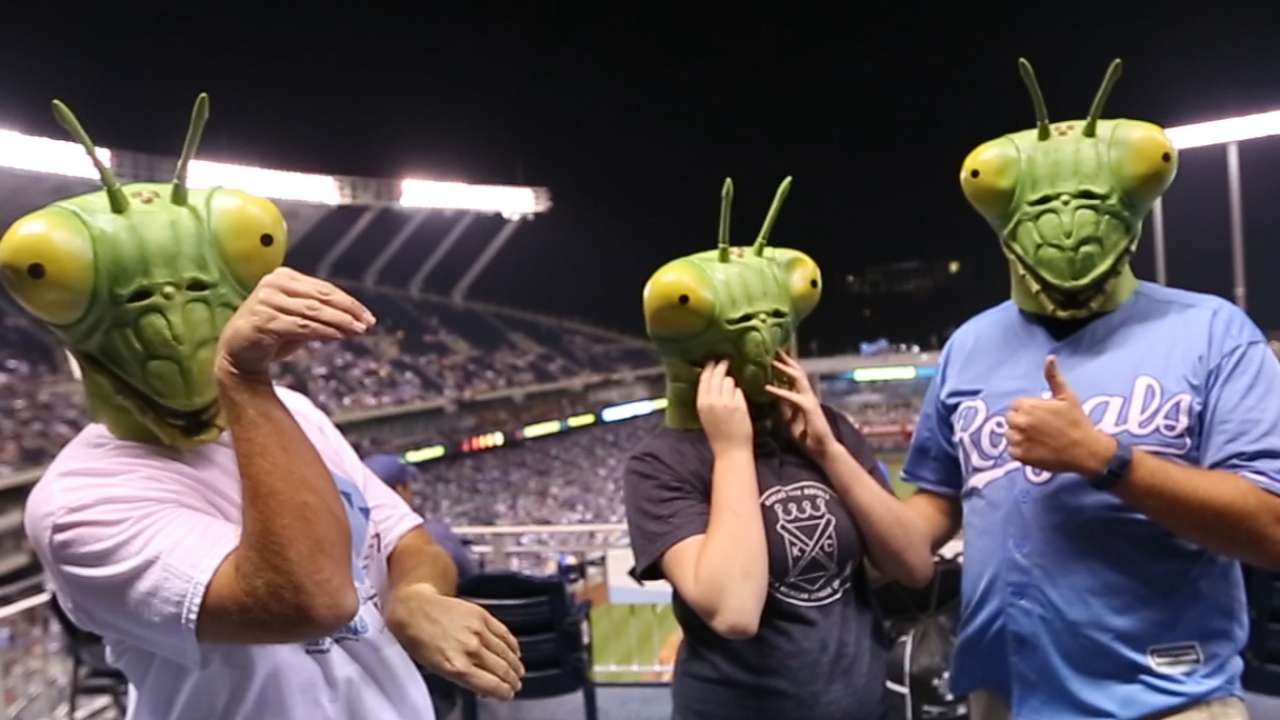 "We needed it," catcher Drew Butera said. "It's been fun."
The Royals have leaned on such inspirations before. In 2014, the team adopted Archie Eversole's "We Ready" as its official victory anthem. In '15, it was Fetty Wap's "Trap Queen." Fetty Wap even took batting practice with the team before a game.
"It can be a long season," first baseman Eric Hosmer said, "and it's important to have some fun along the way."
Insect charm aside, Kansas City's resurgence has been fueled by factors on the field, such as a shutdown bullpen that recently put together a club-record scoreless streak that reached 41 1/3 innings, the longest such streak in the Majors in 50 years. And it was accomplished without All-Star closer Wade Davis.
Davis is expected to be activated from the disabled list on Friday, and the Royals will be able to bolster their roster with callups such as super utility man Whit Merrifield and speedster Terrance Gore as they prepare for their September run.
Kansas City also likely will activate left-hander Jason Vargas, who is rehabbing from Tommy John surgery in 2015.
Those additions will be helpful, as will a favorable schedule. The Royals will play 17 of their final 29 regular-season games at Kauffman Stadium, where they have been dominant, winning 41 of 63.
And Kansas City will have 17 of its final 29 games against teams below .500.
"This is a group that can do it," Yost said of reaching the postseason. "It's a group of guys that believe in themselves. It's a group that doesn't give up. That's all you can ask for at the end of the day."
Along with a little prayer that Rally Mantis Jr. stays alive.
The road ahead
The defending World Series champions vanished from most postseason talk after a horrendous 7-19 month of July. But the Royals, as they did in their memorable 2014 run, have gotten hot at the right time, winning 18 of 24 to end August.
• Home games: 17
• Road games: 12
• Games v teams over .500: 12
• Two key series: Sept. 23-25, at Tigers; Sept. 30-Oct. 2, vs Indians
• Help on way? Davis should be activated this weekend to fortify the bullpen even more, and Vargas also could be activated sometime in September with an undetermined role. There will be callups as well, with the most obvious and likely being speedster Gore (who can be a huge late-inning weapon for Yost) and Merrifield.
• Cause for concern: The Royals still are last in the league in runs, which puts a lot of pressure on the rotation to be stingy every night. There also could be a concern with energy level -- this is a team that has played into late October two straight seasons, and it also spent a ton of energy to scramble back into the postseason conversation this season. Do they have enough in the tank to keep surging down the stretch?
Jeffrey Flanagan has covered the Royals since 1991, and for MLB.com since 2015. Follow him on Twitter @FlannyMLB. This story was not subject to the approval of Major League Baseball or its clubs.