Giants fill-in Gorkys robs Goldy at the wall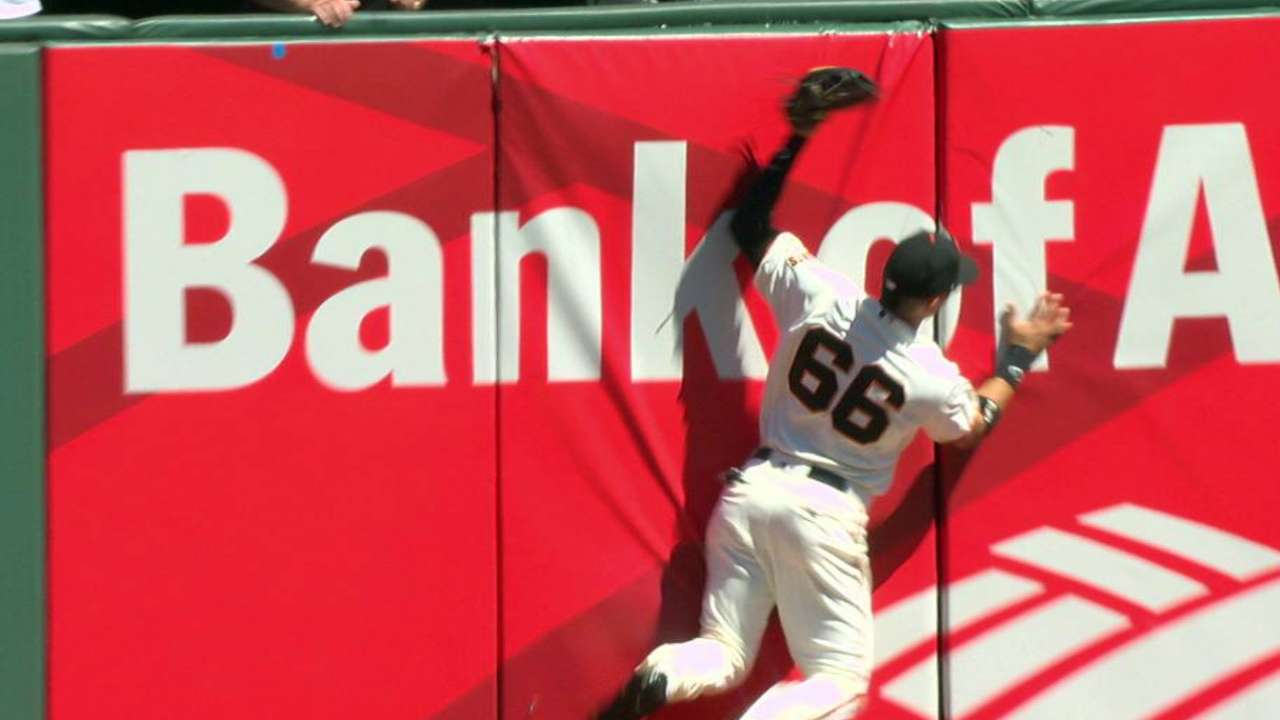 SAN FRANCISCO -- With a runner on first and no outs in the sixth inning Wednesday, the D-backs' Paul Goldschmidt hit a line drive to the left-center-field wall at AT&T Park. On contact, it appeared like it would do some serious damage. But Giants center fielder Gorkys Hernandez got a bead on it and made a leaping grab near the wall to rob Goldschmidt of an extra-base hit.
With Denard Span (neck stiffness) out of the starting lineup and Angel Pagan dealing with a groin issue, Giants manager Bruce Bochy elected to put Hernandez in center Wednesday. The move certainly paid off, as Hernandez preserved a two-run lead in what became a 4-2 win.
"That was unbelievable, I had no idea that ball was going to carry that far," said Matt Moore, whose outing was over after that catch. "The trajectory off the bat looked like it was more stood up. It wound up carrying and gave him the opportunity to make a great catch. For him to come up with that ball, that helped the inning subside right there."
Hernandez said he felt the play essentially won the game for the Giants. And he may be right. While the D-backs ended up scoring a run in the inning, they likely would've had runners on second and third with nobody out if Hernandez did not make that stop.
"He saved us," Bochy said.
The spectacular catch helped earn Moore his second win as a Giant, and his first at home. The left-hander is 2-1 with a 1.89 ERA in his last three starts. And while Moore felt he wasn't as efficient as he'd like to be, he admitted he's happy to be "positively" contributing for his new club.
He's got someone to at least partially thank for that Wednesday.
"If I don't make the play, something different happens," said Hernandez.
Justin Wise is a reporter for MLB.com based in the Bay Area. This story was not subject to the approval of Major League Baseball or its clubs.