Detwiler shows progress in shutdown start
Veteran lefty holds Astros to three hits over seven innings in A's loss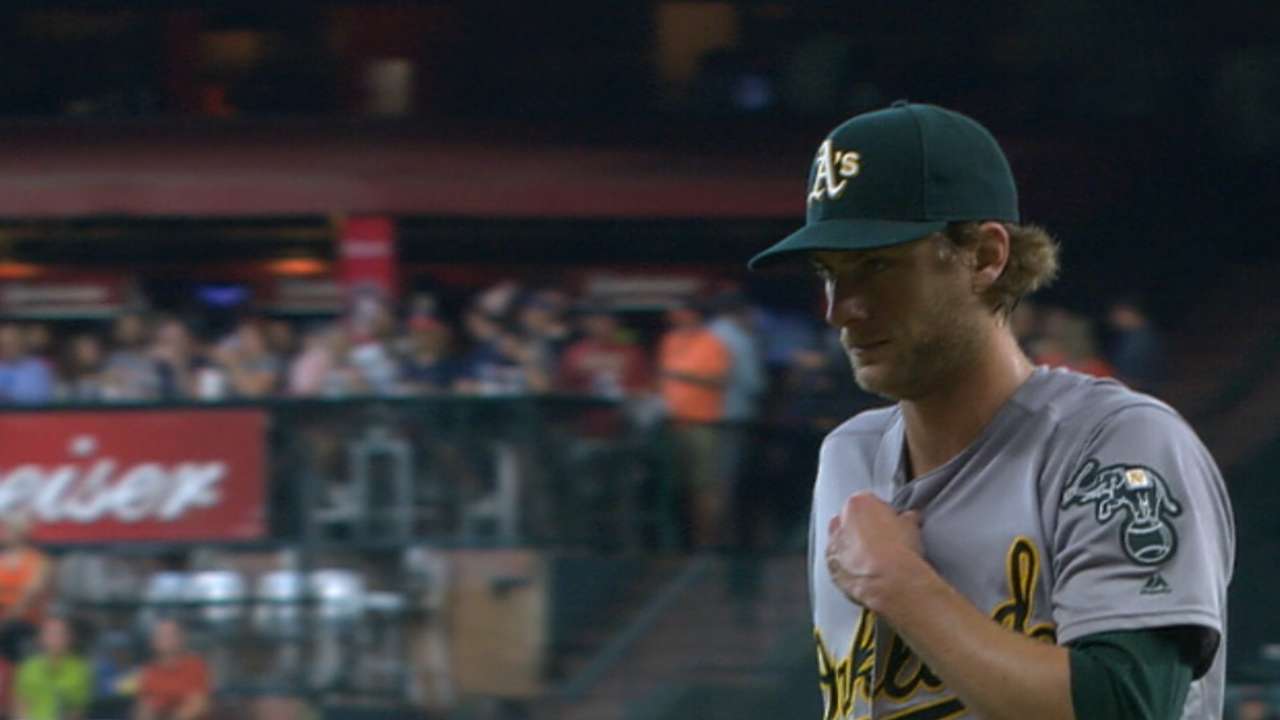 HOUSTON -- While there was plenty of disappointment to go around during the A's heartbreaking 4-3 loss to the Astros on Wednesday afternoon at Minute Maid Park, the play of veteran lefty Ross Detwiler was cause for praise.
"Ross was dominant out there today," Oakland reliever Liam Hendriks said. "He did a really good job of keeping them off balance, and he did a really good job of spotting up his fastball. It's a shame that we weren't able to pull this one off for him."
In his fifth start with the A's since being acquired in a trade from Cleveland on July 17, Detwiler stifled the normally potent Houston attack, pitching seven innings of one-run ball on only three hits, while tying a career high with seven strikeouts.
"He had good stuff today, man," Astros catcher Evan Gattis said. "He pitched in well and had a good changeup. We just couldn't really get anything going against him."
Detwiler's performance drew a Game Score of 76, a mark that he had never reached in his nine-year Major League career. So by that metric, it was Detwiler's best big league start.
"That's the best I've seen him out there today," Hendriks said. "He was dotting up and he was getting into good counts and he was throwing good pitches to get guys out."
Detwiler's Oakland career got off to a pretty good start, too. In his debut with the A's, he pitched eight scoreless innings as they stifled the Orioles, 1-0.
That said, Wednesday's outing was sorely needed. In his three starts after that game against Baltimore, Detwiler allowed 14 runs in 14 innings, taking three consecutive losses.
"I think I've definitely made progress," Detwiler said. "I haven't had all the success that I've wanted, obviously with only one win, but I think we're going in the right direction, and I think I'm getting back to where I was a couple years ago. I'm starting to feel comfortable with my pitches and mixing everything up."
But Wednesday's rebound just wasn't enough for a win. The Astros rallied from down 3-1 in the eighth to steal one from the A's, completing the series sweep.
"He was throwing the ball great, and sometimes that happens," Houston right fielder George Springer said. "Once he got out of the game, we were able to score some runs, and that's just a good win for our team."
Jordan Ray is a reporter for MLB.com based in Houston. This story was not subject to the approval of Major League Baseball or its clubs.