Sale strong, but similar script vs. tough Tigers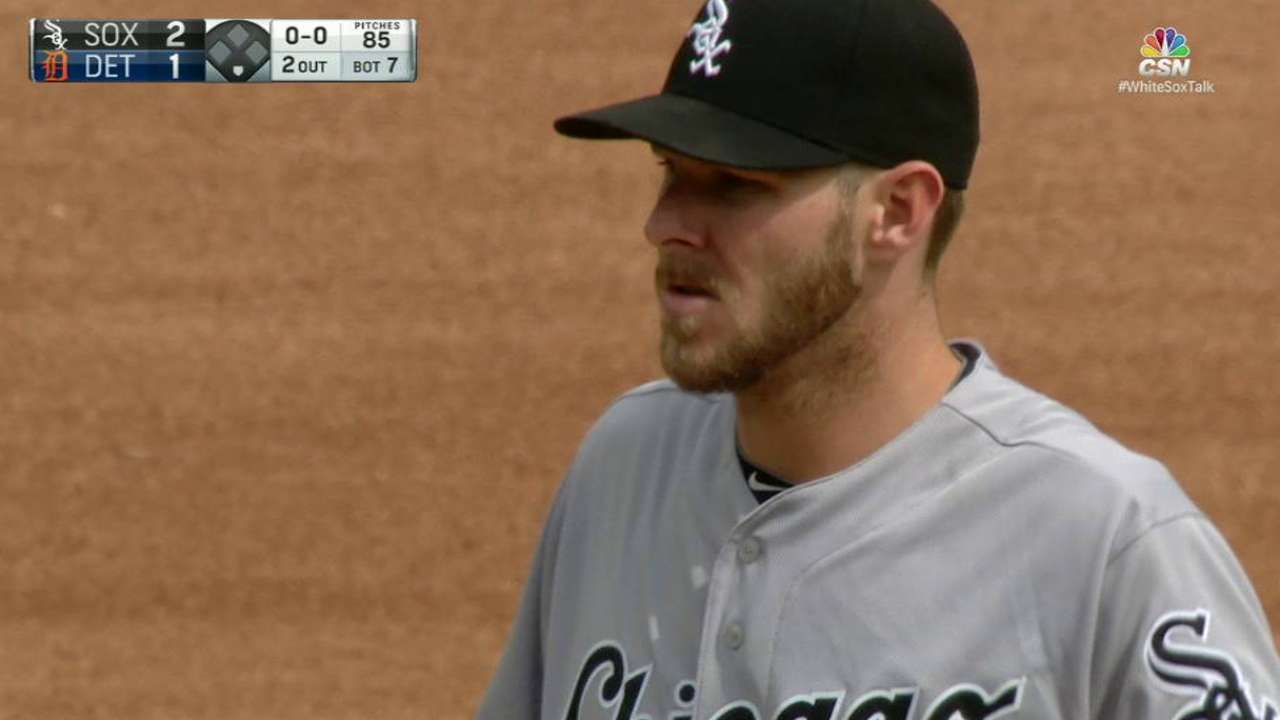 DETROIT -- Chris Sale once again threw a gem against American League Central rival Detroit. And once again, Sale came out on the wrong end of a pitching duel with Justin Verlander on Wednesday.
Sale took a no-decision after allowing two runs in eight innings in the finale of a three-game series at Comerica Park before the Tigers rallied late for a 3-2 win to sweep the White Sox.
Sale took a loss the last time he was in Detroit despite throwing an eight-inning complete game. This outing comes on the heels of yet another complete-game loss on Friday to the Mariners. Sale said the trend of having good outings spoiled can be deflating, but he is already putting it in the past.
"You just pick yourself up," Sale said. "There's no sense in stirring it up or focusing on anything -- just pick yourself up and be ready to win a ballgame tomorrow."
Sale got some help from his defense, as the White Sox turned three double plays in the first four innings to keep the Tigers at bay. Two of the three double plays came on offspeed pitches, and all of them came on pitches low in the strike zone.
"[Pitching coach Don Cooper] came up to me after the first or second inning and told me to stay focused at the bottom of the zone, especially with guys on," Sale said. "My guys up the middle were doing a great job today, turning those double plays."
No. 9 hitter Andrew Romine was the first to get to Sale, knocking in rookie JaCoby Jones with an RBI single in the fifth. From there, Sale went on to retire eight of the next nine Tigers hitters, showing no signs of struggling the third time through the potent lineup. He racked up five strikeouts in a span of seven batters between the fifth and seventh after going 4 2/3 innings without a strikeout.
Former Tigers catcher Alex Avila, who hit a solo home run one pitch after Jose Abreu broke a scoreless tie in the fourth, said he thought Sale took a different approach than his last several outings. Sale didn't seem to have the same velocity Wednesday, but he was able to be effective by changing speeds, Avila said. Sale, who struck out the side in the seventh, punched out six hitters, five of them with his slider.
"He wasn't overpowering, by any means, but he still had that good fastball working," Avila said. "To work through that lineup three or four times, you've got to come with a different approach each time. Those guys adjust at-bat to at-bat, so you've got to constantly be on your toes with that."
Victor Martinez entered Wednesday's game with a .474 batting average and nine RBIs off Sale in 38 at-bats, with just six strikeouts. Sale won the battle with Martinez, striking him out twice and holding him to a 1-for-4 output.
But it was the other Martinez -- right-fielder J.D. Martinez -- who ultimately doomed Sale, tying the game with an RBI single off a Sale changeup in the eighth inning while providing an encore to the last time he faced Sale, which resulted in a pinch-hit, go-ahead home run in his first at-bat back from the DL.
"It's what happens, you just run into some bad luck every now and then," Sale said. "At least it was a better result than last time I was here."
Though the Tigers got the better of Sale, manager Robin Ventura was able to appreciate the duel between Sale and Verlander, who allowed two runs on Avila and Abreu's homers.
"You're disappointed because it was such a great effort on both sides that, some way, you wish one of those two would have gotten the win," Ventura said.
Sale was a little less appreciative of the pitching duel.
"No. I don't come here for the experience. I come here to win games, and it didn't happen today," Sale said. "It's tough. It's unfortunate. That's a good team. That's what good teams do, they find a way to win."
Kyle Beery is a reporter for MLB.com based in Detroit and covered the White Sox on Wednesday. This story was not subject to the approval of Major League Baseball or its clubs.