Jones proves catalyst in 2nd big league game
DETROIT -- JaCoby Jones was still basking in the excitement of his two-hit, two-RBI Major League debut Tuesday night when he realized his next assignment looming hours later. His second big league game was a matchup with Chris Sale.
"I went to bed knowing I'd be facing him," Jones said.
With family in town and well-wishers on the phone, Jones didn't get to bed until about 1:30 a.m. The idea of stepping in the box against Sale and his slider with more than 30,000 people watching was a pretty nice wakeup call.
"Just being in the box with Chris Sale, it's like, 'Ugh, OK, here we go,'" he said.
The only challenge that might compare was facing David Robertson and his cutter. On Wednesday, Jones had to face both pitchers. His two doubles helped provide the difference in the Tigers' 3-2 win over the White Sox.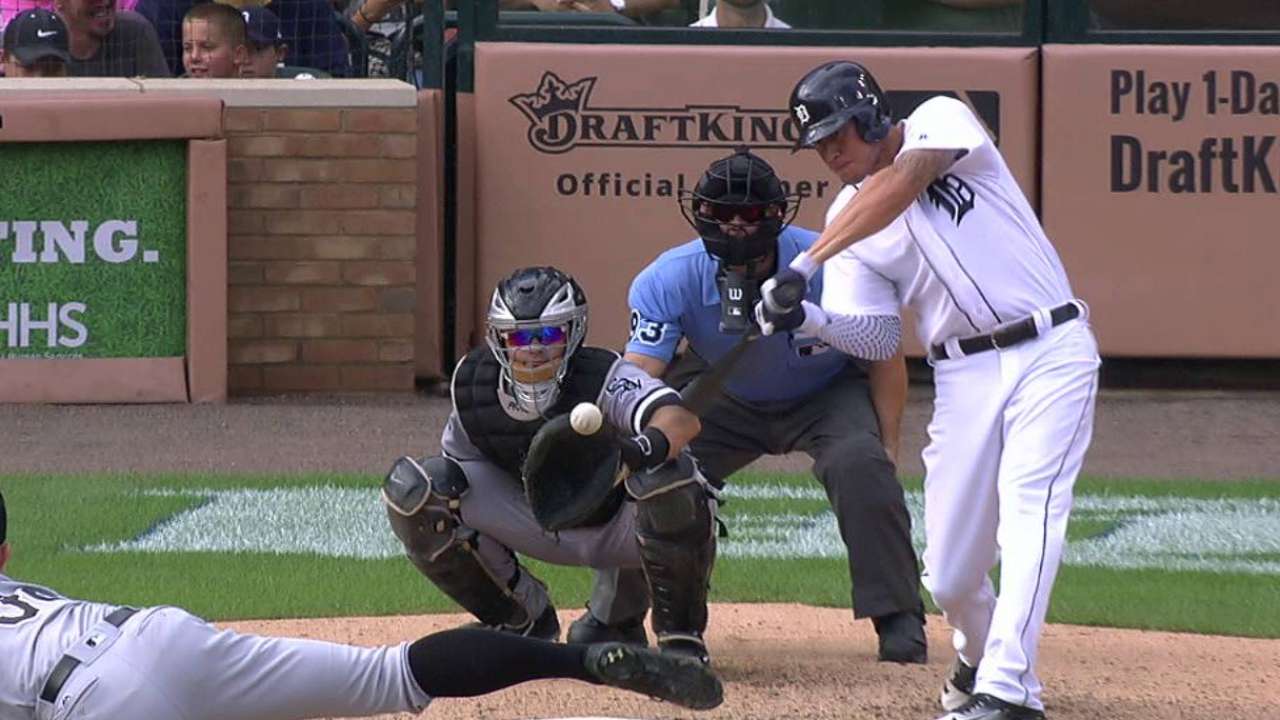 When the Tigers called up Jones from Triple-A Toledo 24 hours earlier, they were looking for a jolt to a struggling offense. They've got it.
"To be honest with you, that was brought to me by [general manager] Al [Avila] as an idea," manager Brad Ausmus said, "so I'll give Al credit. In talking to Al and talking to [Mud Hens manager] Lloyd [McClendon] about JaCoby and how he was playing in recent days down there, we decided it might be a good idea."
They had to look beyond the numbers for it. Jones batted .243 (71-for-292) with 97 strikeouts with Toledo, but had shown increasing progress over the past month. When he connected, the ball tended to go places.
Through two games, they've been going to the opposite field. And though it's early, Jones has proven to be a tougher out than expected for a kid with just 79 games above Double-A ball.
"The last couple years, that's my strength -- right-center, center field, just reacting on balls in," he said. "I'm staying middle of the field, staying inside the ball."
Jones did it against Matt Albers and Jacob Turner on Tuesday. Hours later, he did it against Sale and Robertson.
Jones' first double Wednesday actually came off Sale's changeup, a pitch at the knees that Jones extended his arms to reach and lined into the gap in right-center. After six baserunners and three double plays over the first four innings, it was Detroit's first extra-base hit off Sale, and the first leadoff runner in scoring position. Jarrod Saltalamacchia's grounder to the right side required a diving stop from Jose Abreu to deny an RBI single, but it moved Jones to third, where Andrew Romine's ground ball through the middle brought him in.
Leading off the ninth, Robertson threw Jones back-to-back cutters in nearly the same spot on the inner half of the plate. Jones swung and missed at the first, then drilled the second deep to right-center. If not for a strong hop off the wall, he might have had a triple.
"I just put a good swing on that cutter," Jones said. "I wish it went out, but it didn't."
Again, Saltalamacchia advanced him, this time on a fly ball to the warning track in right. When pinch-hitter Tyler Collins hit a shallow fly ball to left, however, Jones and third-base coach Dave Clark had a decision to make.
"He was saying something," Jones said. "I really couldn't understand him. I'm pretty sure he was just saying, 'Go, you've gotta run.' I was going to go anyway, regardless, unless he was just [imploring] me to stop."
Jones became the first Tiger with back-to-back multi-hit games to begin his Major League career since Alex Avila in 2009. More important to the Tigers' current situation, he became the boost Detroit needed.
"Clearly in two games, it's been his bat," Ausmus said. "He's gotten big hits. Whether it's driving in runs yesterday or leading off with a double in the bottom of the ninth today, that right there injects energy."
Jason Beck has covered the Tigers for MLB.com since 2002. Read Beck's Blog, follow him on Twitter @beckjason and listen to his podcast. This story was not subject to the approval of Major League Baseball or its clubs.