Matheny shifts on using closer in tied road game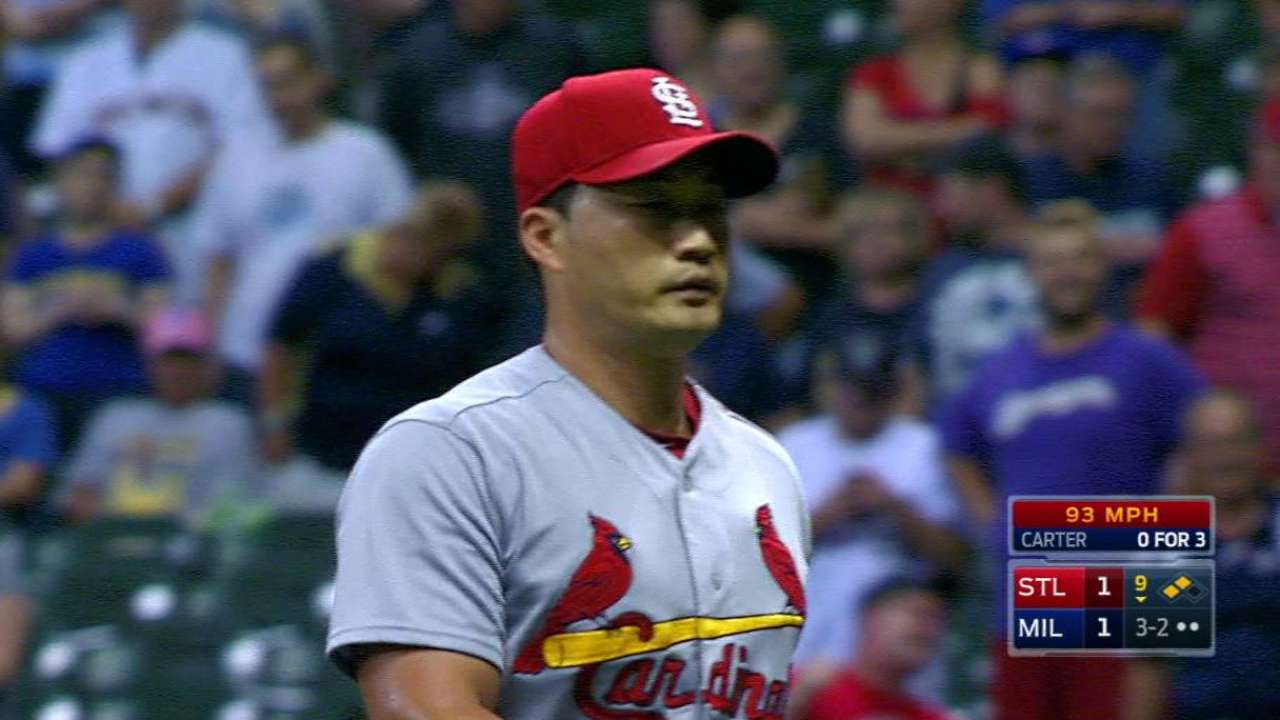 MILWAUKEE -- Left to justify his decision to turn to a rusty Michael Wacha instead of a ready Trevor Rosenthal in the bottom of the ninth of a tied National League Championship Series contest two Octobers ago, manager Mike Matheny stuck to a script that had long been accepted.
"We can't," Matheny explained, "bring him into a tie-game situation when we're on the road."
Rosenthal, of course, never got to pitch that night in San Francisco as Travis Ishikawa sent the Giants to the World Series the minute he crushed one of Wacha's fastballs.
But what Matheny was so hesitant to do then has become his preference now. Tuesday marked the third time in the team's last four road series that he summoned closer Seung Hwan Oh in to pitch the bottom of the ninth in a tie game on the road. In Tuesday's case, Oh's scoreless appearance set up a 2-1, 10-inning win.
It's part of what Matheny described as "an evolving philosophy."
"You say, OK, we have our best pitcher … and do we get to that next inning if we don't pitch him in that inning?" Matheny explained. "You have, statistically, your best arm down there ready to go and their best part of the lineup. I think there are a lot of arguments, at least that I have in my own mind, that lead me toward giving [Oh] a chance to get us through that. When the game ends and you still have him sitting down there and he could have pitched, those are things you look back and learn from."
Also a factor, Matheny said, is not wanting his closer to have to warm up multiple times in a game while he waits for a lead. That can add unwanted stress on his arm over the course of the season.
"It goes against how I remember bullpens being run, where you hold onto your closer and you get him hot eight times if you need to and then finally, if you get that lead, you throw him in there," Matheny said. "That seems kind of bizarre to me, because he's worked too hard and we have other guys who can pitch that last inning."
Though Matheny has always been intrigued by the possibility of managing his bullpen more unconventionally, he hasn't committed to it until recently. He sought input from the Cardinals' baseball-operations staff and from his coaching staff while reconsidering his former stance. Matheny described bench coach David Bell as especially creative with such in-game decisions.
Matheny tried the new approach for the first time on April 5, when he brought then-closer Rosenthal in to pitch the ninth inning of a 5-5 game in Pittsburgh. Rosenthal got through it unscathed.
In the next three such opportunities, however, Matheny reverted back and held onto his closer. It happened June 7 in Cincinnati, July 8 in Milwaukee and July 31 in Miami. In all three instances, the reliever asked to preserve a tie game lost it in the ninth and the Cardinals' closer -- Rosenthal until late June, Oh since then -- never appeared.
But the approach has changed since that blow-up in Miami. Beginning with the team's Aug. 11 game in Chicago, Matheny has repeatedly turned to Oh in those spots. In that game and in another in Philadelphia eight days later, Oh entered in the ninth and covered two scoreless innings.
And while the Cardinals may not have won all four games in which Matheny had his closer pitch the ninth in a tied road game, there has been one key and consistent outcome -- each time, the closer successfully pushed the game into extra innings. That was counted as a success.
"I think those tie games on the road," Matheny said, "those have changed how we handle our closer."
Jenifer Langosch has covered the Cardinals for MLB.com since 2012, and previously covered the Pirates from 2007-11. Read her blog, By Gosh, It's Langosch, follow her on Twitter @LangoschMLB, like her Facebook page Jenifer Langosch for Cardinals.com and listen to her podcast. This story was not subject to the approval of Major League Baseball or its clubs.