Wang heads to DL as Royals recall 2 pitchers
Colon optioned to Omaha; Alexander, Pounders join Kansas City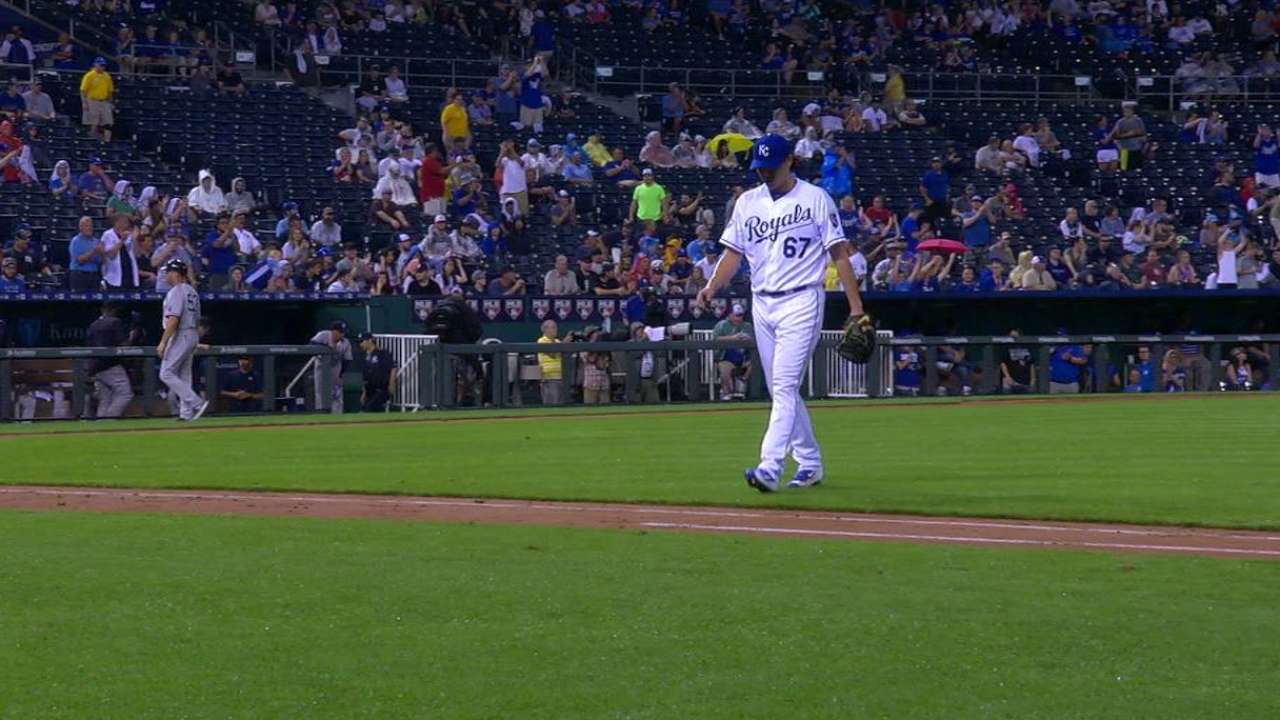 KANSAS CITY -- The Royals made a pair of roster moves on Wednesday, placing right-hander Chien-Ming Wang on the 15-day disabled list with right biceps tendinitis and optioning infielder Christian Colon to Triple-A Omaha in order to recall left-hander Scott Alexander and right-hander Brooks Pounders.
Colon will be eligible to return after the Storm Chasers' season ends on Monday.
"Our bullpen is in dire straights right now. We've had a ton of usage on these guys here in the last four or five days," manager Ned Yost said. "We were hoping to get to Sept. 1, but we just couldn't."
As Yost alluded to, the Royals' bullpen had been taxed over the last week and in this series against the Yankees. Kansas City used four relievers in the series opener on Monday and five more on Tuesday, after starter Edinson Volquez was only able to pitch 3 1/3 innings.
"We just needed arms," Yost said. "Alexander has been throwing really well. And Pounders we've seen before up here and [he's] fresh."
Alexander, 27, has a 4.85 ERA in nine appearances with the Royals and a 3.00 ERA in 22 appearances for Omaha. Pounders, 25, is making his third stint with the Royals. He has a 3.14 ERA in 80 1/3 innings for the Storm Chasers.
"It means a lot," Pounders said of the callup. "Any time you can come back and contribute, it's a great opportunity."
All-Star closer Wade Davis is nearing the end of his DL stint. Davis hasn't pitched since July 27 due to a right flexor strain, but was back in the clubhouse on Wednesday morning. He was still unavailable to be activated after a rainout earlier in the week and being pushed back in his most recent rehab outing with Omaha.
"Wade threw last night. It would've been perfect if they didn't get the rainout on Monday. Wade would've been available for today," Yost said. "But with him throwing last night, we'll activate him tomorrow."
Scott Chasen is a reporter for MLB.com based in Kansas City. This story was not subject to the approval of Major League Baseball or its clubs.