La Stella rejoins Cubs, addresses teammates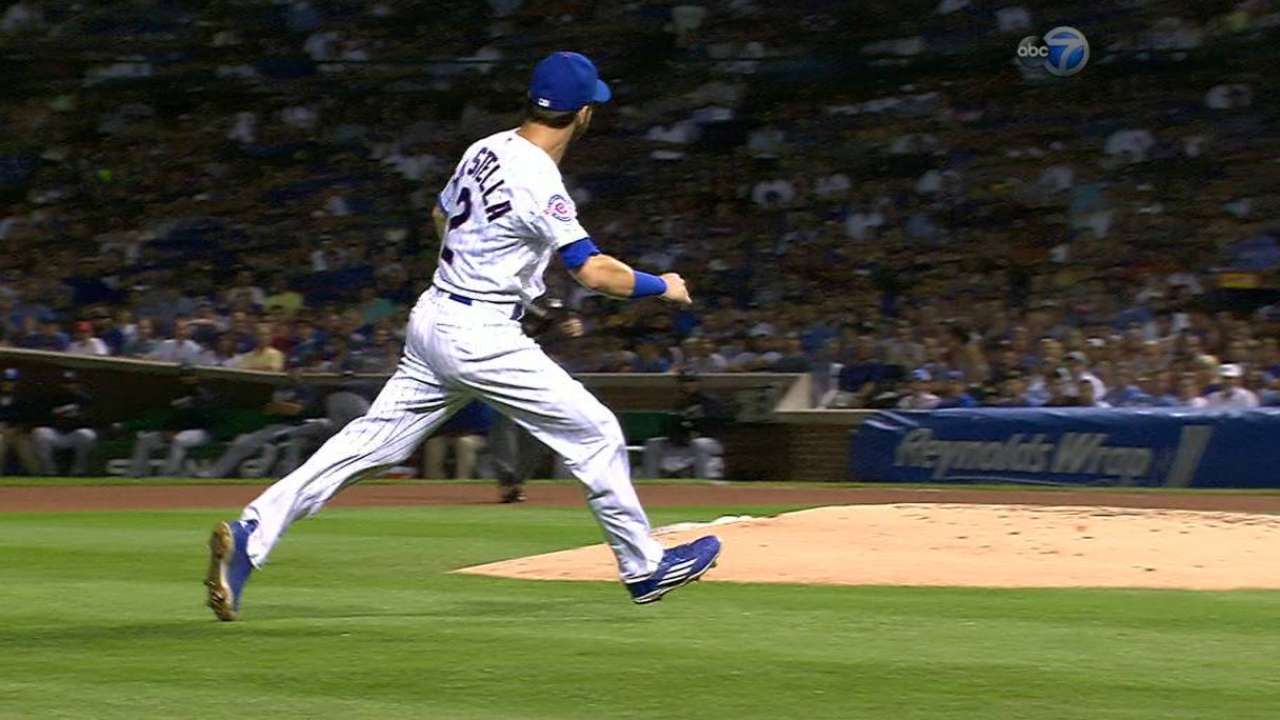 CHICAGO -- Tommy La Stella, who opted to go home rather than report to the Minor Leagues when he was optioned to Triple-A Iowa in late July, rejoined the Cubs on Wednesday and addressed his teammates in what manager Joe Maddon said could be a "galvanizing moment" for the club.
"He's back, he talked to the boys, he's done everything properly and he's ready to participate for the rest of the season," Maddon said.
It's not that simple, though. Cubs president of baseball operations Theo Epstein admitted that his initial reaction to La Stella's decision to go home rather than join the Minor League team was to punish the infielder and possibly release him. But Epstein said they took time to talk to La Stella.
"After having those conversations, while I felt like he wasn't handling it the way I would've liked, and he may have been making a mistake, I felt like it was the type of mistake we could work with him to grow from and it wasn't a mistake that we wanted to punish him for," Epstein said. "I can understand different people coming from different perspectives, maybe with not quite all the information or not privy to those conversations, might not understand that, and I get it, but I think we handled it the right way as an organization.
"This is actually a good outcome. This is not how we'll handle it every time. Hopefully we're not in this situation again."
The Cubs wanted to call up La Stella on Monday but opted to keep an extra pitcher after a tough West Coast trip. An extra-inning game on Monday against the Pirates further delayed the promotion. Right-hander Spencer Patton was optioned to Iowa to open a roster spot on Wednesday.
La Stella asked to talk to his teammates prior to Wednesday's finale against the Pirates.
"I felt it was important that they had all the information from my side and how I got to where I got to," La Stella said, although he would not go into details regarding his reasons during a 15-minute session with the media.
"I understand there will be people out there who draw conclusions, and that's fine," La Stella said. "I'm not here to make anybody see anything or explain anything, as long as people understand there are things out there that are personal to me, and I shared those with the guys. It's not necessarily a cut-and-dry, black-and-white answer for everybody."
La Stella did say his decision to go home was not because he was upset at being demoted to the Minors, but more to "stuff that's happened throughout my career." He eventually reported to Double-A Tennessee on Aug. 17 and played in two games before joining Iowa. In six games with Iowa, he was 6-for-23 (.261) with two doubles.
La Stella knows it may be difficult for some to understand why he walked away and risked his career.
"I don't know that there's an answer I can give that ties it all together and sums it up and makes everybody go, 'OK, that makes sense,'" La Stella said. "That answer doesn't really exist in my eyes. There's a lot more that goes into it."
Epstein said La Stella was reacting to things that had happened to him in the past, and his behavior wasn't in any way malevolent or damaging the team concept.
"You may think it was misguided -- I may have thought it was misguided and would've hoped he handled it differently -- but his motives were almost pure, in a sense, as funny as it sounds," Epstein said. "We thought it was more appropriate to work with him."
Maddon and Epstein were in the clubhouse when La Stella spoke to his teammates. Epstein called it an important step and felt it was meaningful that La Stella wanted to do that.
"I'm sure there is a broad spectrum of reactions [from the players]," Epstein said. "Most were 100 percent supportive and wanted to embrace him. I think others wanted to learn more and I think others were skeptical. The fact that he handled it directly, face to face with them in an open and transparent way, the result of that meeting was that all of the players are embracing him and moving forward together, which makes it a satisfactory and positive resolution to the whole saga, which is what we were hoping for the whole time."
Maddon said it could be a "galvanizing moment."
"I would've been surprised if he had not been accepted," Maddon said. "I love the way the whole moment worked because it truly indicated everything we attempted to put together this year is real. They are a group, they are one, they are a team."
Did La Stella miss the game?
"I missed the guys," La Stella said. "The game to me is kind of the avenue for the other type of enjoyment I get through those guys and the stuff we do together."
Carrie Muskat has covered the Cubs since 1987, and for MLB.com since 2001. She writes a blog, Muskat Ramblings. You can follow her on Twitter @CarrieMuskat and listen to her podcast. This story was not subject to the approval of Major League Baseball or its clubs.