Rangers finalize rotation for Astros series
After Griffin starts Friday's opener, Holland, Darvish to follow respectively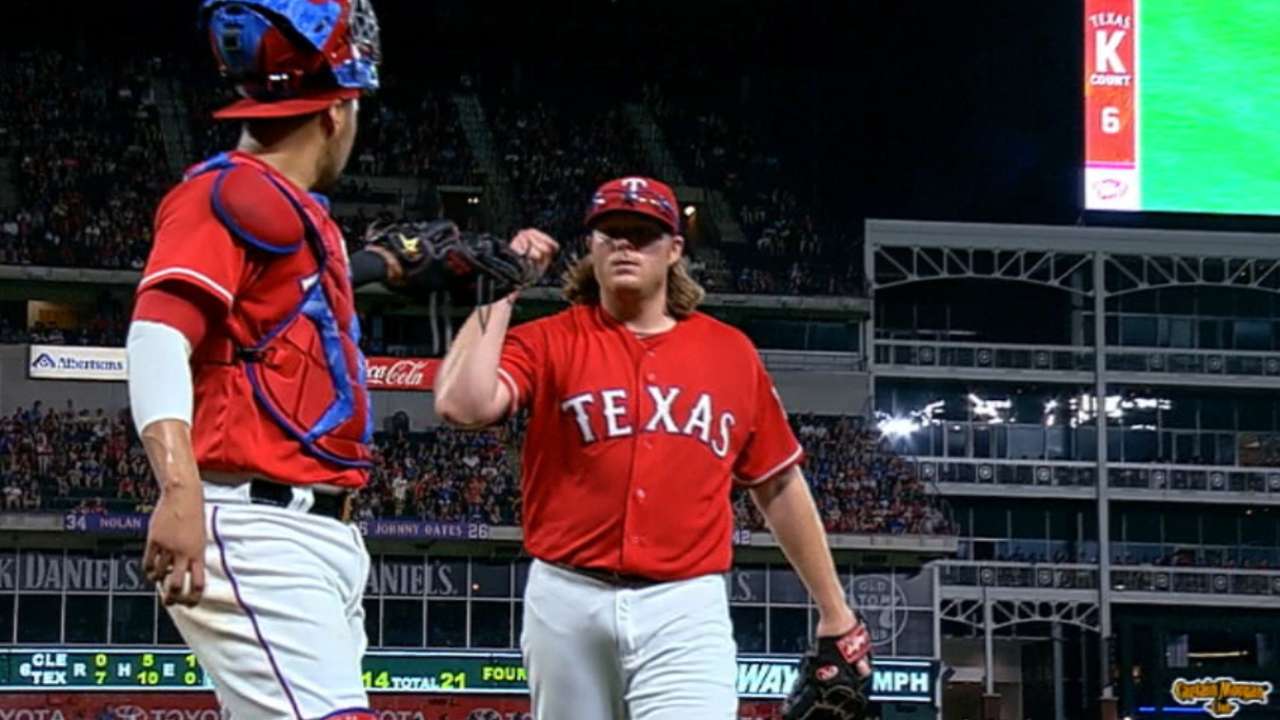 ARLINGTON -- Rangers right-hander A.J. Griffin will start the opener of a three-game series against the second-place Astros on Friday night at Globe Life Park, and he will be followed by Derek Holland and Yu Darvish.
The Rangers have decided to use Thursday's day off to give Darvish and Cole Hamels extra rest. Both will be pitching on five days' rest, with Hamels leading off a four-game series against the Mariners on Monday in Seattle.
Banister acknowledged that Darvish responds well to the extra day of rest, and that it may be nice to give Hamels an extra day off after he allowed six runs in 4 1/3 innings to the Mariners in the Rangers' 8-7, walk-off win, Tuesday.
"We also know that, if we push them back, it moves them to a different slot against different teams," Banister said.
The Rangers are still unsure about what to do with pitcher Colby Lewis, who has been sidelined for two months with a strained lat muscle in the back of his right shoulder. Lewis made his second rehab start with Double-A Frisco on Tuesday and threw 60 pitches as his fastball stayed around 87 mph. Lewis gave up five runs in his 3 1/3 innings of work.
• Lewis makes 2nd rehab start; Rangers return TBD
"First and foremost, I want to find out where Colby is at. I haven't spoken with him yet," Banister said. "The fastball I don't think he got quite where he wanted to. He got his pitches in. I know he gave up some hits and some runs, but that doesn't concern me."
Lewis said after the start that he felt like he was in Spring Training mode. But, like the runs given up, that's not a concern for Banister.
"I've seen him pitch in Spring Training, then I've seen him come back the next start and wipe everybody out," Banister said. "It's still the buildup of arm strength, endurance and logging pitches."
Rangers beat
• Griffin put together one of his best outings last Saturday, throwing six scoreless innings against the American Central-leading Indians. It was his first quality start in his last 13 outings.
"I've been pretty frustrated with how things have been going the last couple games, but that was a step in the right direction," Griffin said. "Obviously, looking to build some momentum off that outing and carry it into my one on Friday."
• Entering Wednesday's games, the Rangers had played the most games in the Majors. After Thursday's off-day, they will have three more in September.
• With just over a month left to play, the Rangers are seven one-run wins away from tying their club record set in 1990. Their 30-8 mark in one-run games is the best in the Majors.
• The Rangers are considering left-hander Yohander Mendez -- ranked by MLBPipeline.com as the club's No. 2 prospect -- as one of their September callups to help reinforce their bullpen. Mendez, 21, is 12-3 with a 2.19 ERA in 21 starts and three relief appearances combined at Class A Advanced High Desert, Double-A Frisco and Triple-A Round Rock. He has pitched a career-high 111 innings. He has been mainly a starter but has been used in relief his last two outings.
• The Rangers are sending pitchers John Fasola, Joe Filomeno and Reed Garrett to play for the Surprise Sagueros in the Arizona Fall League. Also going are catcher Jose Trevino and infielders Andy Ibanez and Isiah Kiner-Falefa. The Rangers will name one more pitcher and an outfielder at a later date.
Ryan Posner is a reporter for MLB.com based in Texas. This story was not subject to the approval of Major League Baseball or its clubs.