Wendle reaches twice in Major League debut
A's trade of Crisp left open spot on roster for 26-year-old second baseman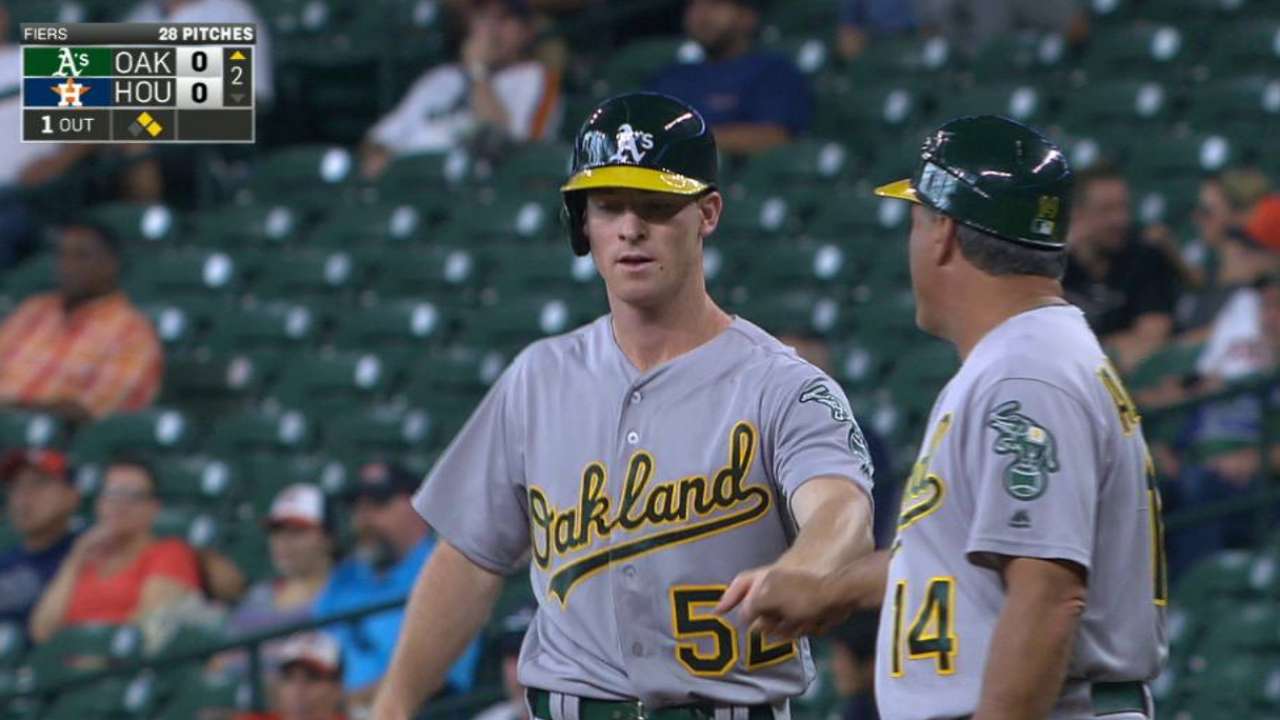 HOUSTON -- With veteran outfielder Coco Crisp being traded to Cleveland on Wednesday, the A's decided to give a younger guy his first shot at the big leagues. Oakland called up infielder Joey Wendle, who made his Major League debut in Wednesday afternoon's 4-3 loss to Houston at Minute Maid Park.
Wendle was slotted at seventh in the lineup, playing second base. Though he didn't get a hit in the game, he did manage to get on base twice, once on a fielding error by Carlos Correa and again on a wild-pitch strikeout. He also scored a run on a triple from Jake Smolinski.
"That was cool," Wendle said of scoring after his first at-bat. "I was glad I hit the ball hard, had a good at-bat, quality at-bat, and scoring a run was awesome. That's the goal. That's more important than getting hits."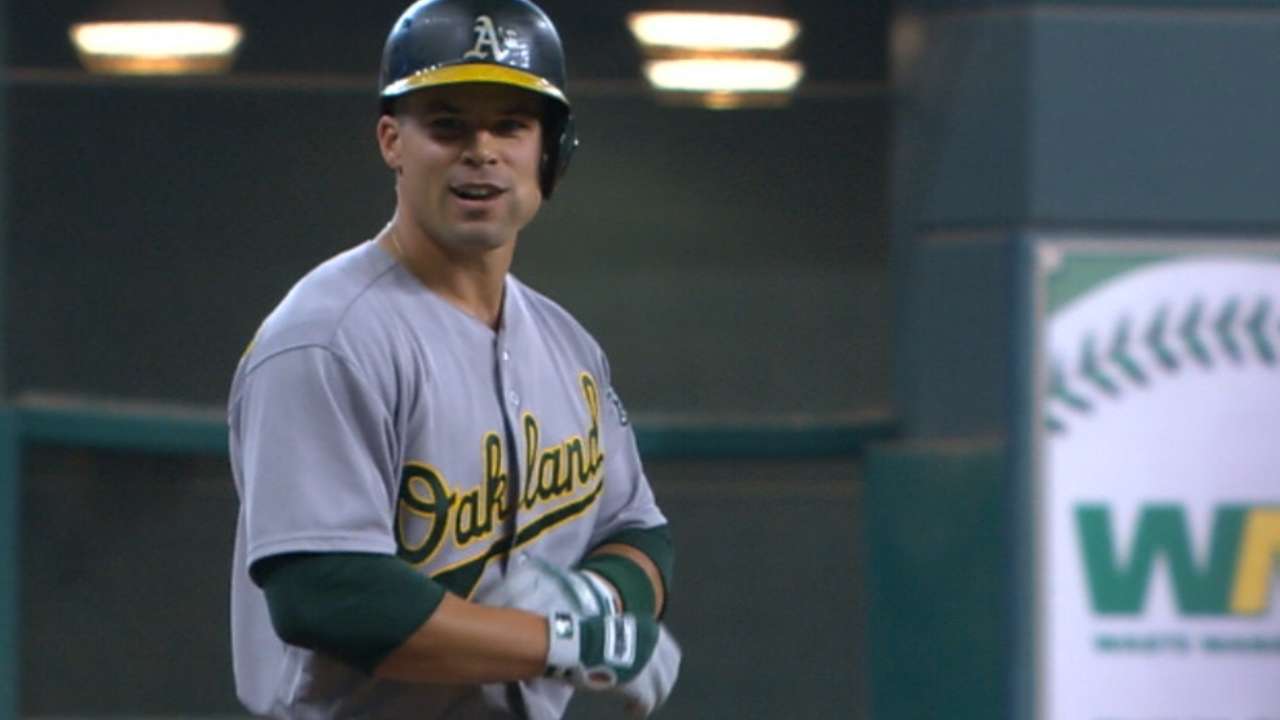 The 26-year-old out of West Chester University of Pennsylvania had been on fire, batting .340 with 36 hits, eight doubles and 15 RBIs during August with Triple-A Nashville.
"He's been swinging really well, probably the best out of here as of late, and his defense has been terrific," A's manager Bob Melvin said. "So we always hope for some good timing when a guy comes to the big leagues, and he's playing well right now."
Though the move comes on the heels of Crisp being traded to the Indians for Minor League left-hander Colt Hynes, Wendle said he's not trying to be Crisp's replacement.
"I guess on paper, that's the way that it looks," Wendle said. "He's a phenomenal player. He's had a phenomenal career. Certainly not here to say I'm going to be that, by any means. I'm just excited."
Wendle said he found out about the callup when Triple-A manager Steve Scarsone called Wendle into his office.
"[He] said, 'Doesn't look like you'll be joining us for the playoffs. The A's have made a move and have room for you on the roster, so you're going to the big leagues,'" Wendle said. "I was pretty speechless. There wasn't a whole lot to say at that time."
It's been a wild 24 hours for Wendle, and equally so for his wife and parents, who flew in from Nashville and Philadelphia, respectively, for Wednesday's game.
"Had to pull some strings and bend over backwards," Wendle said of getting his family to the game, "which is pretty indicative of how they've been for me my whole career."
Melvin said that even though rookie callups are common for struggling teams like Oakland, he tries to not let it influence how important a rookie's debut is.
"It's never lost on me, a guy's Major League debut," Melvin said. "When we're having a tough season, you're bringing guys up ... it shouldn't get lost on you what a special day it is for them. The nerve. You kind of think back to the time when it was your Major League debut, so there's nothing like this experience."
And his advice for Wendle?
"Similar to 'Hoosiers.' It's 60 feet, 6 inches there. It's 90 feet all the way around," Melvin said. "Once you get into the game, certainly there are going to be some nerves before, but you've played this game often enough to where once you get into the flow of the game, it's the same here. It's just you'll have a little more intensity, and obviously a little bit more excitement."
Jordan Ray is a reporter for MLB.com based in Houston. This story was not subject to the approval of Major League Baseball or its clubs.