Hanley launches Monster grand slam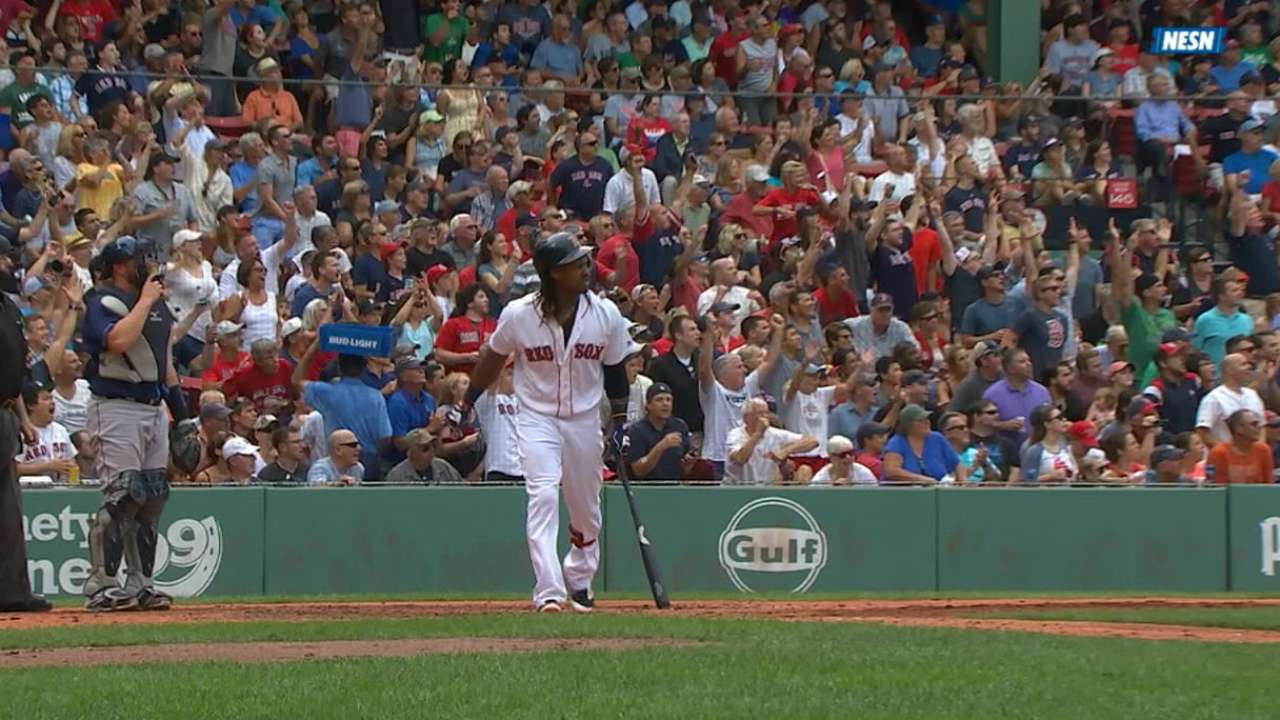 BOSTON -- After a quiet four innings against the Rays, the Red Sox's offense needed a momentum boost, and Hanley Ramirez was happy to deliver it in an 8-6 victory on Wednesday afternoon at Fenway Park.
In the fifth inning with the bases loaded, two outs and Boston trailing, 4-1, Ramirez hit a first-pitch grand slam into the Monster Seats. According to Statcast™, the ball landed 426 away from home plate and had an exit velocity of 105 mph.
Ramirez said he knew what was coming in his third at-bat against Tampa Bay starter Drew Smyly, and Boston's first baseman made him pay for it.
• Grand slams mean 40% off pizza
"First two at-bats, [Smyly] threw the fastball on the first pitch. It happened three times in a row, so I was ready for it," Ramirez said.
The blast was Ramirez's second grand slam for the Red Sox, the first since his first game with the team, to give Boston a 5-4 lead.
Ramirez's 19th home run of the year came one day after his game-tying homer in the fifth inning of Tuesday's 4-3 loss to Tampa Bay. The first baseman recorded three home runs during Boston's six-game homestand.
Rewards for a grand slam. pic.twitter.com/XJUlBpQyQW

— Boston Red Sox (@RedSox) August 31, 2016
"This time in the season, physically, everything hurts. Mentally, nothing hurts," Ramirez said. "You gotta be tough mentally and go out there and give everything you got. I gotta give credit to guys on the bench, my teammates, they keep pushing me all the way to the limit. That motivates us. That's the little things that we're really going to need in this stretch now."
The last Red Sox hitter to erase a three-run deficit with a grand slam was J.D. Drew on April 21, 2010, against the Rangers. The last to do so with two outs in the inning was Carl Yastrzemski in 1979. Ramirez is just the sixth Red Sox hitter since 1930 to erase a three-run deficit with a two-out grand slam.
Ramirez is hitting .365 (23-for-63) with 11 runs, six doubles, five home runs and 98 RBIs in his last 76 games.
The Red Sox have struggled this season with the bases loaded. Entering the game, they were hitting just .224, which ranked 25th in the Majors.
Ramirez's formula for dominating the month of September is a simple one.
"Win games that we're supposed to win," Ramirez said. "That's it. That's the key. So we just gotta continue doing that and keep pushing to the limit."
Deesha Thosar is a reporter for MLB.com based in Boston. This story was not subject to the approval of Major League Baseball or its clubs.