Kimbrel needs just 10 pitches to get save
BOSTON -- Fans were on the edge of their seats near the end of the Red Sox's 8-6 victory over the Rays on Wednesday afternoon at Fenway Park. All eyes turned to Boston's closer as he brought the fire to deliver a 10-pitch, 1-2-3 ninth inning that sealed a series win.
Craig Kimbrel earned his 24th save of the season by plowing through the heart of Tampa Bay's order. The closer induced a popup from Evan Longoria, struck Brad Miller out looking and got Nick Franklin to fly out to left for the final out of the game.
With the Sox leading, 6-4 in the eighth, Fernando Abad loaded the bases with two outs. Red Sox manager turned to Junichi Tazawa, and he promptly allowed a game-tying two-run single to Logan Forsythe before getting the third out.
Kimbrel tossed 22 pitches during the Sox's 4-3 loss to the Rays on Tuesday, and Farrell said he wasn't about to ask his closer to try and convert a four-out save.
"After we got him an inning of work last night because he had not pitched in six days, [I] was not going to go with a quick turnaround and look to get four outs from him," Farrell said.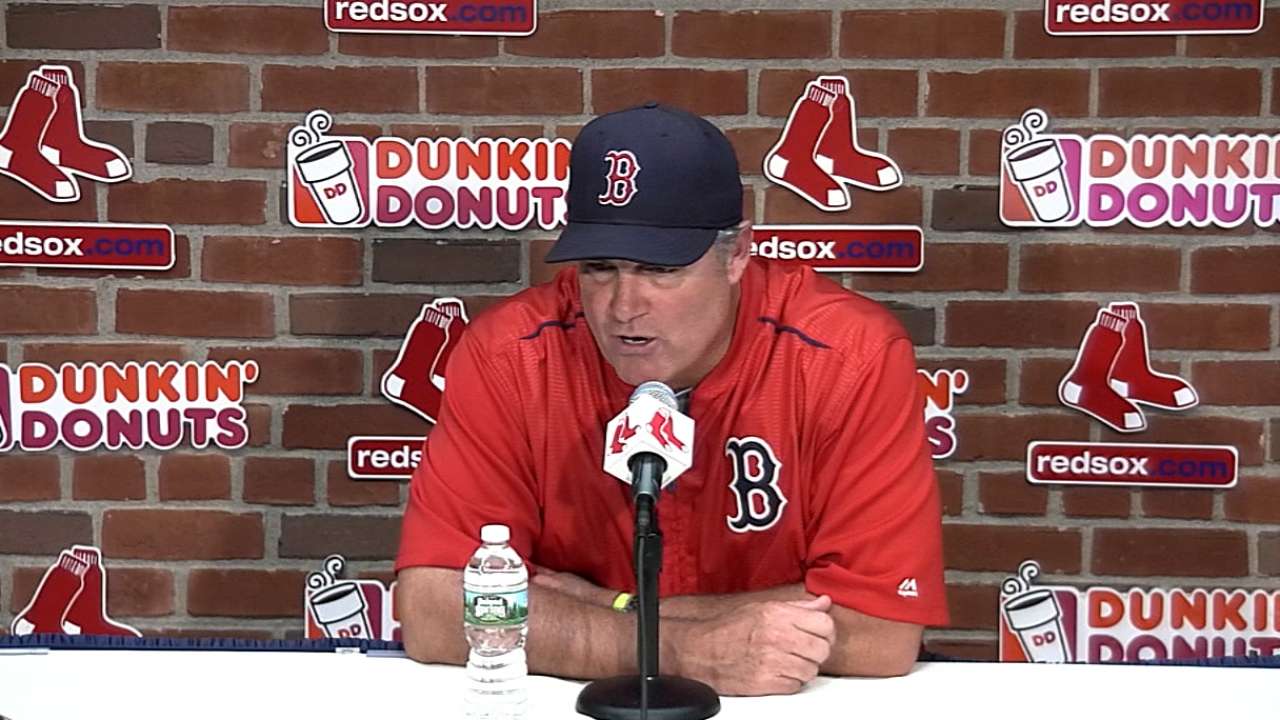 Kimbrel said after pitching late Tuesday night, Wednesday just felt like a day game after a night game.
"I guess I did throw [22] pitches last night," Kimbrel said. "It's just one of those situations where we were one pitch away from getting out of that inning. Got pretty close to it a few times. It's unfortunate we gave up the lead there, but the guys came back and showed what kind of bats we got."
Kimbrel is aware of the recent struggles the bullpen has endured, but it doesn't make him antsy to get in the game sooner than the ninth. The closer said he's rooting for the guys to do well and thinks someone will soon step up to fill the eighth-inning setup role.
"We've had some up and downs going over the course of the last few weeks, but we're going to September," Kimbrel said. "We're through August. We're done with August. We can see the end of the season.
"If I have to come out in the eighth inning and help somebody out, that's happened to me many times this year," said Kimbrel. "We've always got each other's backs. If there's situations, I guess that depends on workload, but if I have to come in the eighth, I'll be ready to come in the eighth."
Kimbrel suffered a left knee medial meniscus tear in July and required surgery, but he returned in three weeks and feels no lingering effects.
"If anything, it's just getting my cardio back, getting used to running long distances again," said Kimbrel. "But other than that, the way my knee feels is great."
Deesha Thosar is a reporter for MLB.com based in Boston. This story was not subject to the approval of Major League Baseball or its clubs.