Healthy again, Cron producing for Angels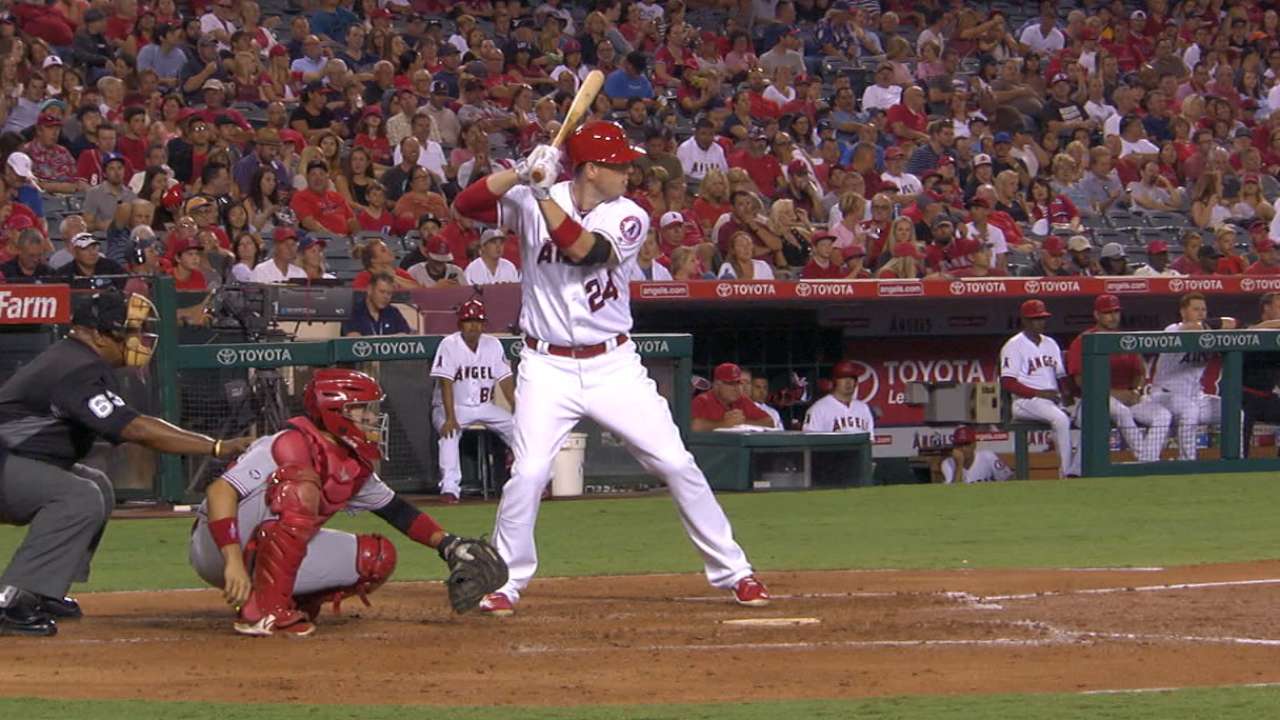 ANAHEIM -- The Angels can only hope that some day they'll get to see what first baseman C.J. Cron can do over a full season.
Their 2011 first-round pick's first three Major League seasons have been interrupted, the first two by slumps that sent Cron back to Triple-A for some tuneups. This year, when he was at his hottest, Cron suffered a broken left hand when he was struck by a pitch. He missed six weeks.
He's come back from that with a vengeance, launching a pair of home runs Tuesday night to power the Angels to a 4-2 victory over the Reds at Angel Stadium. He also homered in the Angels' series-opening victory Monday night.
"Stuff like that happens, you've just got to move on," said Cron, who is 14-for-40 (.350) since coming off the disabled list Aug. 20. "You've just got to pick up where you left off."
He hit a two-out, two-run homer in the first inning, then added a bases-empty shot in the third inning, giving him four multi-homer games this season, seven in his career, and providing a 3-0 advantage for Angels starter Jered Weaver (10-11).
"Both were fastballs," Reds starter Tim Adleman said. "The first one was just a mistake out over the plate. The second one I thought it had a little bit of plate, but if he takes it, depth-wise it's a borderline strike. You've got tip your cap to him. He hit a pretty decent pitch on the second one."
Cron said what he did when he came back from the broken hand was "try to remind myself what I've been doing."
"I'm just swinging at good pitches," Cron said, "and when I get them, I'm not missing them like early in the year."
He's also providing a lot of lineup protection for the club's two stars, batting behind Mike Trout and Albert Pujols, and making pitchers pay for either walking them, or not walking them and giving them more pitches to hit. The Angels had lost a franchise season-record 11 games in a row, and 14 of out of 16, right before Cron returned from the broken hand.
Tuesday's victory was their fourth in a row, and fifth in the past six game. Weaver, who took a shutout into the seventh, and reached double-figure victories for the 10th time in his 11 Major League seasons, said the early boost from Cron helped.
"It was a great night by C.J., putting some runs on the board early," Weaver said. "I was able to be more aggressive. Any time you get runs early, it helps you be more comfortable out there."
Earl Bloom is a contributor for MLB.com based in Los Angeles. This story was not subject to the approval of Major League Baseball or its clubs.