Son, JaDid it! New Tiger makes mom proud
Emotions abound as Jones has clutch 2-hit, 2-RBI MLB debut in front of parents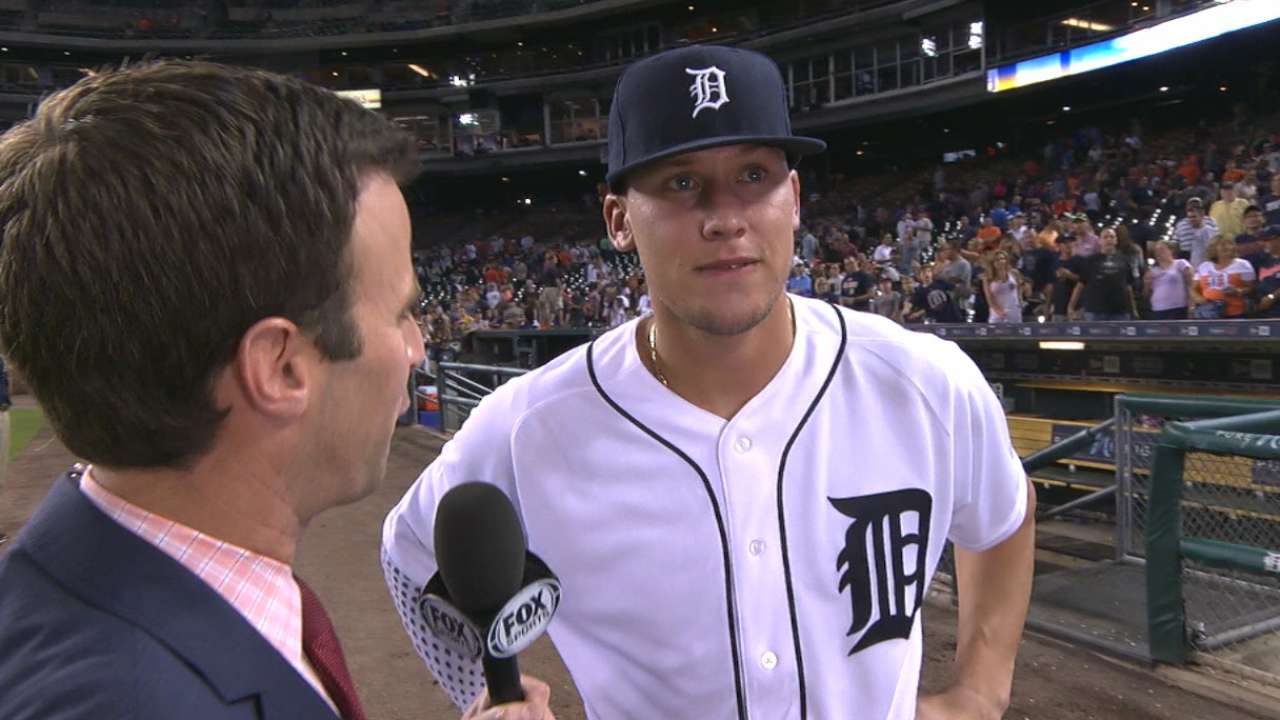 DETROIT -- No, JaCoby Jones said before his Major League debut, his mom doesn't get nervous watching him play.
"Oh, no. I don't think so," the Tigers' ninth-ranked prospect said Tuesday. "I don't know. Maybe tonight she will be, since it's my first night in the big leagues. I don't know. We'll see."
As Jones rounded first base in the sixth inning, his first Major League hit heading for the right-field corner as Justin Upton scored the go-ahead run in the Tigers' 8-4 win over the White Sox, his mother was in tears.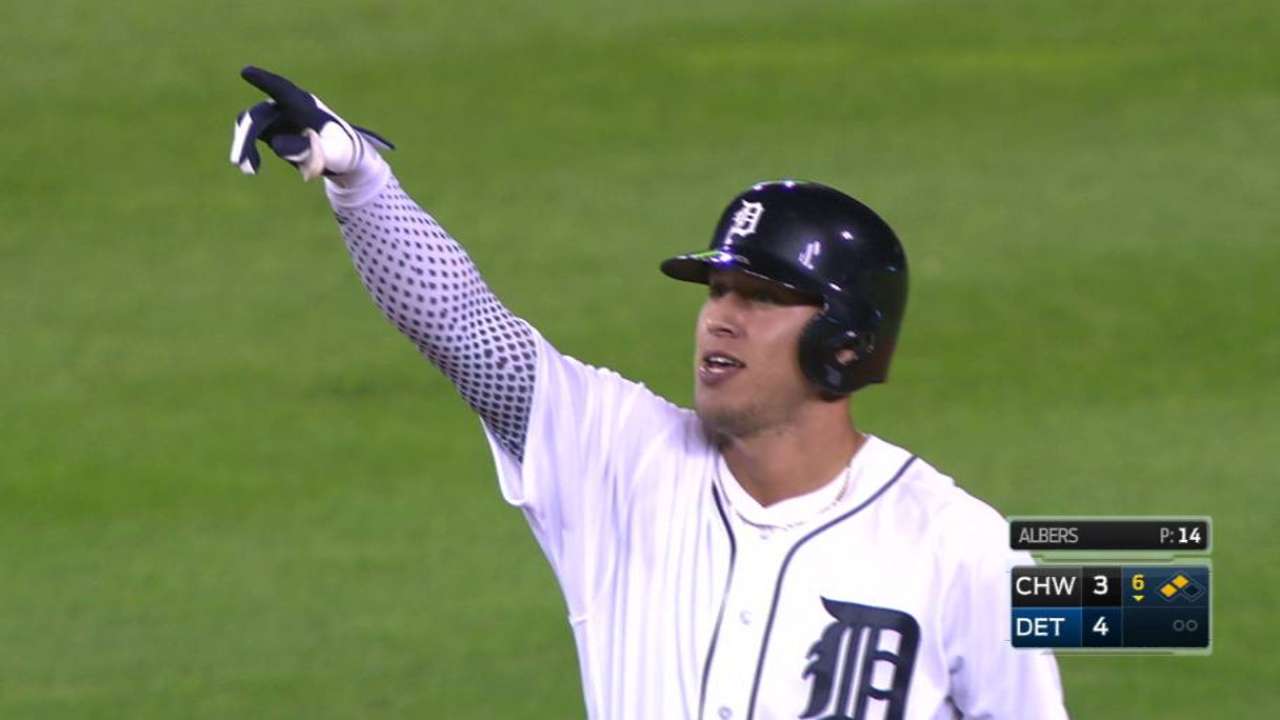 When he reached second base, Jones pointed to his teammates in the dugout. Then he pointed to his parents in the stands as Bubba and Mary cheered him on.
"That was awesome," Tigers starter Daniel Norris said. "It was cool to see his parents' reaction up on the big screen. It was a special moment I'm sure he'll never forget."
• Cut4: Jones gets first MLB hit in front of mom
They were feeling elation. Jones was feeling something else.
"More relief, just getting it out of the way," he said. "Something I'll never forget, my first big league hit. It's just something you work hard for, to get here, and to get it on the first night, it's simply amazing.
"I don't have any other words to describe it, just amazing."
Less than 24 hours earlier, Jones was sitting in his hotel room in Indianapolis, having just finished a three-hit game for Triple-A Toledo, when he got the call from Mud Hens manager Lloyd McClendon that he was getting called up. Jones was so stunned that he had to pause and make sure he wasn't the subject of a gag. Then he called his parents at home in Mississippi.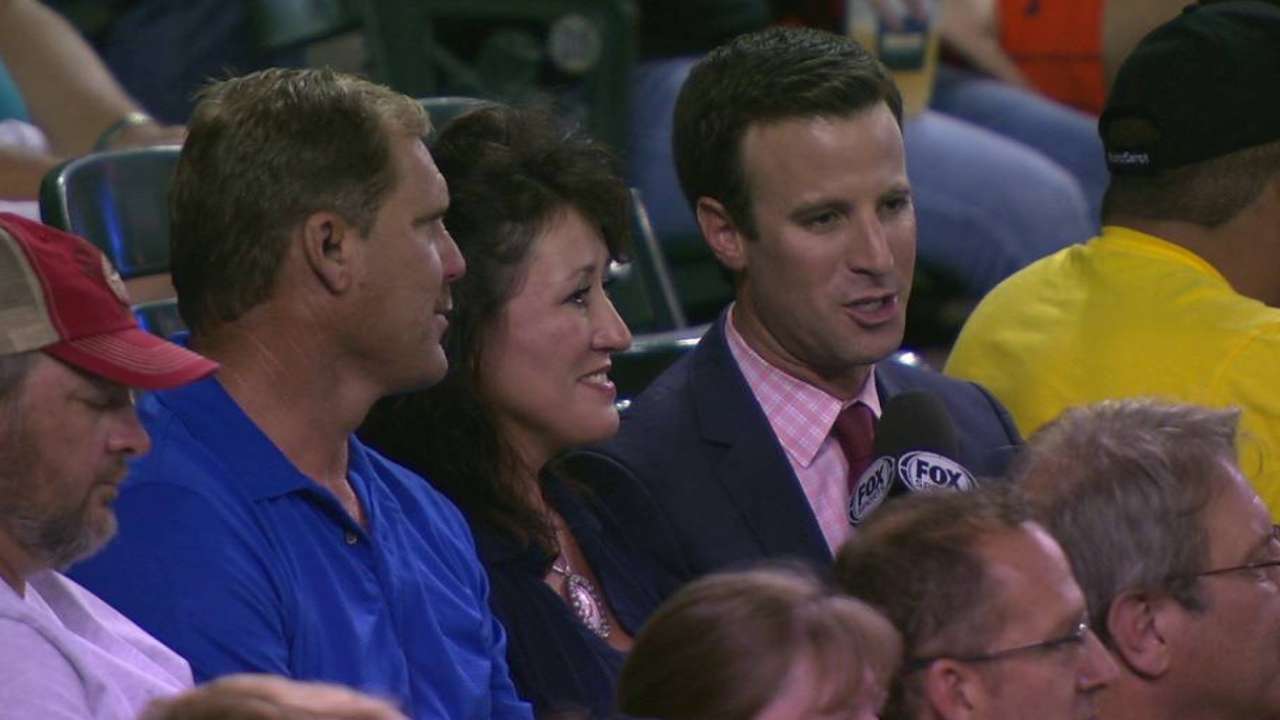 "My mom was crying, as soon as I told her," he said. "She was like yelling and crying. I heard my dad in the background, screaming."
Jones had a lot of familiar faces for his debut, beyond the Tigers teammates he played with during Spring Training. His opposing pitcher, White Sox starter Anthony Ranaudo, was his host on his recruiting visit to LSU six years ago. Jones was playing behind Norris, his teammate at Triple-A Toledo this summer.
Once he stepped to the plate in the second inning, the reception he received from the crowd at Comerica Park made them all feel familiar. He didn't know many of them, but they certainly knew him.
"I almost stepped out of the box," he said, "but I was just like, 'Oh, I'll just step in here, and get after it, I guess.' I didn't really know what to think, to be honest. I just heard a bunch of people screaming."
Jones grounded back to Ranaudo in the second, then popped out to first base in the fifth. As he prepared to bat again in the sixth against reliever Matt Albers with runners on, manager Brad Ausmus asked him about bunting.
"I said, 'If you get the bunt sign, go ahead and bunt for a hit. Don't try to sacrifice,'" Ausmus said.
Jones showed bunt and pulled the bat back on ball one. His bunt attempt on the next pitch wasn't pretty, fouling it back.
"I wasn't overly impressed with it," Ausmus said with a pause. "Just let him swing at that point."
Jones' swing on Albers' 1-2 pitch was a little more impressive, lacing an opposite-field liner that drove in the go-ahead run. An inning later, he had another opposite-field RBI hit, this one a ground-ball single through the right side.
According to baseball-reference, Jones became the first Tiger with multiple hits and RBIs in his Major League debut since Hank Riebe had a pair of doubles and two RBIs against the Philadelphia A's on Aug. 26, 1942.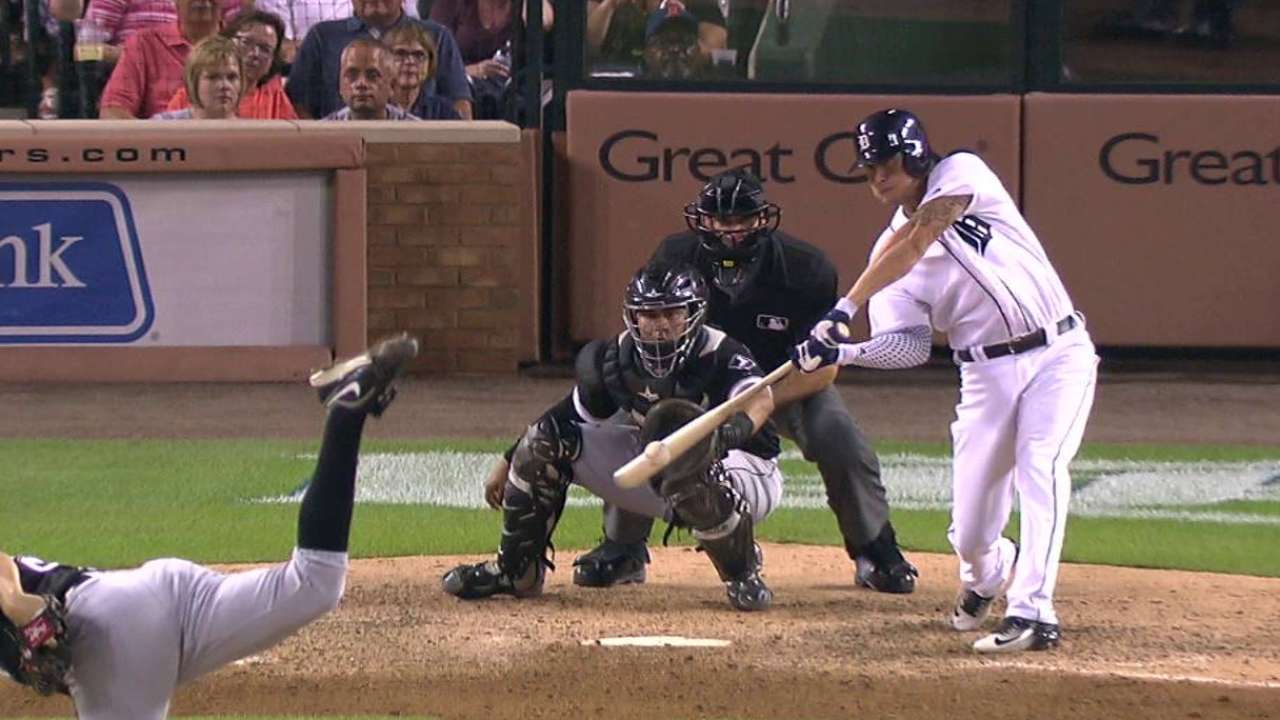 "It's pretty special," Ian Kinsler said. "Your first big league hit is a big hit, your parents are here, you've got some family here, and to have another at-bat where you get a hit and you get an RBI and then you interview after the game and you get a water shower, it's pretty cool to see. It was a great night."
Jason Beck has covered the Tigers for MLB.com since 2002. Read Beck's Blog, follow him on Twitter @beckjason and listen to his podcast. This story was not subject to the approval of Major League Baseball or its clubs.