MLB.com Columnist
Mike Bauman
Wainwright, Cards' rotation bouncing back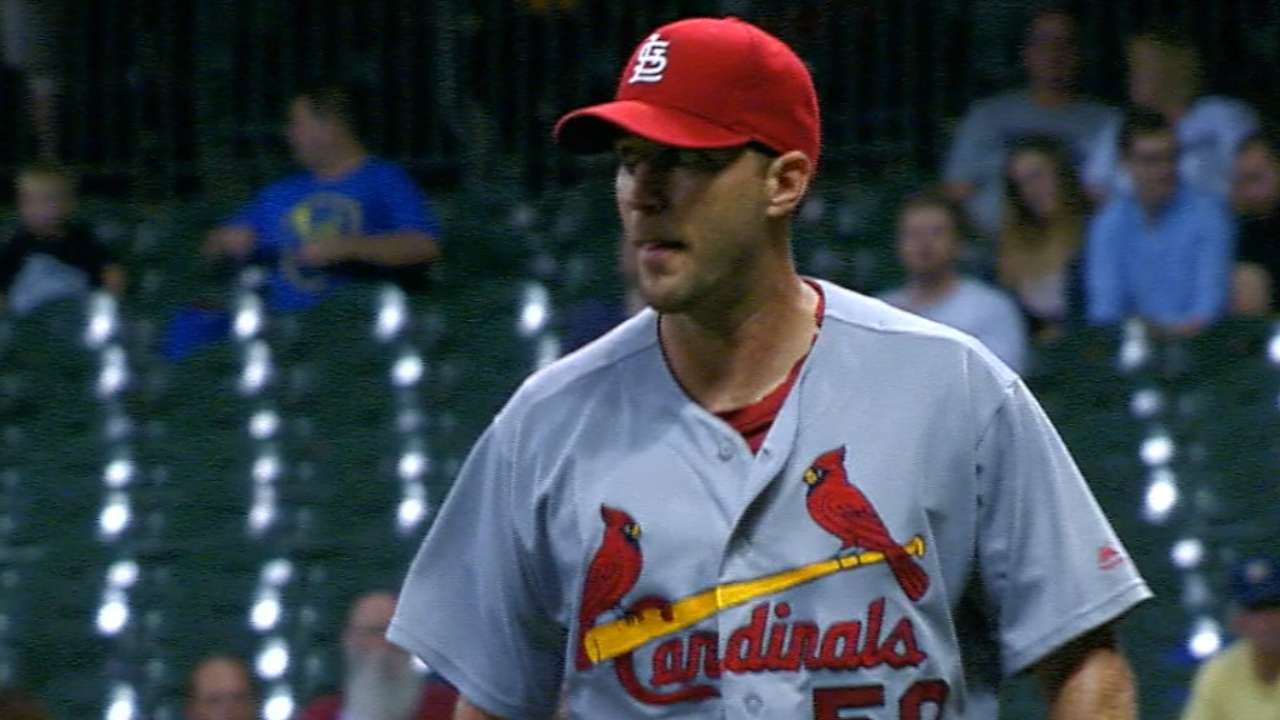 MILWAUKEE -- Underestimating the Cardinals is a task that generally turns out to be equal parts perilous and pointless.
It is that way now with St. Louis' rotation. The Redbirds are contending for their sixth straight postseason appearance. But they're not going to win anything like the 100 games they won last year, and they aren't going to win the National League Central for the fourth year in a row.
So go ahead. Take those last two pieces of information and dismiss the Cardinals. But check the standings on the evening of Oct. 2. There is an excellent chance that the Cards will finish the regular season as one of the two NL Wild Card teams.
One of the chief concerns about St. Louis' rotation was the status of the longtime ace of the Cardinals' staff, Adam Wainwright. He had a fine July -- 3-0 with a 1.77 ERA -- but in his five August starts going into Tuesday night, he was 0-3 with a 7.50 ERA.
Maybe Wainwright was on a path of inevitable decline. Cards manager Mike Matheny didn't think so.
"I think [before] every start, 'Here's the one where he takes off and he goes,'" Matheny said before Wainwright's outing Tuesday night against the Brewers.
Matheny was right. Wainwright looked like himself in an outstanding outing, working seven innings and giving up one run on three hits, walking none and striking out seven. It was vintage Wainwright, fittingly enough on his 35th birthday. The Cardinals won in 10 innings, 2-1, to take a 2 1/2-game lead over the Pirates and the Mets for the second NL Wild Card spot.
"Best fastball he's had all year," Matheny said. "If that's how he's going to pitch the rest of the year, it's going to be fun to watch."
Wainwright said he returned to watching videos from his outstanding 2013 and '14 seasons, and he thus became more aggressive in his delivery than he had been this season.
"That's the best I've been all year," Wainwright said. "That's the stuff I'm going to have the rest of the year. That's me.
"Tonight, going into the game, I tried to forget about everything that's gone on this year. I watched only '13 and '14 film of me pitching. I wanted to remember that guy, not this other guy that's been pitching this year.
"I'm retiring that guy to bring back the other fellow," Wainwright added with a smile. "To appease the Twitter followers out there that wanted me to retire. Tonight, I retired the other guy."
Wainwright pitching like Wainwright is a substantial development for the Cards. On Monday night, Carlos Martinez had displayed his own impressive stuff, striking out a career-high 13 Brewers in just six innings. Martinez has the stuff of dreams, and at this point he needs only to become more pitch-efficient to emerge as one of the game's elite arms.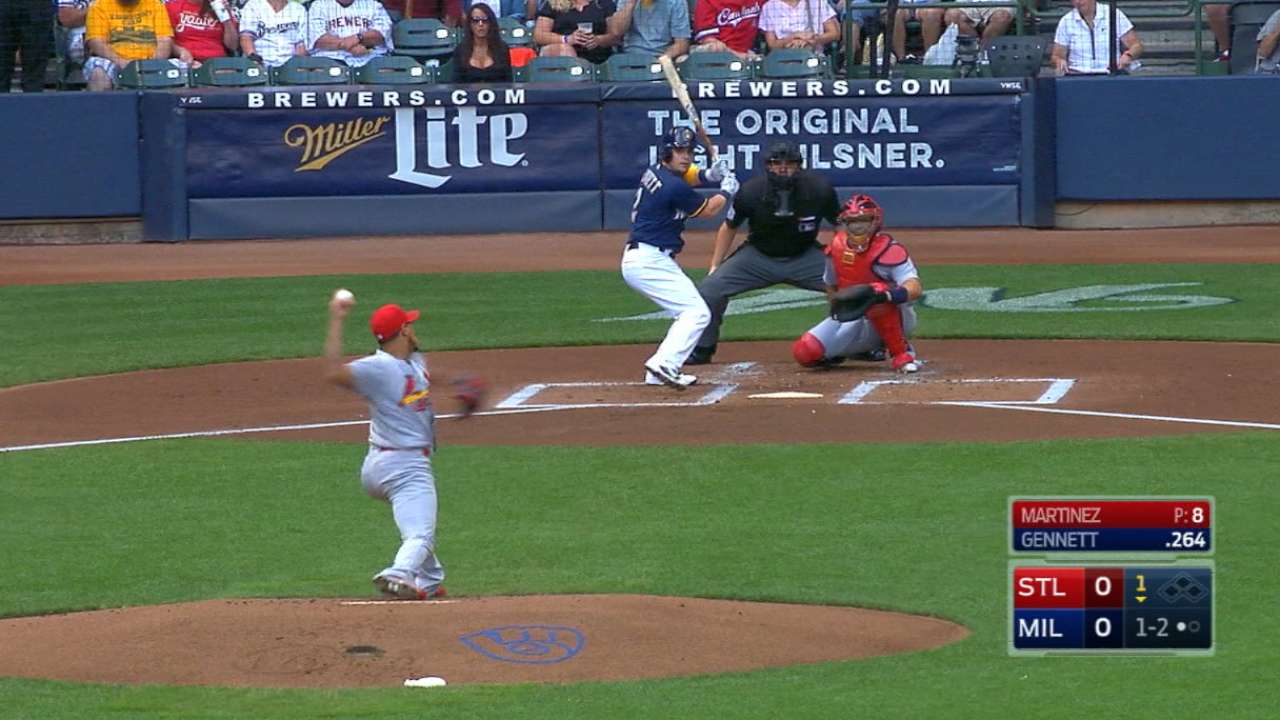 Elsewhere in the rotation, lefty Jaime Garcia is a proven Major League pitcher, but his work has been uneven. He started August with two superior starts but finished with two decidedly sub-standard starts. The Cardinals can hope that Garcia regains his own higher ground as soon as possible.
Beyond those three, the Cards' rotation as we speak has two rookies; Luke Weaver, 23, and Alex Reyes, who turned 22 Monday. Weaver has three Major League starts. Reyes has one.
The Cardinals are going with these two because injuries and illness -- all the way from Tommy John surgery to shingles -- have dramatically reduced their pitching depth.
This lack of rotation experience at this crucial juncture might seem like a disqualifying factor with another team. But Weaver and Reyes have both pitched well in their brief Major League careers. And the Cards specialize in successfully plugging young players into high-leverage situations.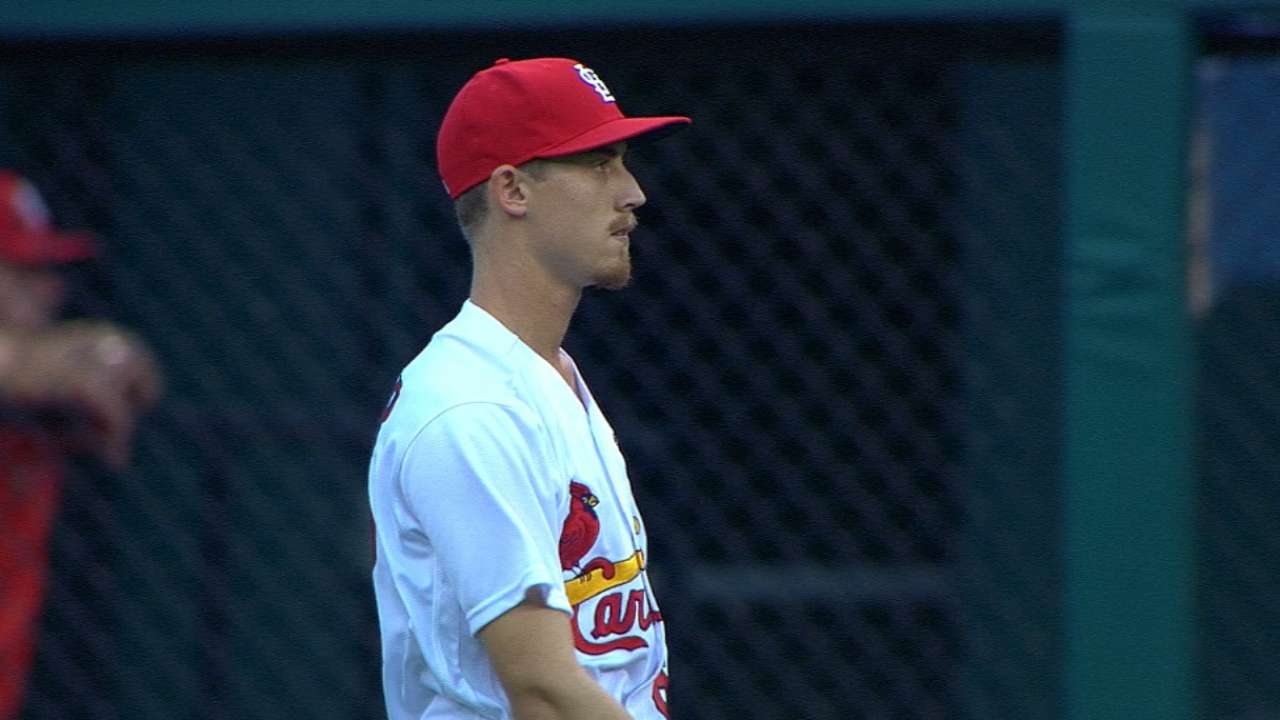 Matheny appears to be much more excited than nervous about going with these youngsters in his rotation.
"I guess like everything else in life, it's perspective," Matheny said. "To me, I can't wait to watch Weaver pitch again. I can't wait to watch Reyes again. I don't care if it's September or October, I think right now that you go off of what they've shown the capacity to do, especially what they have done their last two starts.
"I think there's a newness, there's an excitement with the young players. I think there is also the unknown with the opposition. There are some benefits to it. Plus, you're talking about the potential of what this could be moving forward for our organization.
"I have zero apprehension with the young players, when the young players have shown that they know what they're doing."
The wisdom of catcher Yadier Molina also is of considerable assistance to young St. Louis pitchers. Wainwright remains a top-shelf role model. One way or another, down the stretch, the current Cardinals rotation could turn out to be a very tangible plus.
Mike Bauman is a national columnist for MLB.com. This story was not subject to the approval of Major League Baseball or its clubs.