Cy low? Hendricks' ERA down to 2.09
Cubs' location specialist producing award-worthy season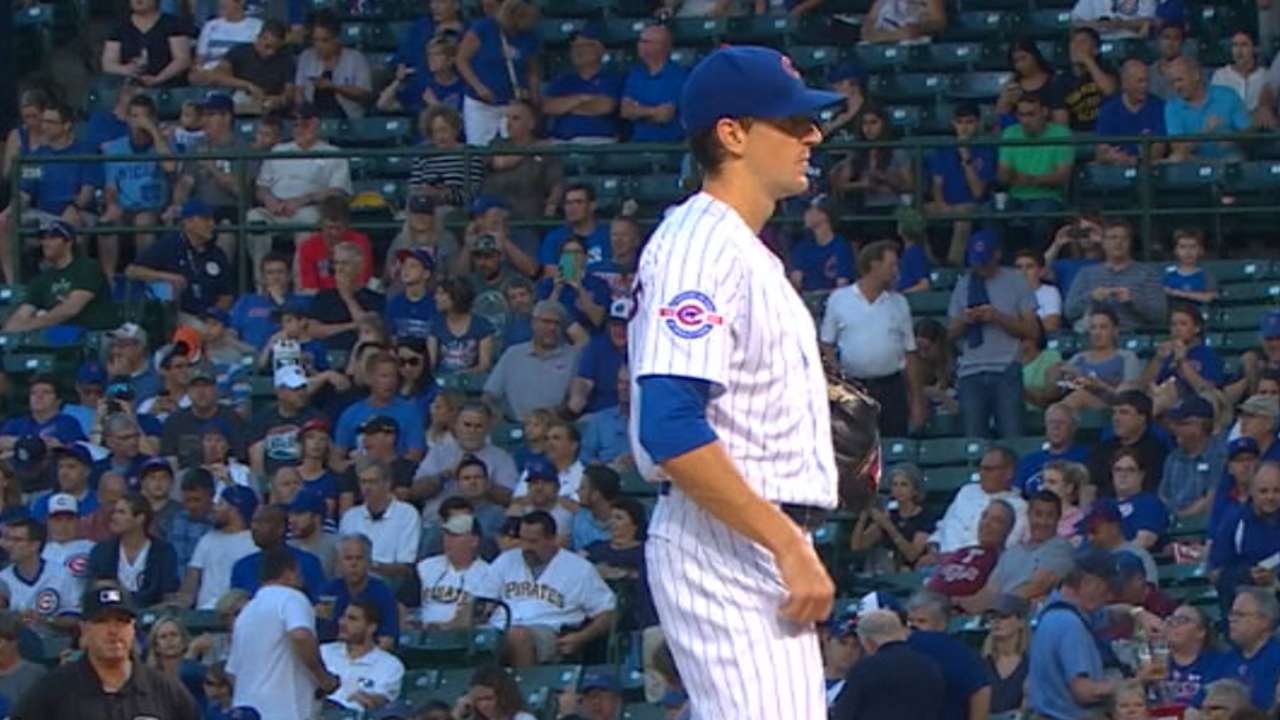 CHICAGO -- Miguel Montero has caught Randy Johnson and Dan Haren, who represent opposite pitching styles. He knows pitchers don't have to throw hard to be effective, and on Tuesday night, Montero could sit back, relax and catch the Cubs' surprise second-half ace: Kyle Hendricks.
Hendricks lowered his ERA to a Major League-best 2.09 with seven shutout innings in the Cubs' 3-0 win over the Pirates. The right-hander is 9-1 with a 1.21 ERA at Wrigley Field, the best home ERA in baseball.
"It's all about location," Montero said. "It doesn't matter 'velo,' it doesn't matter anything else. Nowadays, everybody is trying to overpower everybody and they forget about the secondary stuff. He knows he doesn't throw hard, but he locates his fastball, he locates his secondary stuff, and he works the edges and works the corners. That's harder to hit than 97 [mph] down the middle. If you know the fastball is coming and you know the changeup is coming, and you execute your pitch, you can't do much with it."
The preparation Hendricks does before each start is key, and something he's done more this season with the help of coach Mike Borzello.
"He comes in every day and does his work, and executes his game plan really good," Anthony Rizzo said of Hendricks, who began the season as the Cubs' fifth starter. "He's not a guy who's getting away with plus-plus stuff. He's executing his game plan, and he attacks hitters and he studies hitters. He went to Dartmouth and has a really good education."
• Rogers: Hendricks could be rare Cub to win ERA title
He's been effective. No Cub has led the National League in era since 1945 or MLB since 1938.
"He throws 88 [mph], tops out at 90 every once in a while and gets guys out," Rizzo said. "Everyone is throwing 90-plus and he's just doing his thing. He executes so well with his changeup and curveball. It's amazing how he does it."
And Hendricks has to be included in any conversation regarding NL Cy Young candidates.
"He has to be Cy Young contention," Cubs manager Joe Maddon said. "Put the radar gun in your back pocket and look at what he's doing. There has to be strong consideration."
.@kylehendricks28's 2.09 ERA - still the best in @MLB. pic.twitter.com/BL9iW7tiVt

— Chicago Cubs (@Cubs) August 31, 2016
Chicago's Jake Arrieta won the award last year. The Cubs have never had back-to-back Cy Young winners.
"It's not unlike [what Arrieta did], it's just a different method," Maddon said. "Jake was a little more power, obvious power. Jake had this freaky movement and so does Kyle. Maybe [Hendricks doesn't throw] as hard, but it's still equally effective."
"It means a lot in a way," Hendricks said of being mentioned as a candidate. "Where I was at last year, and my goals coming into this year, I definitely didn't see myself a part of that, or I had my sights a little lower. To be up there, I'm taking it in stride. To stay there, I have to keep doing the same things I've been doing is consistency and keep a simple mind set."
Montero doesn't want to talk about postseason awards. Not yet.
"I don't want to go too far ahead," Montero said. "I want him to keep pitching and do what he's doing. At the end of the year, the numbers will show up."
Carrie Muskat has covered the Cubs since 1987, and for MLB.com since 2001. She writes a blog, Muskat Ramblings. You can follow her on Twitter @CarrieMuskat and listen to her podcast. This story was not subject to the approval of Major League Baseball or its clubs.