When it comes to no-nos, Max a habitual flirt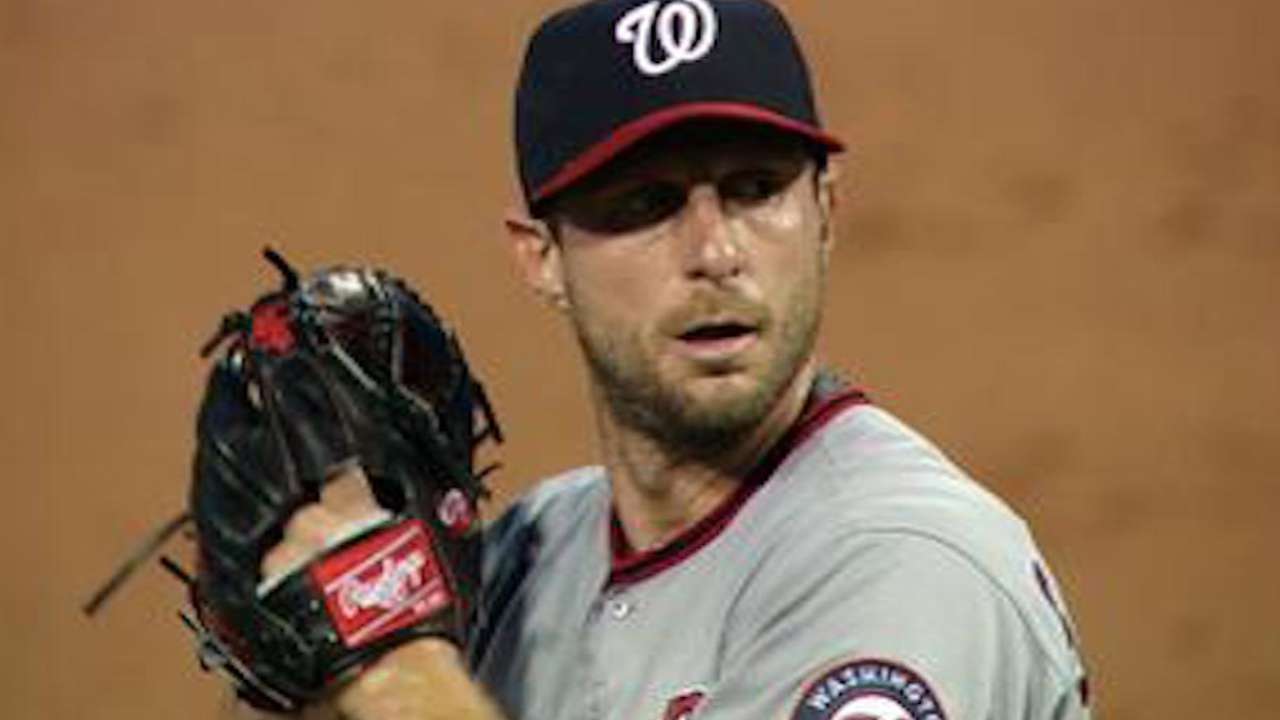 PHILADELPHIA -- Max Scherzer has flirted with history more often than any other pitcher in baseball since he joined the Nationals before the start of the 2015 season. Nine times in his 61 starts for Washington, Scherzer has carried a no-hitter into the sixth inning, with the ninth coming on Tuesday night at Citizens Bank Park in a 3-2 victory over Philadelphia. He did not allow a hit until the sixth, when Phillies shortstop Freddy Galvis lined a double off the right-field wall.
Scherzer has done this so often during his time with the Nationals -- nearly 15 percent of his starts -- that it does not take long during the early stages of a game for his teammates to wonder if they are about to see something historic.
"I think when he goes out there, we're pretty pumped," Bryce Harper said. "Being able to see him do what he does every five days, he has an opportunity to go out there and throw a perfect game or a no-no."
"It's hard not to think of something special going on in any of these games when he's pitching like this," catcher Wilson Ramos said through an interpreter.
"It's different if a guy hadn't done it," Nationals manager Dusty Baker said. "But about the fourth or fifth, the way he was dealing and his pitch count was low, right away I'm sure everybody on the team was thinking it, because they've seen it before."
Even Scherzer knows it, although he has said he does not allow himself to think about a no-hitter until he gets through at least six innings.
"I knew I was throwing the ball well," Scherzer said. "I knew I had all the pitches working. I knew I could go out there and keep different looks going multiple times through the lineup, and really sequence guys right."
Though Scherzer did not finish the no-hitter, he did strike out 11 over eight dominant innings. His only blemish was a mistake that Ryan Howard hit for a two-run homer in the seventh inning. Still, this was Scherzer's 12th double-digit-strikeout performance of the season, the most in the Majors; he also has the most games with 10-plus strikeouts in Nationals history, breaking his own record from last season.
And important for Washington, Scherzer lasted at least seven innings for the 18th time this season, tying him with Chicago's Chris Sale for the most in the Majors. Two members of the Nationals' rotation are on the disabled list, and their replacements have struggled to last deep into games, so the team has relied even more heavily on strong outings from Scherzer.
"That's why he's Max," Baker said. "You know we've got a good chance to win when Max pitches and he has a good chance of going deep in the game."
Jamal Collier covers the Nationals for MLB.com. Follow him on Twitter at @jamalcollier. This story was not subject to the approval of Major League Baseball or its clubs.