Scoreless month for Grilli ends on home run
Blue Jays reliever allows go-ahead blast in loss to Orioles
BALTIMORE -- Blue Jays reliever Jason Grilli nearly got through August without allowing a run, but it took just one pitch to Matt Wieters on Tuesday night to change that. The Orioles catcher jumped on a first-pitch fastball for the decisive two-run homer in the eighth inning of Toronto's 5-3 loss at Camden Yards.
The long ball ended a string of 13 2/3 scoreless innings for Grilli, who has a 1.93 ERA with Toronto since he was acquired from Atlanta on May 31. The veteran righty had allowed just four hits over his past 13 innings entering Tuesday.
"He's been unbelievable," manager John Gibbons said. "We're not sitting where we're at right now without him, that's for sure."
Grilli retired the first two batters in the eighth before walking Jonathan Schoop on five pitches. Wieters then hit a towering fly ball that cleared the right-field fence.
The ball left the bat at 96 mph with a launch angle of 37 degrees. Per Statcast™, that's a home run just 12 percent of the time and a hit 14.5 percent of the time.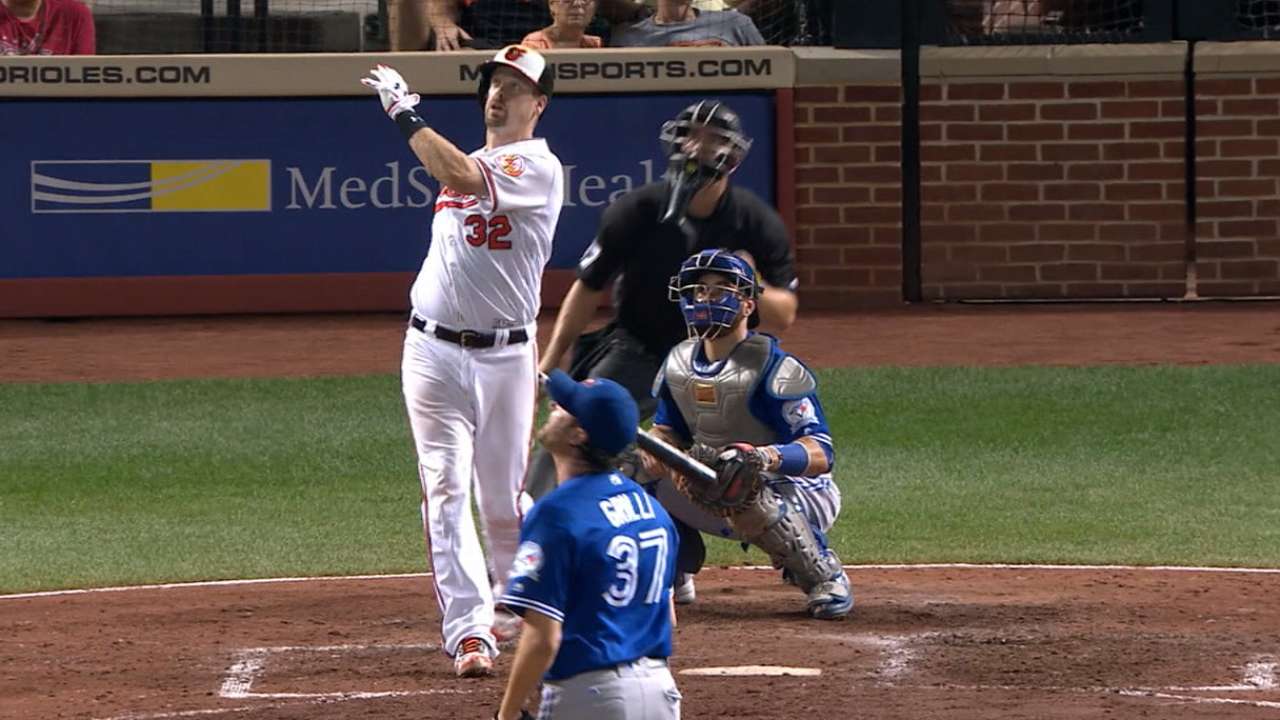 "Obviously up enough where he put a good swing and kind of sold out to it," Grilli said of the 92-mph fastball. "It was enough."
The Orioles were also the last team to score off Grilli when Manny Machado blasted a solo home run July 29 at Rogers Centre. Home runs have accounted for five of Grilli's seven earned runs allowed with Toronto.
Even with Tuesday's slipup, Grilli has a 1.42 ERA since the All-Star break and will be a reliever the Blue Jays lean on over the final month of the regular season.
Ryan Baillargeon is a reporter for MLB.com based in Baltimore and covered the Blue Jays on Tuesday. This story was not subject to the approval of Major League Baseball or its clubs.