20th HR shows Howard can do more with less
In a reserve role, veteran reaches figure in just 276 at-bats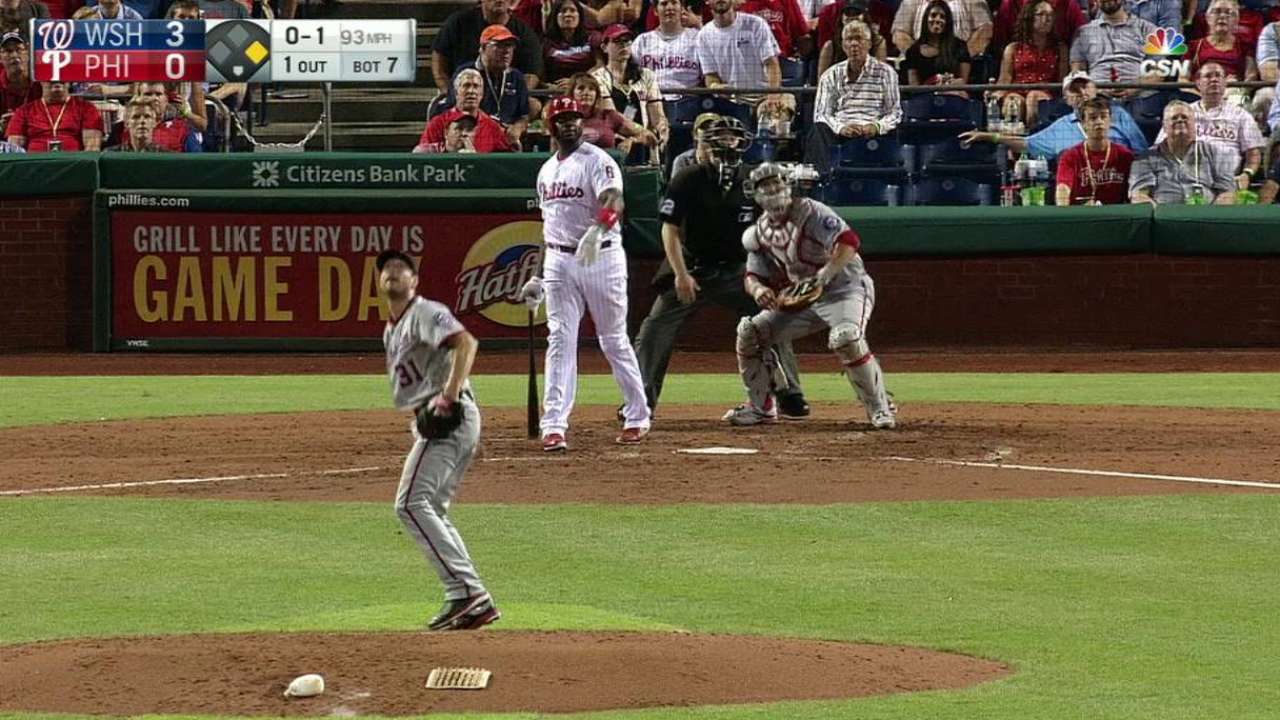 PHILADELPHIA -- Ryan Howard hit his 20th homer of the season in Tuesday night's 3-2 loss to the Nationals at Citizens Bank Park.
It is the 11th time Howard has hit 20 or more homers in a season, so the accomplishment in and of itself is not unusual. But considering that he has spent the 2016 campaign in a reserve role, it is noteworthy that he has hit 20 in just 276 at-bats.
"It's cool," Howard said. "It just goes to show, just keep trying to [plug] away and just keep swinging and doing what you do. Even though it's a lot less at-bats, hopefully, it shows something."
Howard is averaging a home run every 13.8 at-bats this season, his best rate since 2009, when he averaged a homer every 13.7 at-bats.
He averaged a homer every 23.2 at-bats the previous three seasons.
Howard is hitting .196 with 20 homers, 45 RBIs and a .692 OPS, but he has hit .299 with nine homers, 20 RBIs and a .992 OPS in 87 at-bats since July 3.
Howard was 1-for-20 with 13 strikeouts in his career against Nationals ace Max Scherzer before hitting the two-run homer to left in the seventh.
Phillies manager Pete Mackanin had played Howard over Tommy Joseph because "a lot of people don't have good numbers against [Scherzer] anyway. Lefties at least hit him better."
"Felt good, but I was able to make the adjustment," Howard said. "Sometimes I think it's just being a little bit too quick, but I just try to slow everything down and relax and see the ball."
Todd Zolecki has covered the Phillies since 2003, and for MLB.com since 2009. Read his Phillies blog The Zo Zone, follow him on Twitter and listen to his podcast. This story was not subject to the approval of Major League Baseball or its clubs.