Grandy's 2 HRs propel him closer to odd record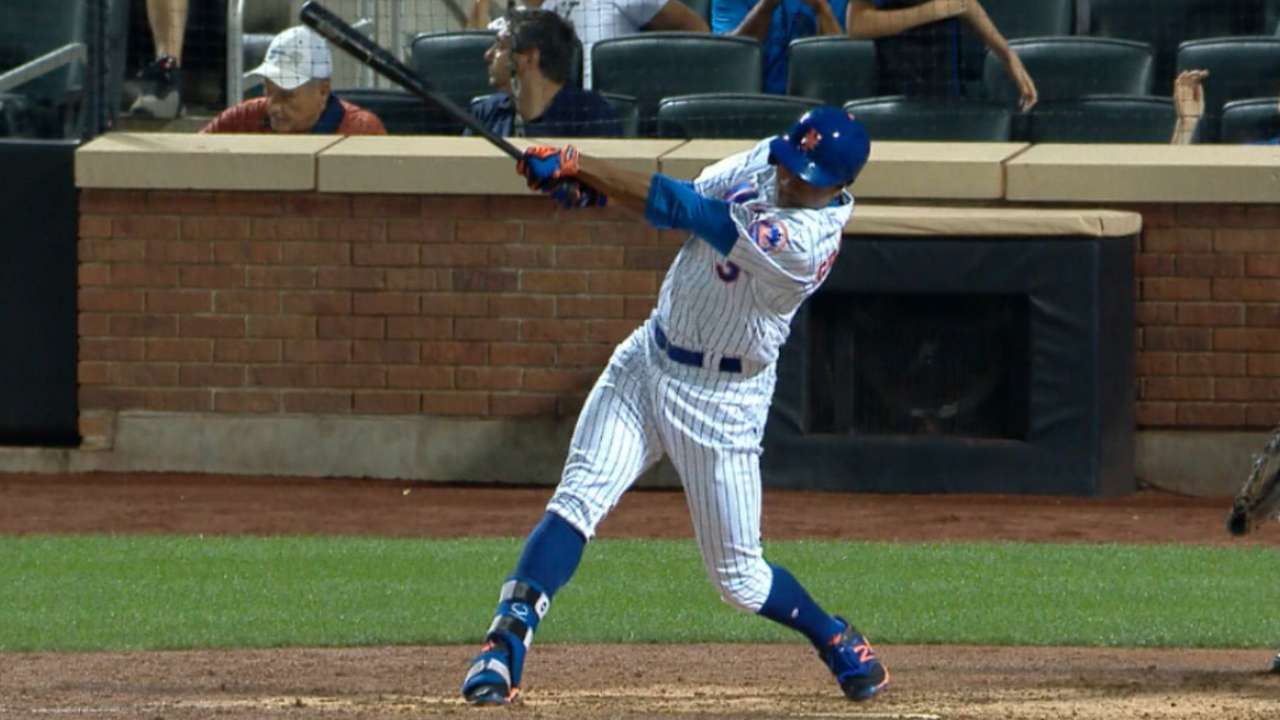 NEW YORK -- Curtis Granderson's optical illusion of an offensive season has blurred the lines between power and futility. Seen years later on the back of his baseball card, it will certainly make some squint.
Look at it one way, and Granderson's 22 home runs may color him the Majors' best top-of-the-lineup slugger, totaling more than middle-of-the-order stars Paul Goldschmidt and Joey Votto. But look a column over, and his 38 RBIs not only raise an eyebrow but also challenge some baseball history.
Those numbers -- buoyed by his unlikely two-homer performance in New York's 7-4 win on Tuesday, in a game Granderson didn't even start -- tell that this has been the most all-or-nothing season of his career.
Simply put, few have ever been more productive while being less so.
That all three runs Granderson drove in Tuesday came via the homer -- one a pinch-hit shot off Tom Koehler in the sixth, the second a two-run blast off Dustin McGowan an inning later -- shouldn't surprise him, or the Mets in general. New York entered play on Tuesday sixth in the Majors in homers but just 28th in runs scored, due to a near-historic drought (.214 team batting average) with runners in scoring position that has plagued the club all season.
But while the team, as a whole, has improved mightily in that department over the last six weeks, Granderson's odd splits persist. And they are threatening to make his season something of a historical outlier.
Only once has a player managed as few as 40 RBIs while hitting at least 20 home runs: Chris Hoiles, for the Orioles in 1992. Granderson still has an outside shot at joining him, thanks to a .118 average with runners in scoring position that is tied for the lowest in the big leagues among qualified hitters.
More likely Granderson becomes the first player in history to hit 25 home runs and manage 50 or fewer RBIs. Even if Granderson catches fire, Mets manager Terry Collins has to find ways to get Jay Bruce, who plays the same position and is also slumping, in the lineup. With Yoenis Cespedes healthy, those at-bats should come at the expense of Granderson, who has driven in a run without hitting a homer just 10 times in 122 games.
Of the more than 3,000 players to finish a season with at least 22 home runs, Chris Duncan had the fewest RBIs, with 43, in 2006 for the Cardinals.
Joe Trezza is a reporter for MLB.com based in New York. Follow him on Twitter at @joetrezz. This story was not subject to the approval of Major League Baseball or its clubs.