Bullpen, bats bail out Tomlin's busted start
Struggling pitcher's 1 2/3 inning-outing was shortest as starter of career
CLEVELAND -- From the very first pitch, it once again was not Josh Tomlin's night. The Indians right-hander immediately turned and watched as the ball Brian Dozier struck sailed over the left-center-field wall and crashed into the bleacher seats.
One inning later, Indians manager Terry Francona had seen enough, and he might now be weighing the team's options for the rotation. Tomlin's recent struggles persisted in ugly fashion, but Cleveland salvaged the situation with a 5-4 victory over the Twins, using a comeback on offense and 7 1/3 shutout innings from the bullpen to get the job done.
"Again, I put them in a hole early," said Tomlin. "What got us the victory is the offense grinding it out and the bullpen doing an unbelievable job."
Both Tomlin and the Indians know they can't keep relying on that kind of formula.
Tomlin exited after just 1 2/3 innings, marking the shortest start of his career. All four runs were charged against him off seven hits, including Dozier's home run, which was the Major League-leading 35th homer allowed by Tomlin this season. Ten of those shots have come in his past six games.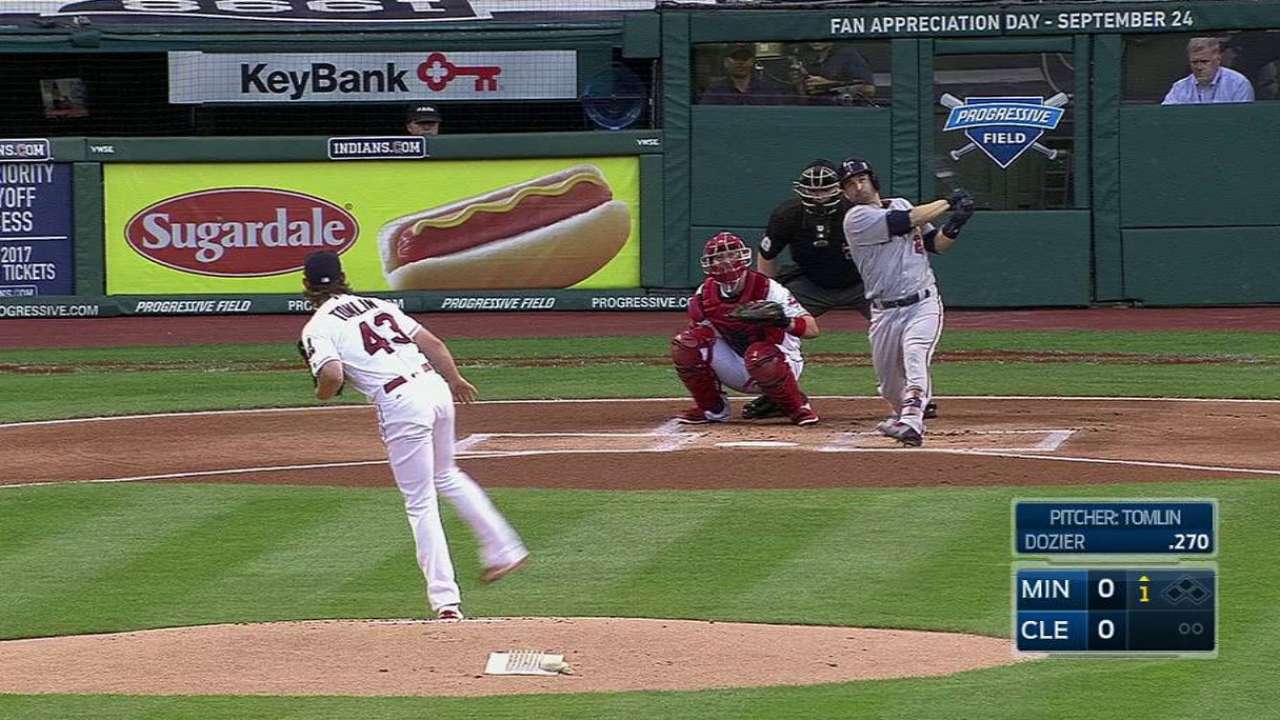 There is more at stake than correcting Tomlin's performance right now. With the win, the first-place Indians maintained their 4 1/2-game lead in the American League Central, but the Tigers and Royals remain right on their heels with a month to play.
"It's tough, because it's not just me, personally, what I'm going through," Tomlin, who went 0-5 with an 11.48 ERA in six August starts. "It's just what I'm doing to the team every fifth day right now. It's not giving them a chance to win. It's putting them in a hole early. We're in a playoff hunt. We're trying to get to October and play deep into October. Doing that right now is not putting us in a good position to do that."
Cleveland's rally on offense was sparked by a three-run homer by Rajai Davis in the second and an RBI double from Francisco Lindor in the fourth. That pushed the Tribe to a 5-4 lead, which was enough on this night given the performance of the bullpen.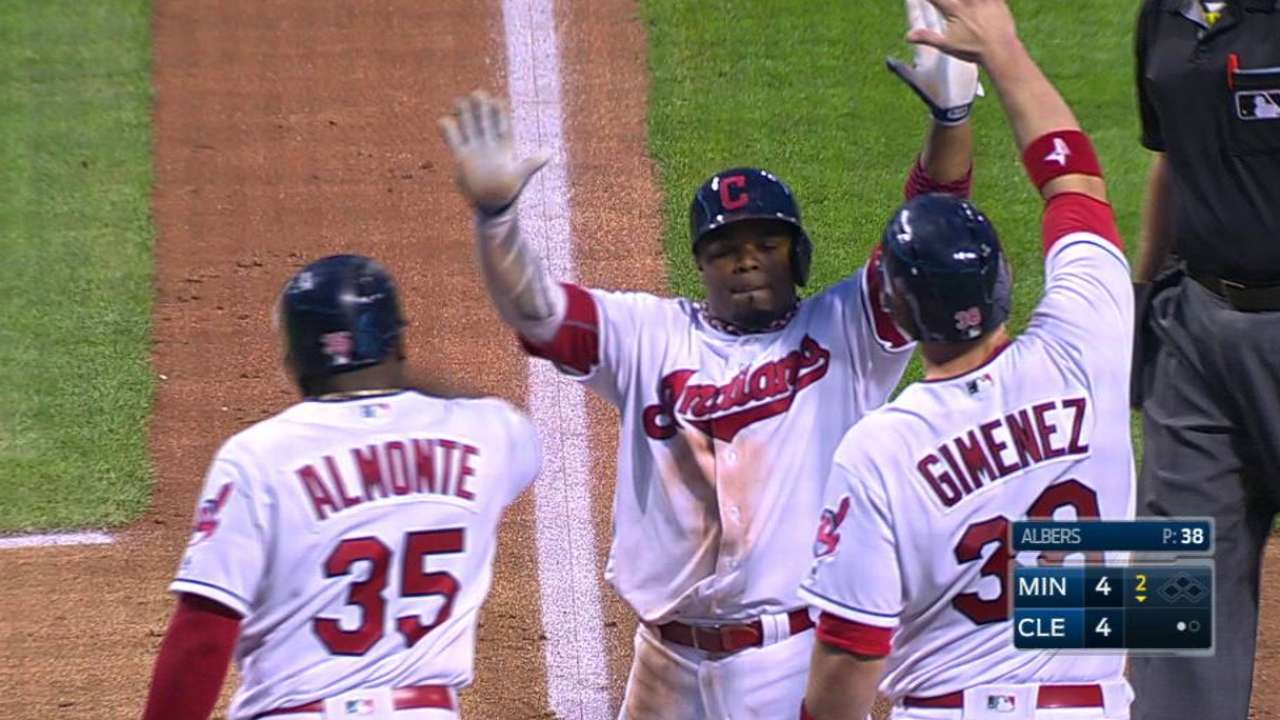 Davis' game-tying home run came after Tomlin spotted the Twins a 4-1 lead, and it gave the Tribe a mental lift.
"A three-run homer and we're back even," Francona said. "Man, it makes everybody have a little bit more energy."
The bullpen's showing extended the group's scoreless streak to 21 consecutive innings -- a stretch accumulated over the last five games. Cleveland's relievers have allowed just five runs over the last 47 innings of work, equating to an ERA of 0.96 over the last 13 games.
Still, the bullpen's dominance was a necessity due to Tomlin's continued struggles, which have included five starts consisting of fewer than five innings over the past month.
"It's more frustrating on my end," Tomlin said, "because I'm not being able to help the team win and go deep into games, and [it's] kind of taxing the bullpen."
The recent struggles may force Francona to make an adjustment. With an off-day on Thursday, the Tribe manager hinted that they may be able to shuffle the rotation around.
"We have the ability to maybe juggle our rotation a little bit," Francona said. "I don't think 5-10 minutes after the game is probably the time to do it, but we'll sit down and go through it a little bit and see if bumping him back a couple days or whatever [could help]. We'll get it figured out."
After Tuesday's showing, even Tomlin admitted his play may warrant such a decision.
"Whatever moves he makes, I understand," Tomlin said. "It's not like I'm going out there and throwing eight shutout every time right now. I'm struggling, and I know I'm struggling. I take full ownership of that. It's my fault. I don't know what I'm doing, but I'm anxious and ready to get back here tomorrow to try to figure it out. That's the only thing I can do."
Shane Jackson is a reporter for MLB.com based in Cleveland. This story was not subject to the approval of Major League Baseball or its clubs.